avseg
46

as requested - sunlight pic of the FPJ tourbillon "Cœur de Rubis"
Here's an outdoor pic (perhaps too bright!) of the F.P. Journe Couer de Rubis tourbillon. This is the special ruby dial FPJ produced as a 'retirement' for the TN reference.

As I mentioned in the original thread I posted about this piece, I am waiting for my custom strap for this before wearing it out. I'm sure we'll see a lot of pics of this model before then as this gets delivered to owners, too.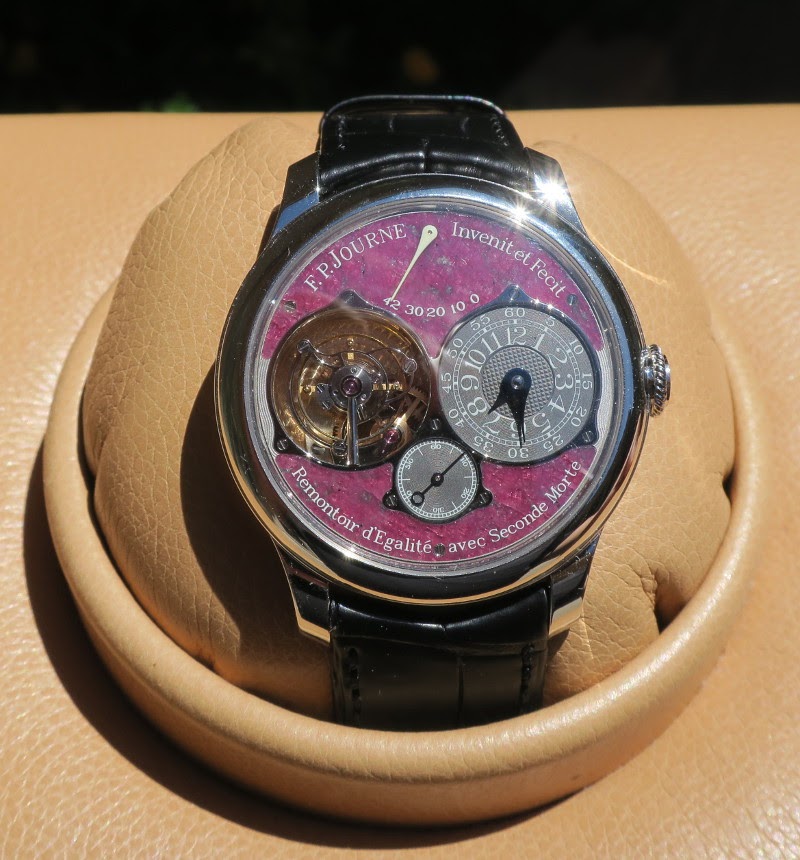 <!tag blob="addthis.follow.small"> Comments:
view entire thread
amazing in the sunlight
Interesting how you can see the structure of the stone. so cool! Im excited to see the new strap you have planned. Best Christian
stone structure
Yes, that's definitely the best part about how the watch turned out. The prototype pictures did not show the natural stone nearly as much.
wave pattern
It appears to be, although I'm not sure the rationale. I assume (as with the jade dials) that the ruby is too delicate to make a one-piece dial, but not sure why the exposed part is that pattern. I'll ping the boutique and try to get an answer.
Thanks for your reply :-)
I think you are right that the stone would be too brittle to cut so thin. Im thinkingg the wave shos great attention to detail. It would be fun to know more if you ask them. I hope you are having a lot of fun with this amazing piece. HAGWE Christian
amazing piece
to some extent this has more character than the other precious stone dial
character
Definitely so - that was my only gripe about the jade dial. The black MoP dial also has a lot more character.