WristScan 22 of Feb 2019: "Most Elegant" starts now!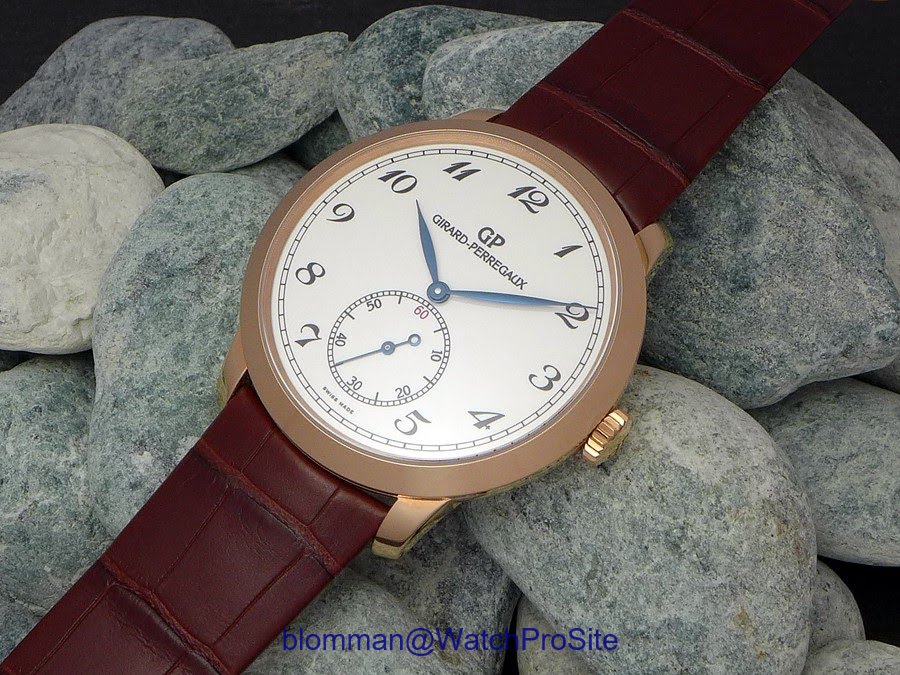 As announced, this week's WristScan Theme is "Most Elegant"! I will play my Girard-Perregaux 1966 Enamel dial with sub seconds. To me, one of the most elegant watches I have in the collection!
F.P. Journe Monopusher Split Seconds Chronograph – a Movement Analysis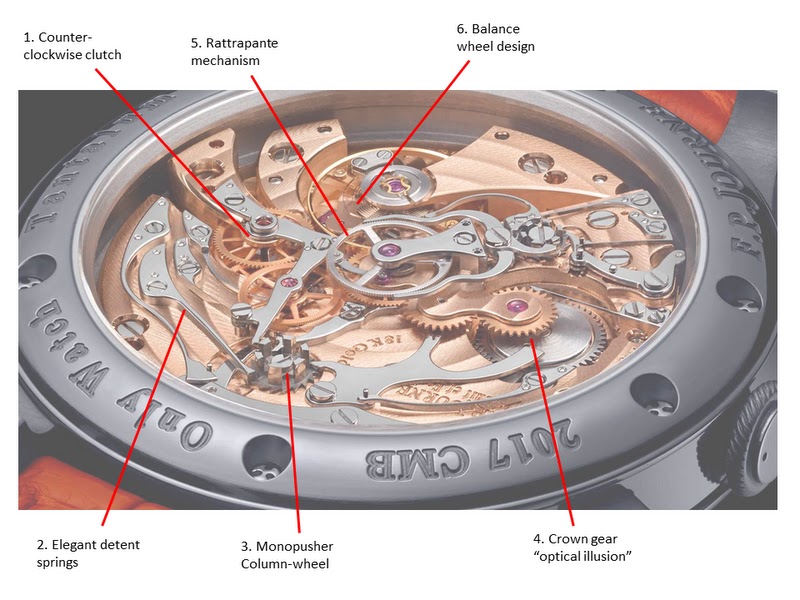 Disclaimer: This article does not intend to promote or to undermine any aspects of the watch, and is purely a study of the movement out of interest by a non-professional hobbyist. Credit where its due that FP Journe made a new split-second watch for Only Watch 2017, and (unlikely) might see the poss
21h
skyeriding
Just one picture: the "Karl" - Royal Oak.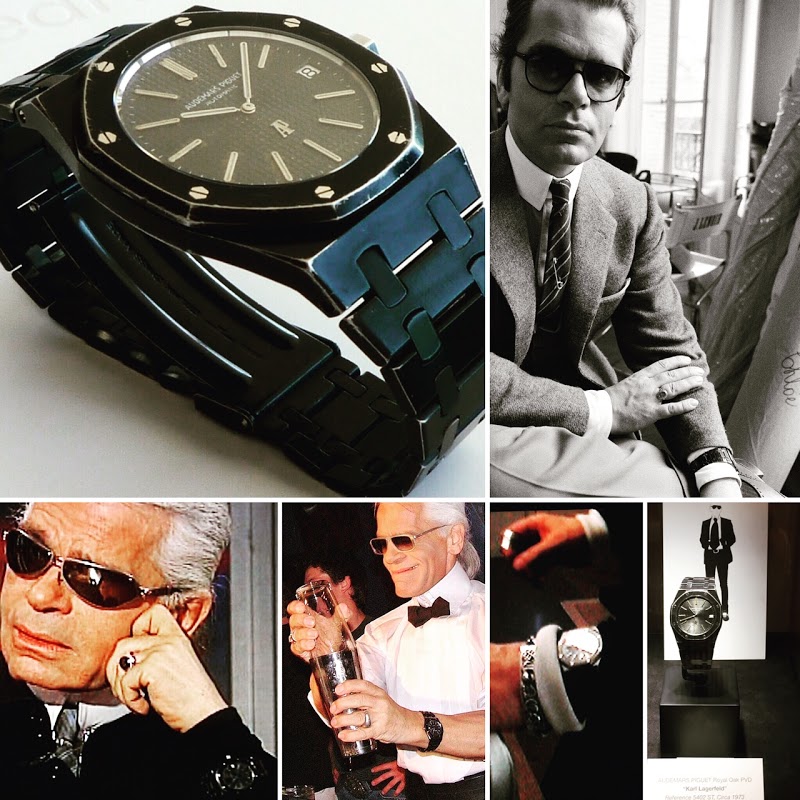 Karl Lagerfeld And His Famous All Black Audemars Piguet Royal Oak Cheers, HSTE I wonder that it has not been more widely discussed yet in specialist Forums or Blogs that Karl Lagerfeld is a very long time owner of an AP Royal Oak Jumbo A-Series. First hand evidence is given by himself in an intervie
1d
mr
Hands on review of Karsten Frässdorf's Spirograph Tourbillon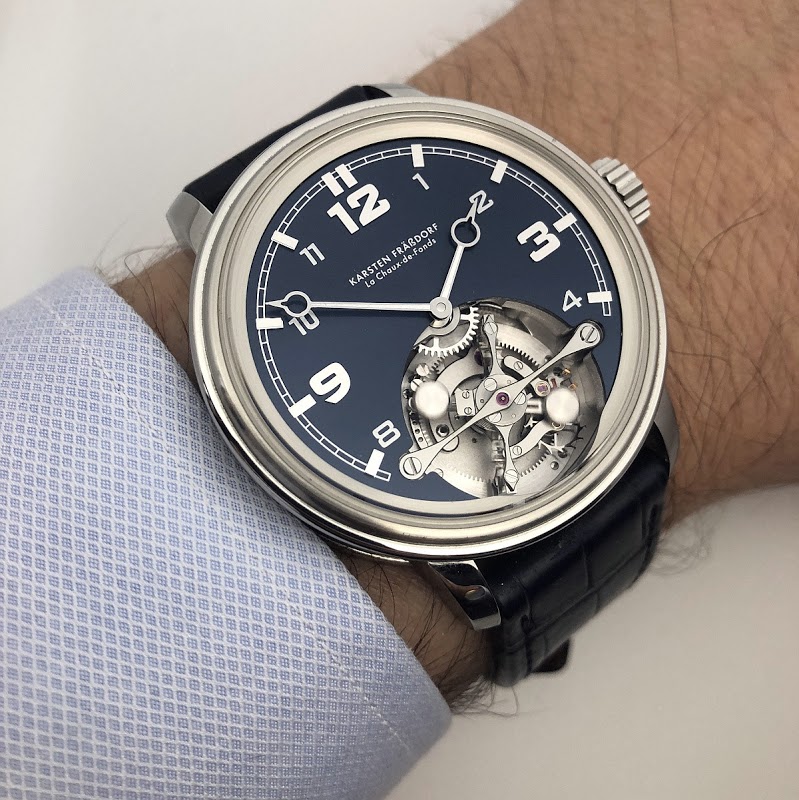 I have known Karsten Frässdorf for many years, in fact since the adventure of the Fabrication des Montres Normandes (FDMN) whose first steps had been presented at the Salon Belles Montres 2008 in Paris. Time flies! There is no need to beat around the bush at this point: I know that the name of Karst
2d
Sascha
Just back from Geneva (Geneva Days 2019: Hublot)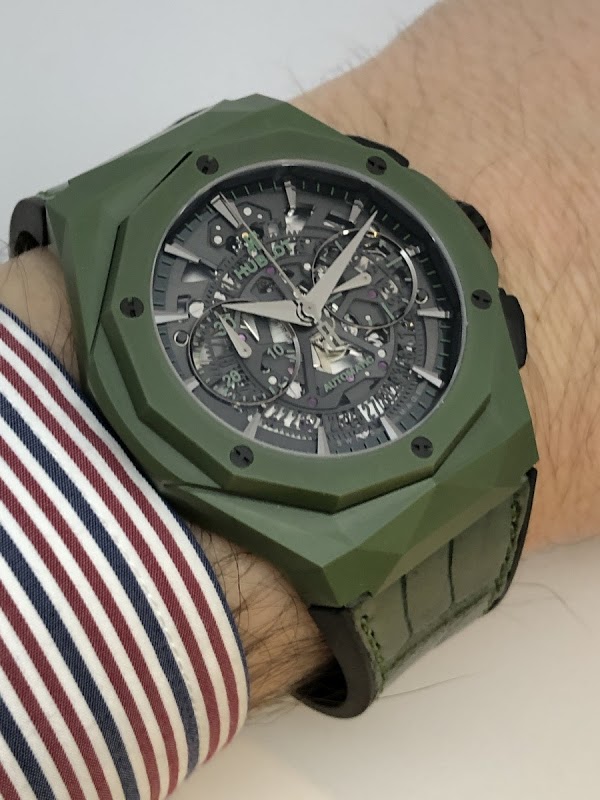 And Hublot offered us fireworks of novelties and colors with more than 50 references. Of course, most of them are just evolution of existing models but I could also see a lot of surprises! Here are first the gallery of wristshots: Report will come later... Fx
1M
Sascha
Zenith @ GenevaDays 2019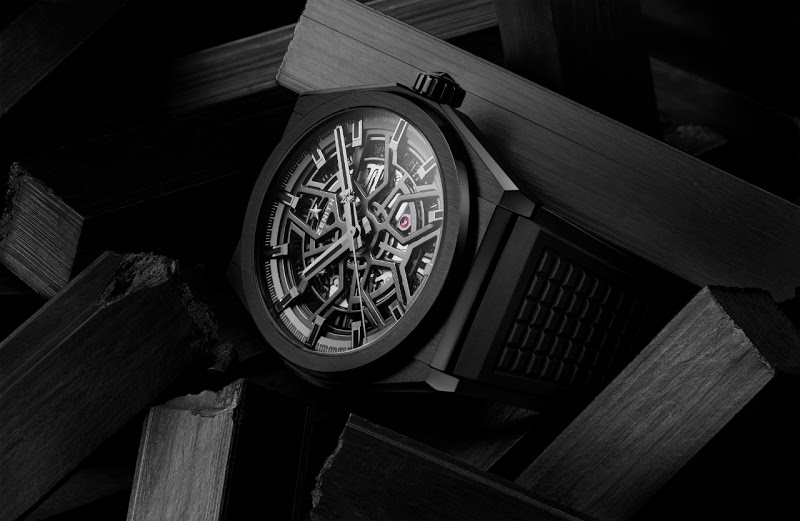 Dear friends, Epilog Zenith will also be presenting its new watches in Geneva in the next few days. Not at SIHH, but together with Hublot and TAG Heuer at GenevaDays 2019.These are very special times for the traditional brand from Le Locle. And I'm not talking about the 50th birthday of El Primero,
1M
Ambiorix
PRE BASEL 2019: Breguet Classique 5177 Grand Feu Blue Enamel.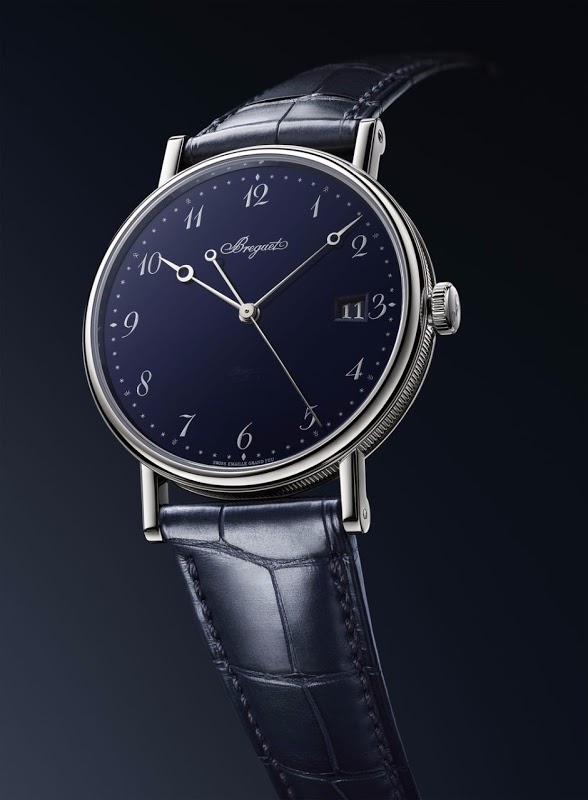 Here are some pictures I received from my contact at Breguet of this year novelty, the Breguet Classique 5177 Grand Feu Blue Enamel. My first feeling is very positive, and I think this is the kind of watch which deserves real pictures ( which I will take as soon as possible ) and most importantly, w
3d
amanico
Post-SIHH Novelty: Girard-Perregaux Quasar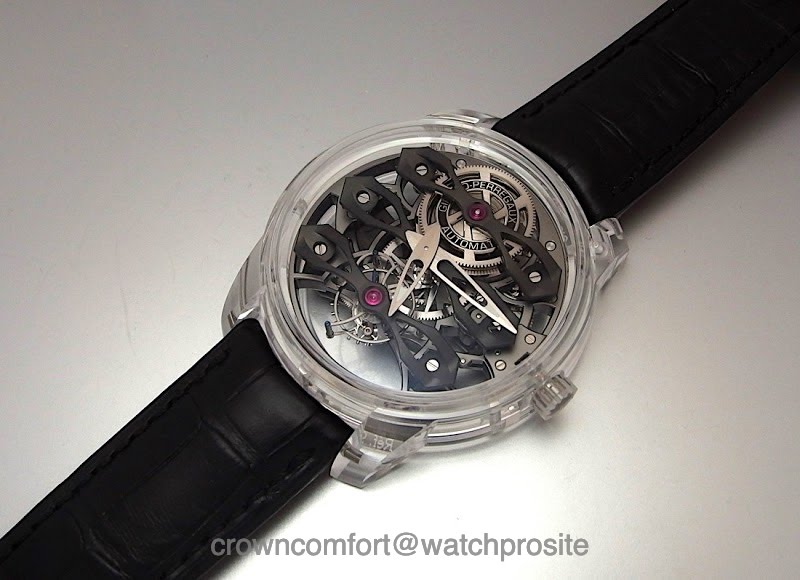 Just 4 weeks after SIHH at the Miami Watches and Wonders, Girard-Perregaux released another novelty from the 2019 collection. The Girard-Perregaux Quasar. It is sitting within the Bridges collection and is a not unfamiliar watch that was released last year. The Neo-Bridges Tourbillon Skeleton. But i
4d
blomman Mr Blue
Hands on review of the Chopard Mille Miglia Racing Colours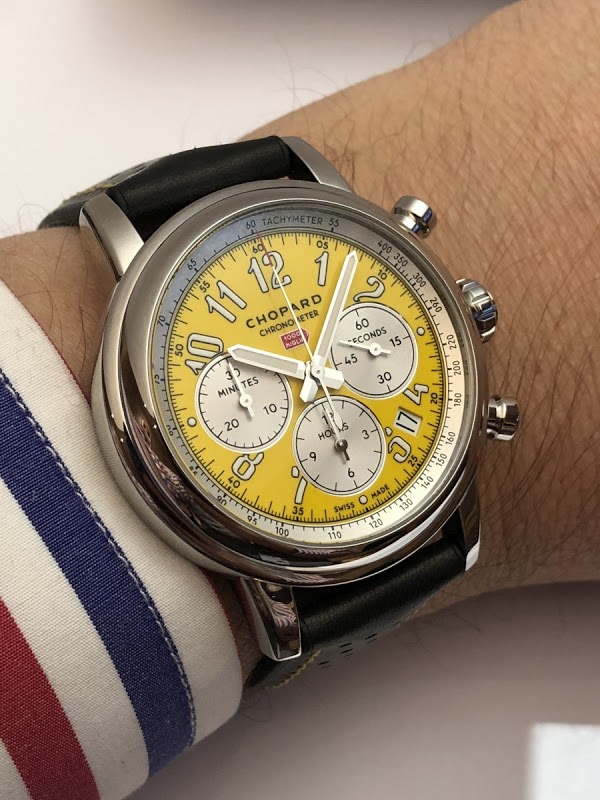 Come on, cheer up, little by little we are approaching Spring and a milder weather. And it is during the Spring that classic cars racing events are back to the forefront, including the most famous of them: the Mille Miglia, which will make its traditional loop from Brescia to Brescia via Rome in May
4d
Cpt Scarlet
SIHH 2019. Audemars-Piguet Code 11.59 line. Some thoughts.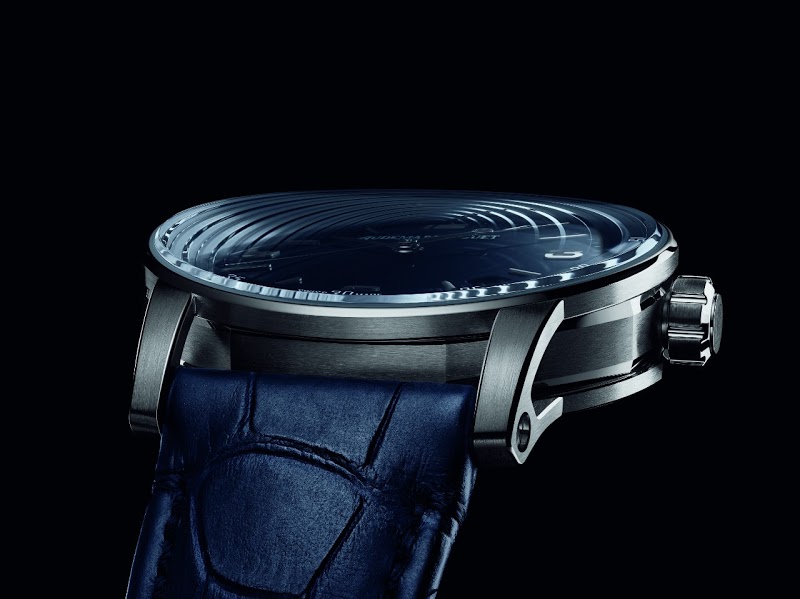 When Audemars-Piguet unveiled the 11.59 line, some weeks ago, the least we can say is that it received a cold welcome. I for one don't think it is justified. And I suggest we reconsider our feelings about it. First of all, the 11.59 is not one watch, or two, but a whole line of 6 watches: Time Only,
10d
amanico
SIHH 2019: Ulysse Nardin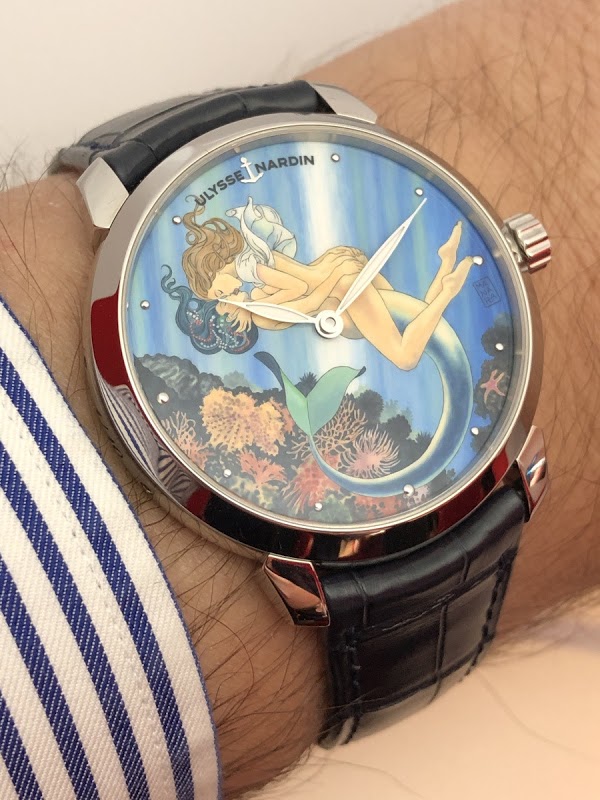 Ulysse Nardin was in my opinion one of the most convincing brands of the last SIHH. It has indeed managed to offer attractive new products while maintaining a certain pricing moderation, thus pursuing a strategic orientation initiated in recent years. This successful cocktail of audacity and reason
10d
Eddie1