MTF
[PuristS]
13383

A Brief History of CHOPARD Time and Jewels part 1: First Generation
Chopard – Scheufele: Bound by Time

Louis-Ulysse Chopard and Karl Scheufele I were born in different countries and 40 years apart but their life spans overlapped by 38 years and their descendents and businesses were destined to meet in the 20th century. The Chopard family lived in Sonvilier, a village of the Swiss Jura, while the Scheufeles stayed in Pforzheim in the Black Forest region of Germany.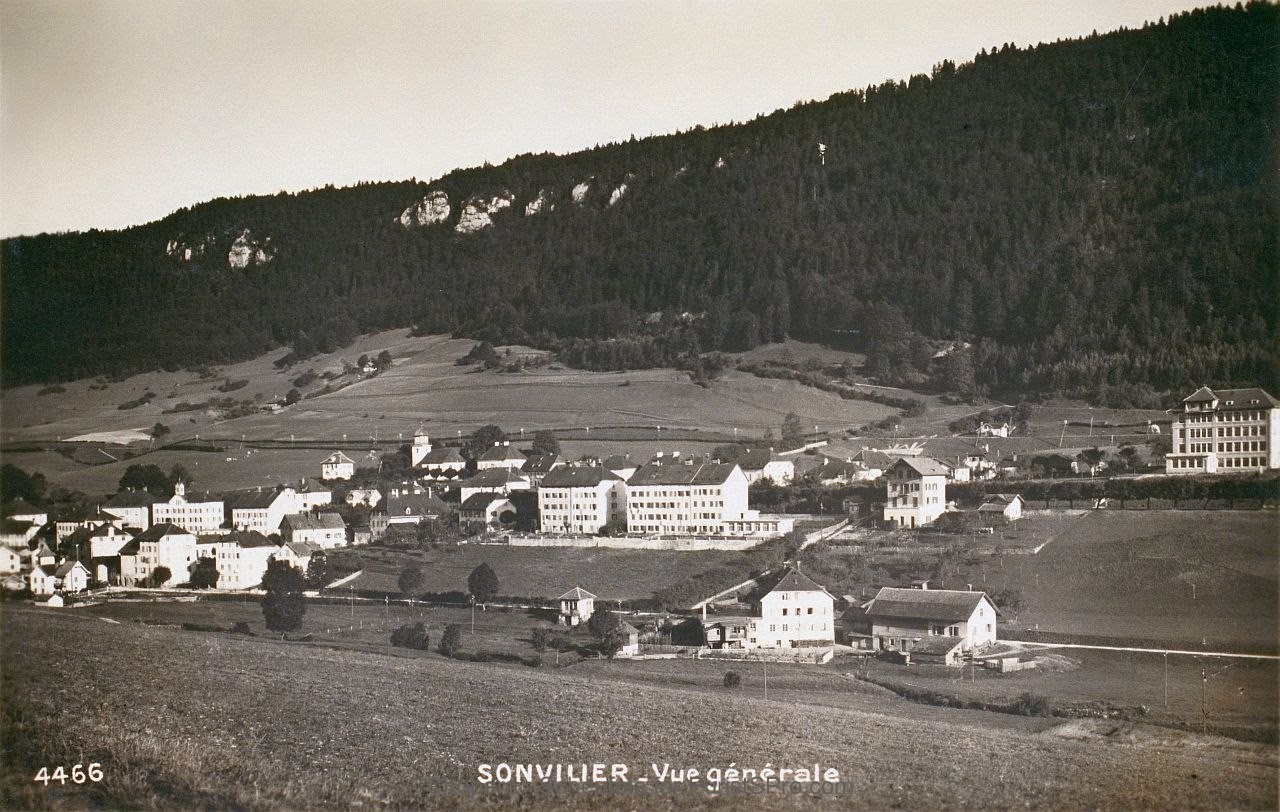 Chopard in Sonvilier

Félicien Chopard (1804 – 1887), a farmer descended from bee-keepers was a traditional man but he encouraged his sons to learn watchmaking. Farmers supplemented their income during the fallow winter by making watch movements. Félicien married Henriette Marchand (1807 – 1879) and had four sons: Jules-Edmond (1833), Louis-Ulysse (1836), Paul-Virgile (1838), and Arnold-Adémar (1842).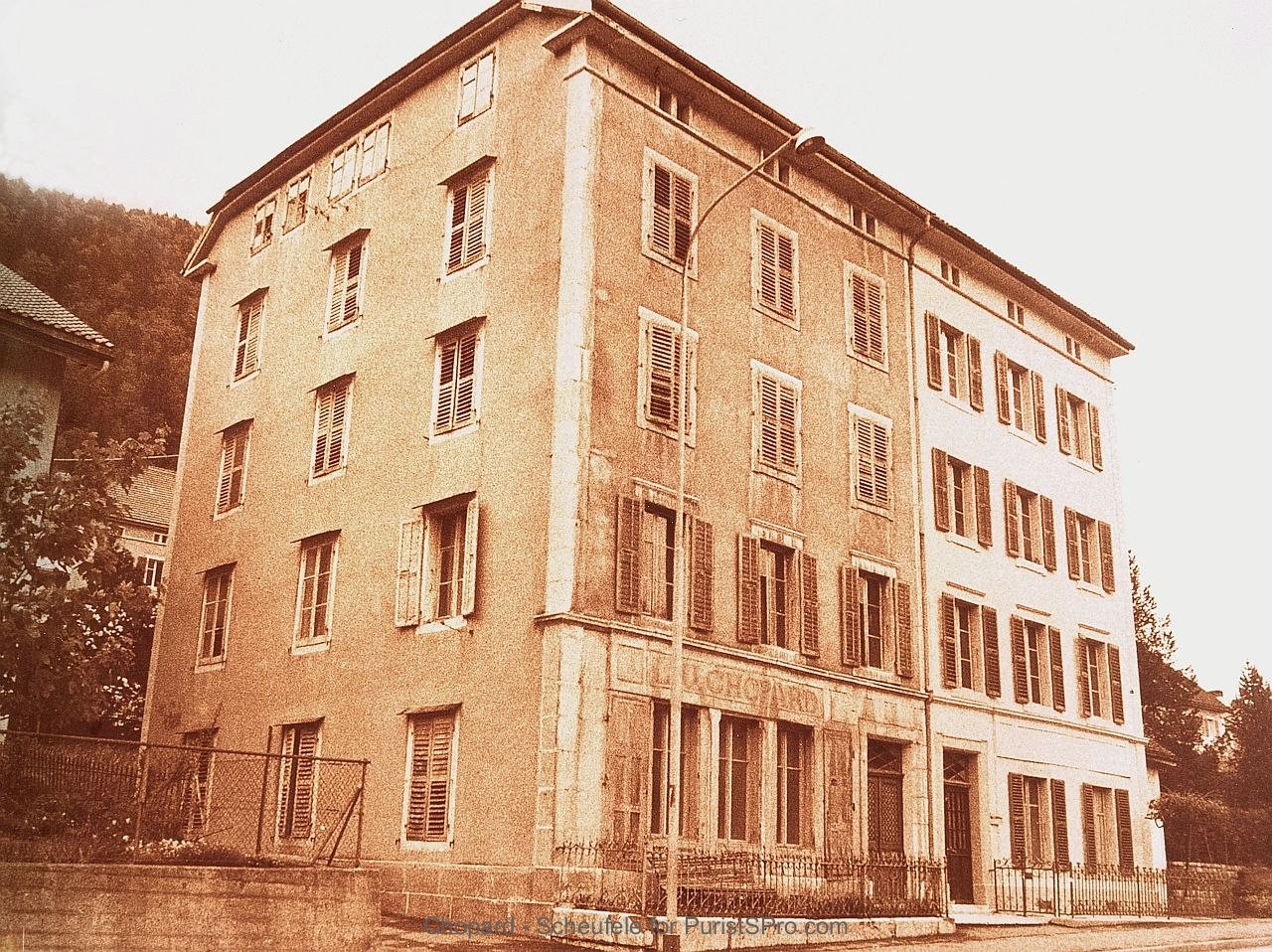 House in Sonvilier where Chopard company was founded in 1860. (Photo from 1900s)

Louis-Ulysse born on May 4th 1836, showed a particular prowess in watchmaking. The aspiring Louis-Ulysse figured out that it was the "comptoirs" or watch dealers who earned the greatest profit by buying the cheap assembled movements. Each Spring, these agents collected them and cased them up before marketing the finished watches. There was more profit to work independently; hence in 1860, at the age of just 24, Louis-Ulysse formed his own L.U.C watch workshop in Sonvilier.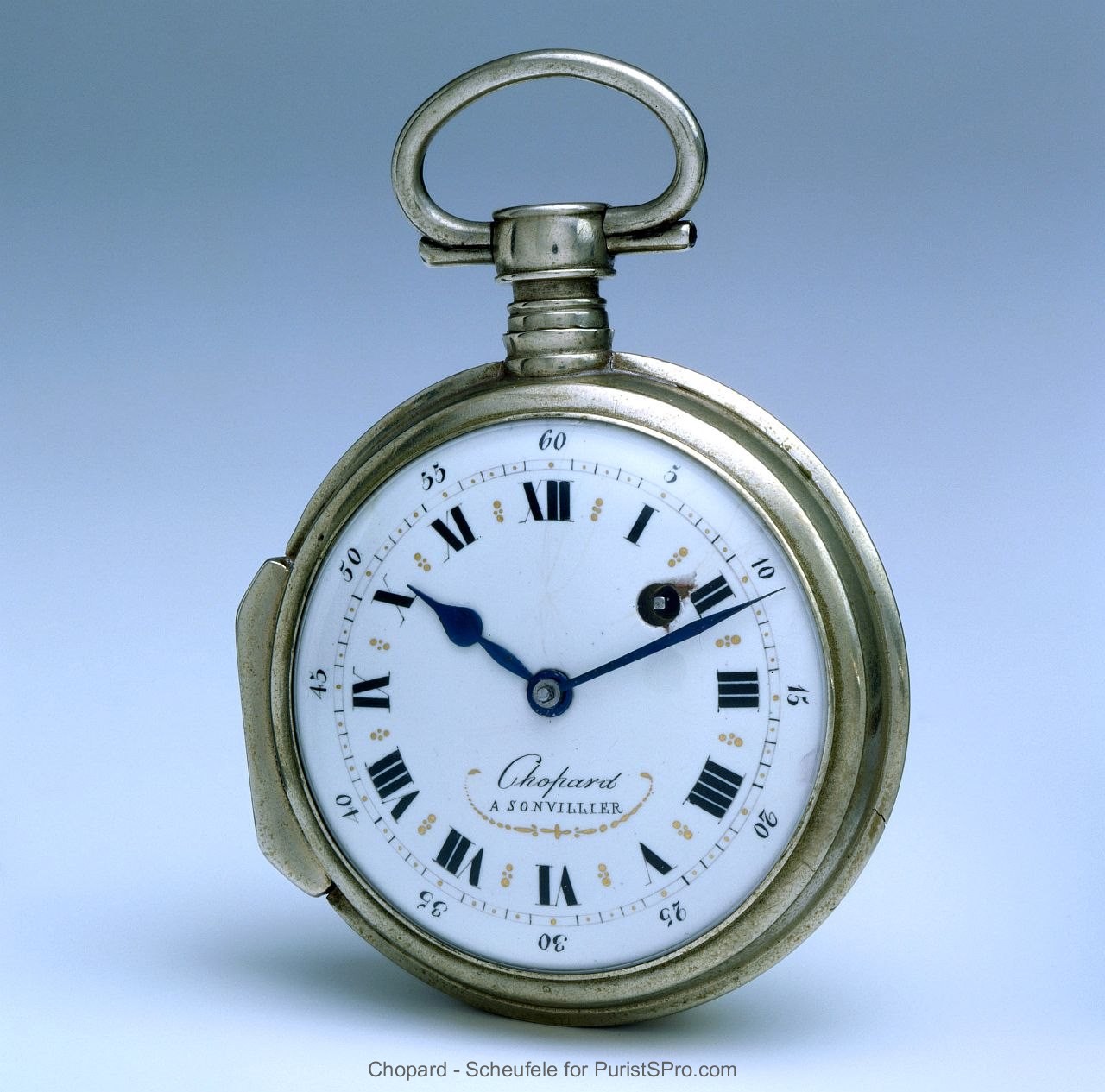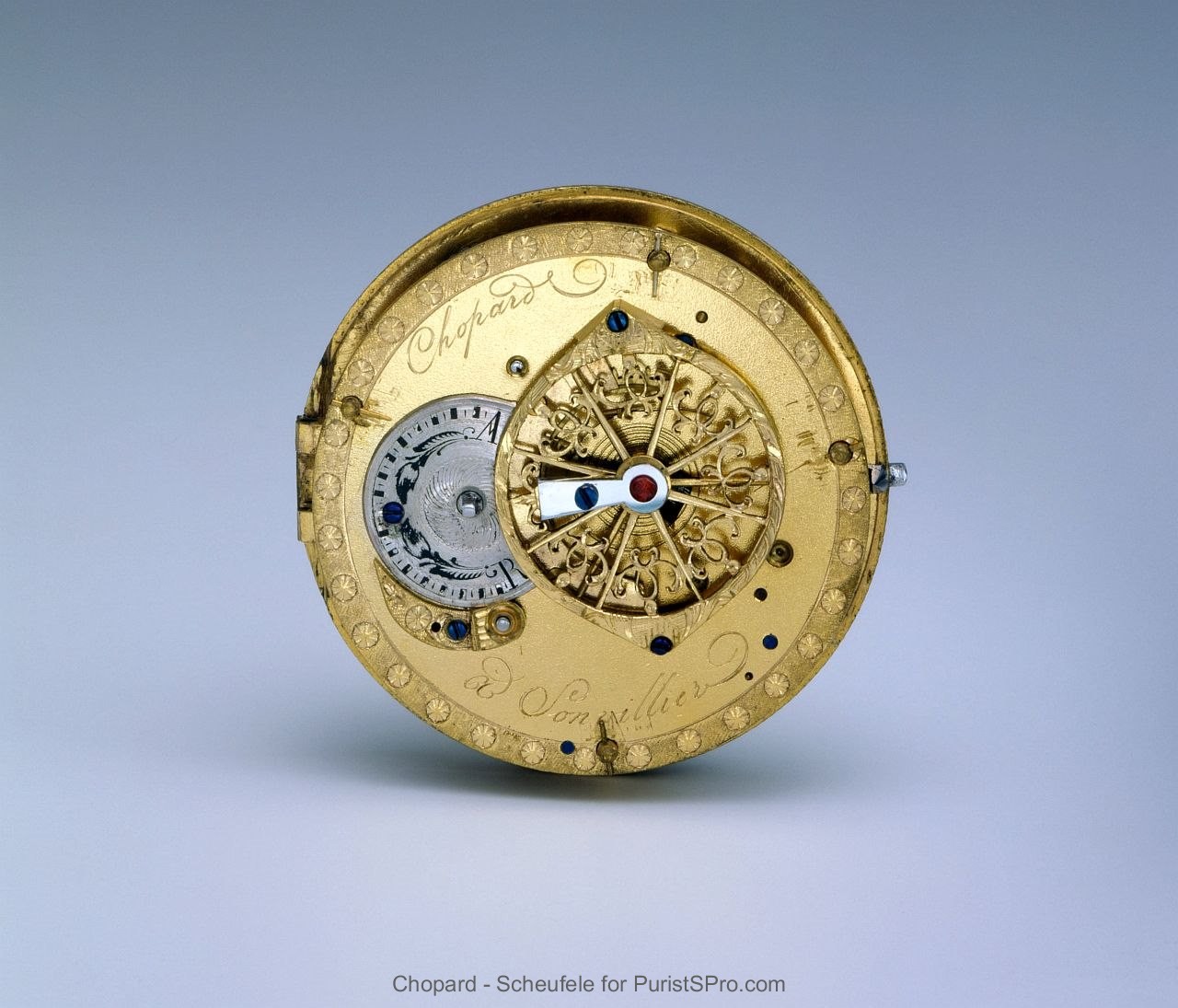 Precision and Decoration

Even before 20th century marketers started to exhort being "first, unique and different" to stand out from competitors, Chopard specialised in making innovative precision watches with elegant decoration.
Monsieur Chopard visited customers in Russia, Eastern Europe, and Scandinavia to show its finest creations, and the Tsar of Russia became a loyal client.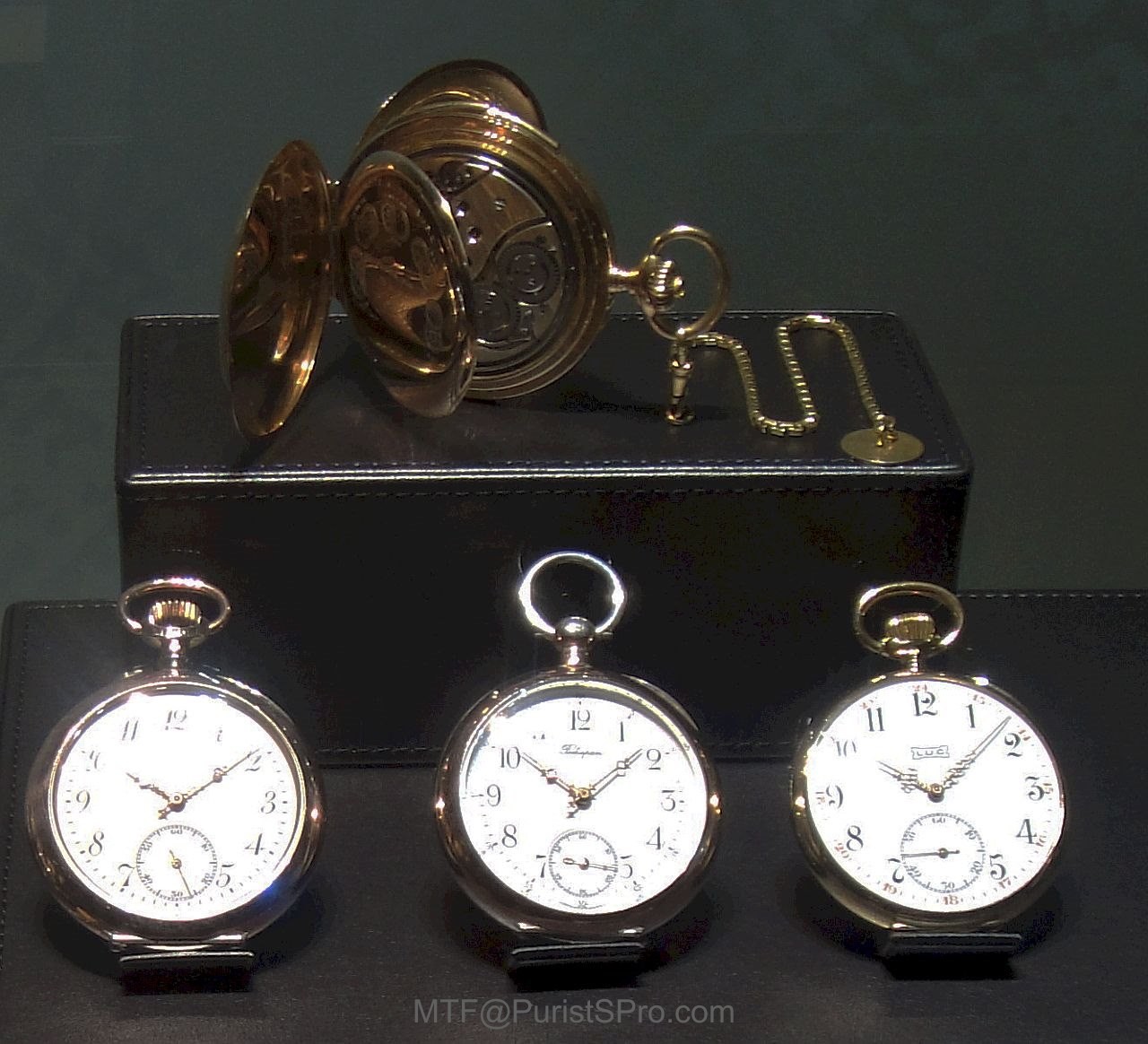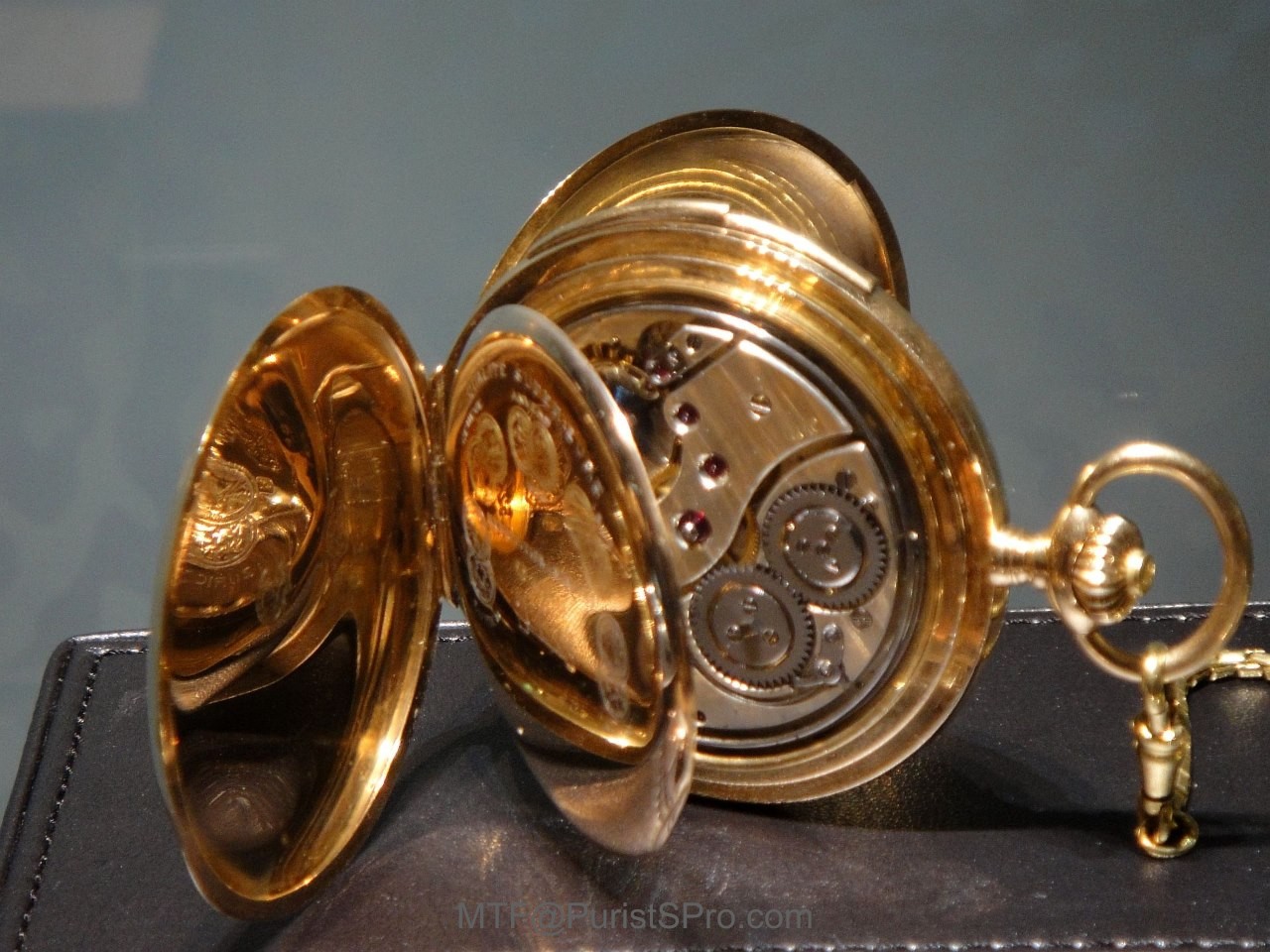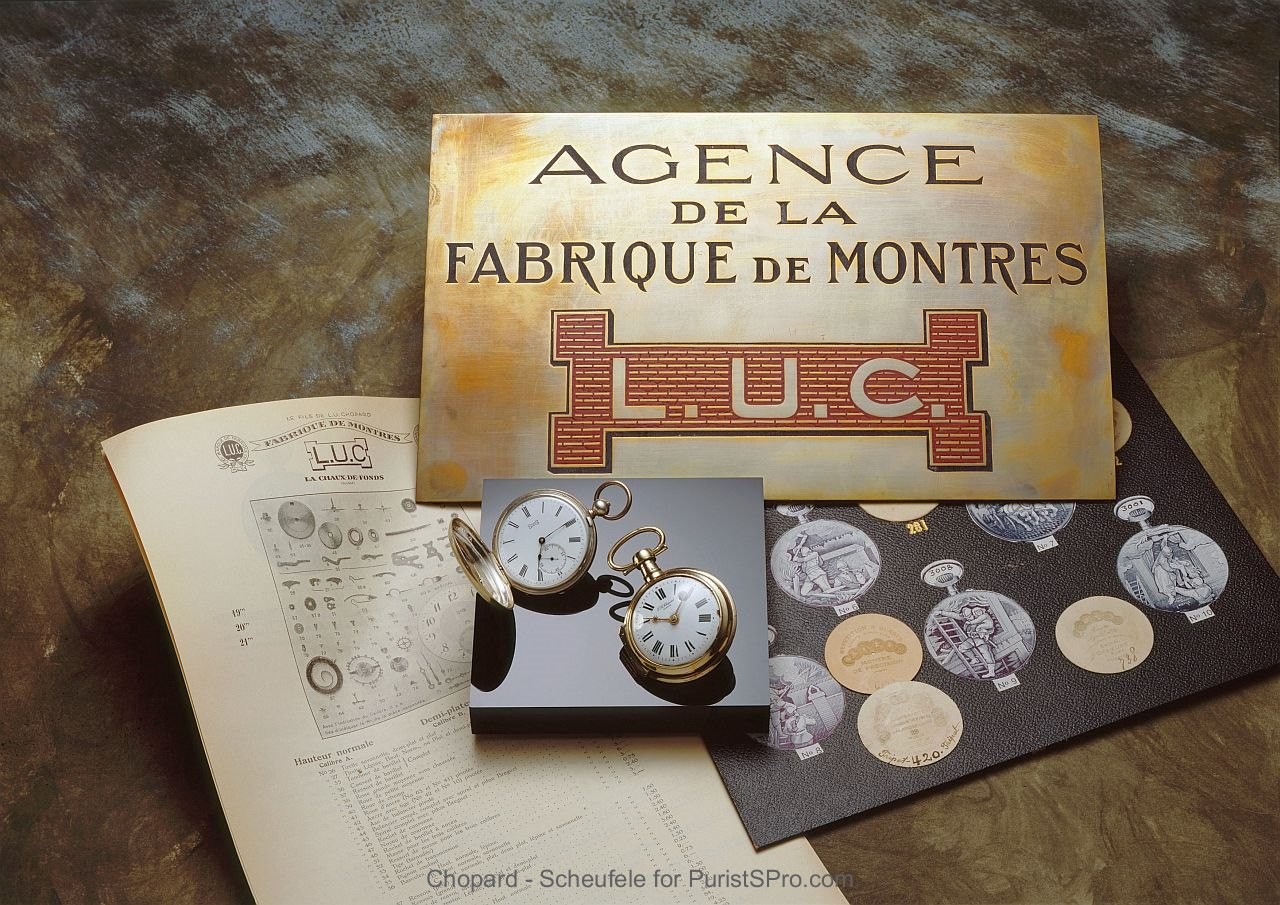 In 1913, Louis-Ulysse placed its first advertisement for the "Fabrique de montres L.U.C L.-U. Chopard, maison fondée en 1860".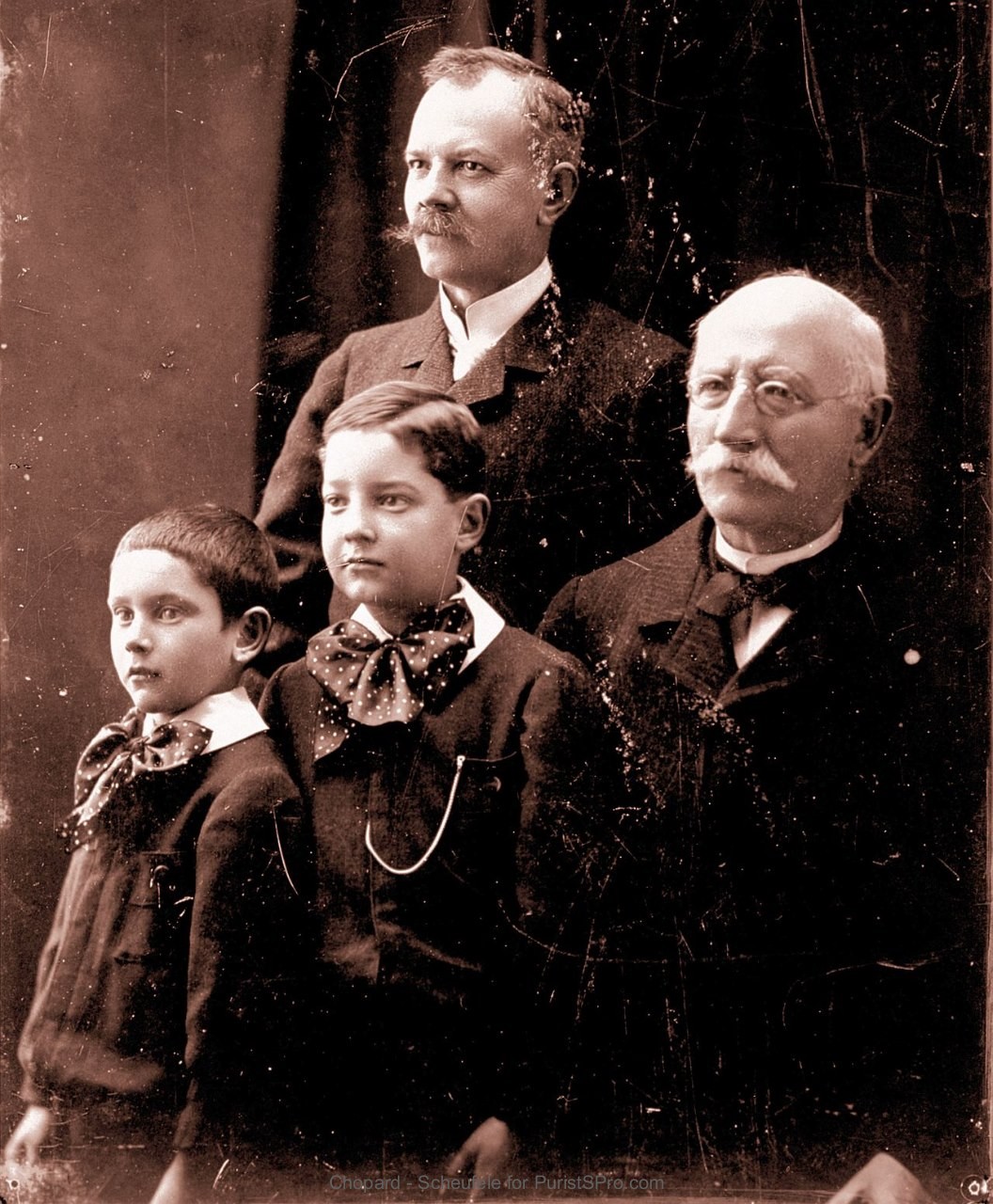 His son Paul-Louis took over the firm in 1915.
The Art Deco Craze was about to change watch and jewellery designs in Sonvillier and beyond…
Scheufele orphan turned goldsmith in Pforzheim

The jewellery industry flourished in Pforzheim, deep in the heart of the Black Forest in Germany.
The 'golden town' was Germany's leading jewellery and watch producing centre since 1767 by an edict passed by the Markgraf (March Count) Karl Friedrich von Baden, whose grave is located in this city.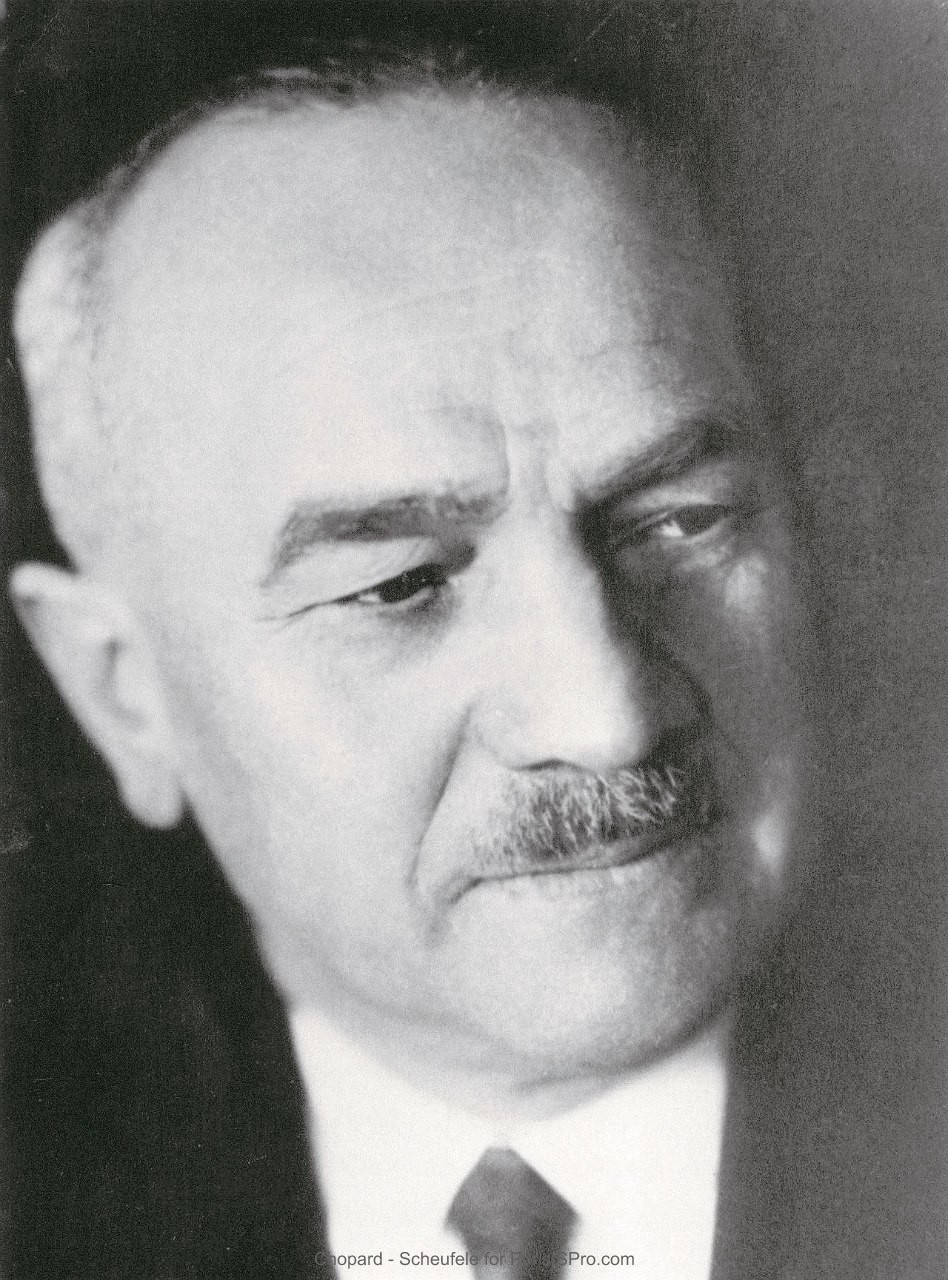 Karl Gotthilf Scheufele was born in Pforzheim on 6th August 1877 to Johannes and Sophie Scheufele. His life was altered tragically by the death of his parents when he was placed in an orphanage at the tender age of 11 years. That experience made him highly industrious and energetic but also allowed him to study watchmaking. After a spell as a salesman, he started on his own in 1904, making contacts in Russia and the Far East.
His manufacturing company (ESZEHA – spelling out the first three German phonetic letters S-C-H of his family name) made, in his own words, "brooches, pins, pendants and medallions" for domestic and foreign markets. They were adorned with diamonds and pearls in floral motifs inspired by Art Nouveau.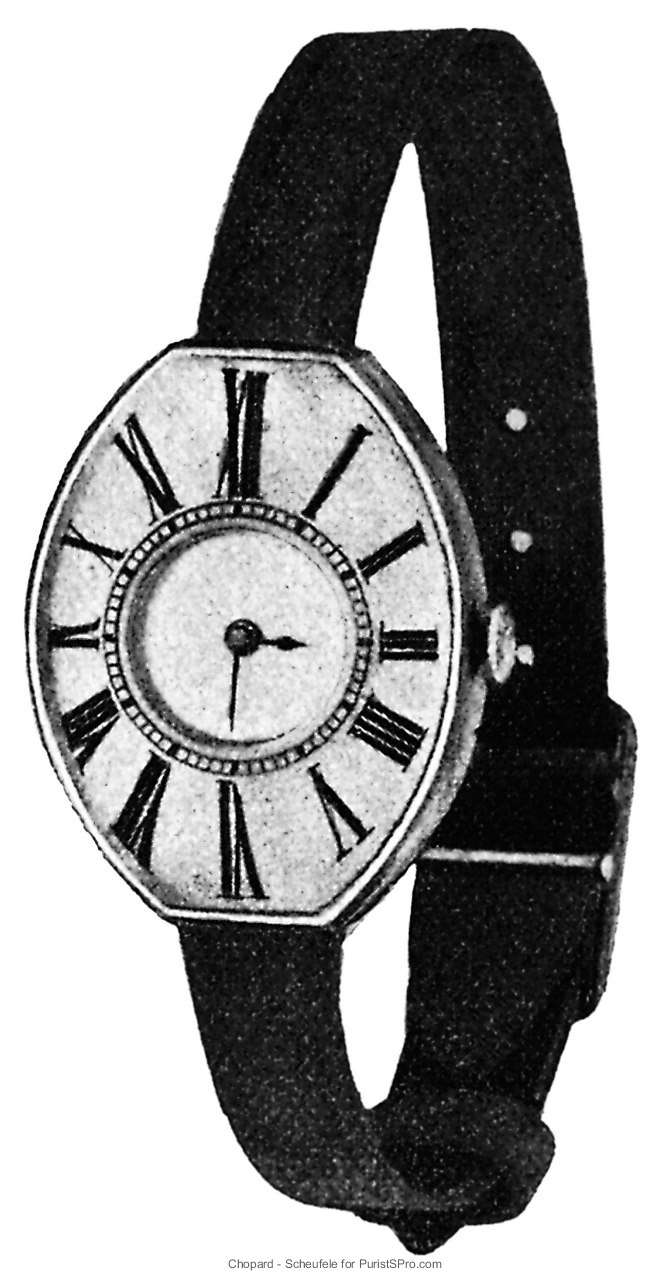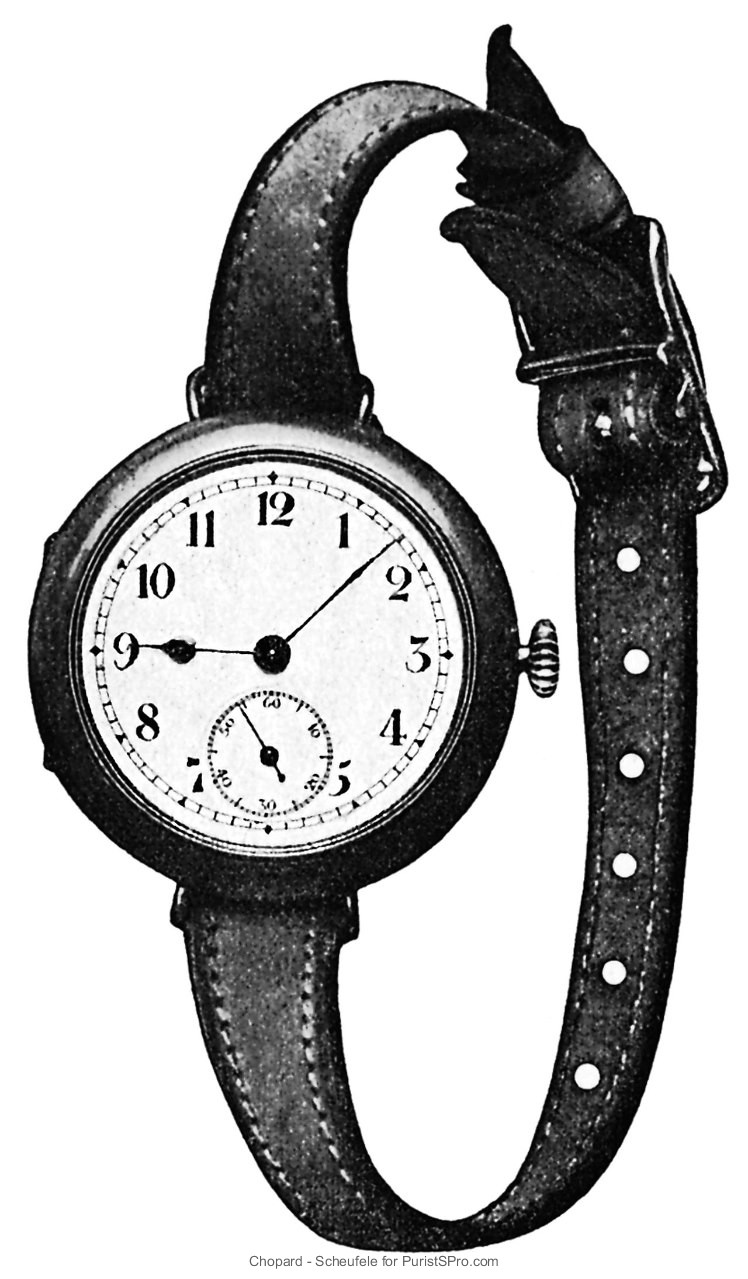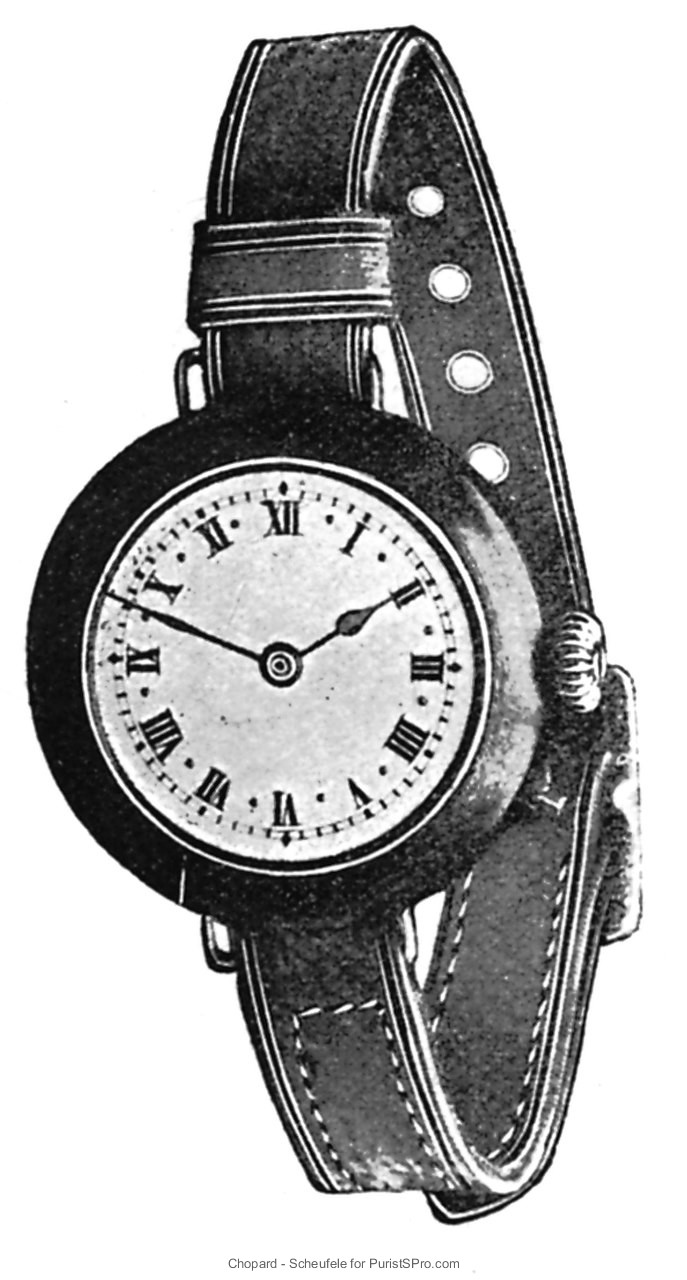 Most of ESZEHA watches were encased in platinum and gold richly set with gems.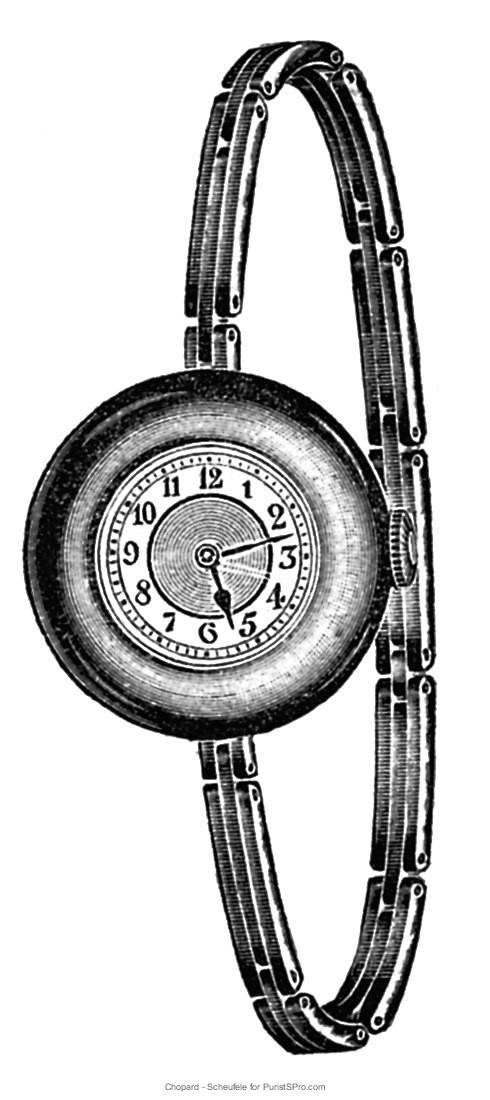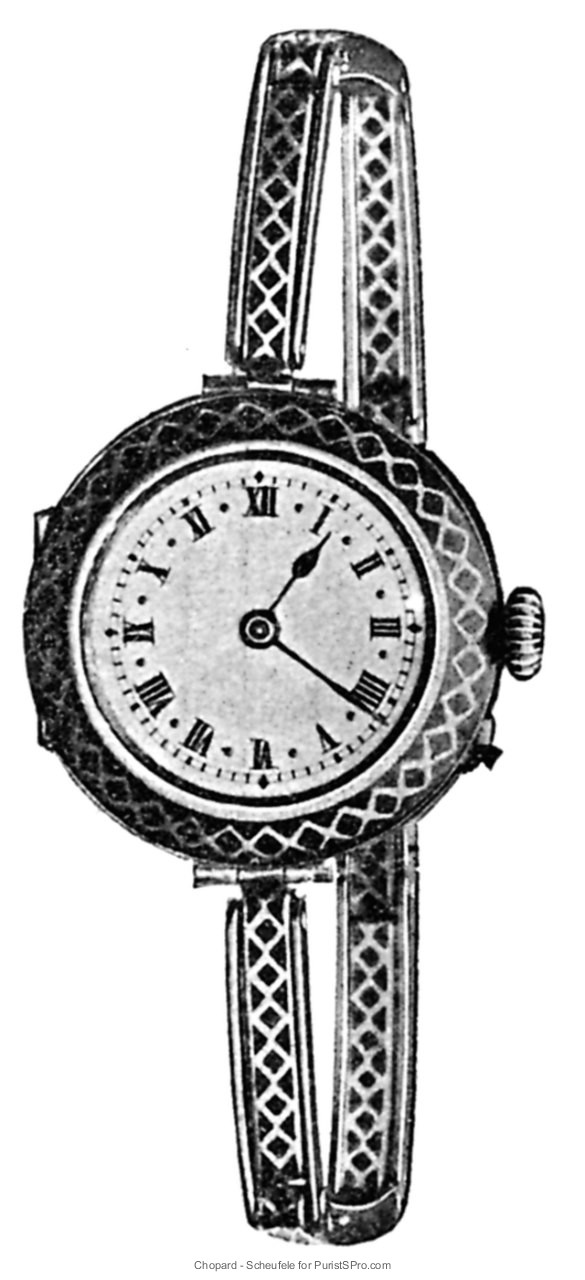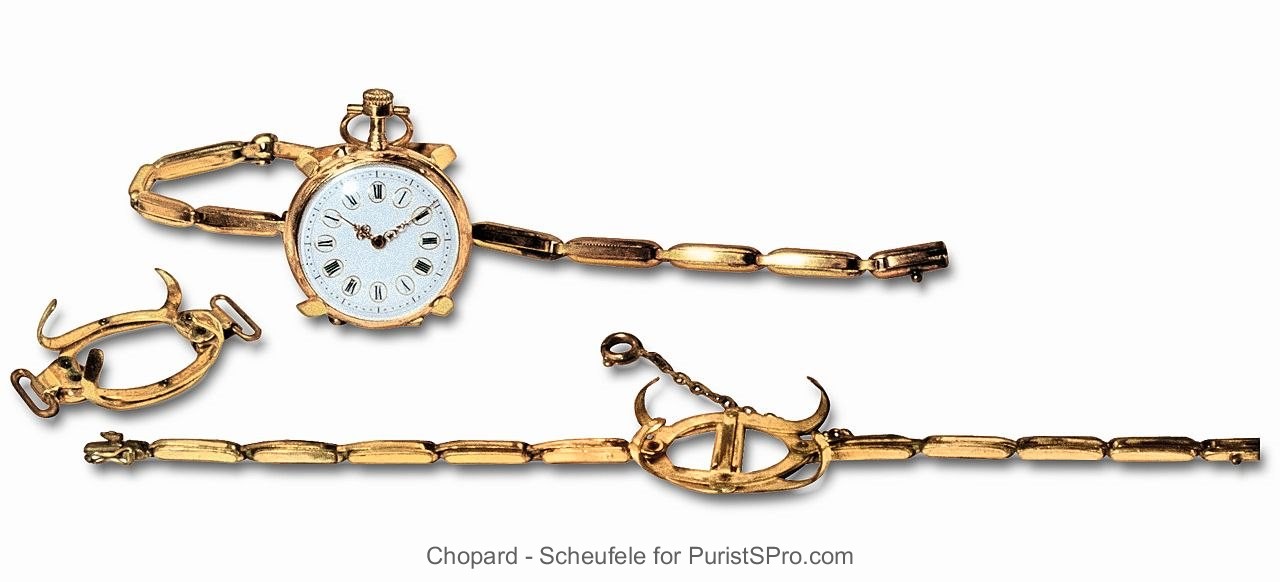 In 1912, when wristwatches became fashionable, he achieved great commercial success with the ESZEHA watch clip that allowed the owner to attach a pocket-watch to the wrist OR to wear it as a necklace.
The innovative system at the centre of the bracelet served to house the watch securely between four 'paws'. Women were quick to adopt this new way of wearing watches as jewellery.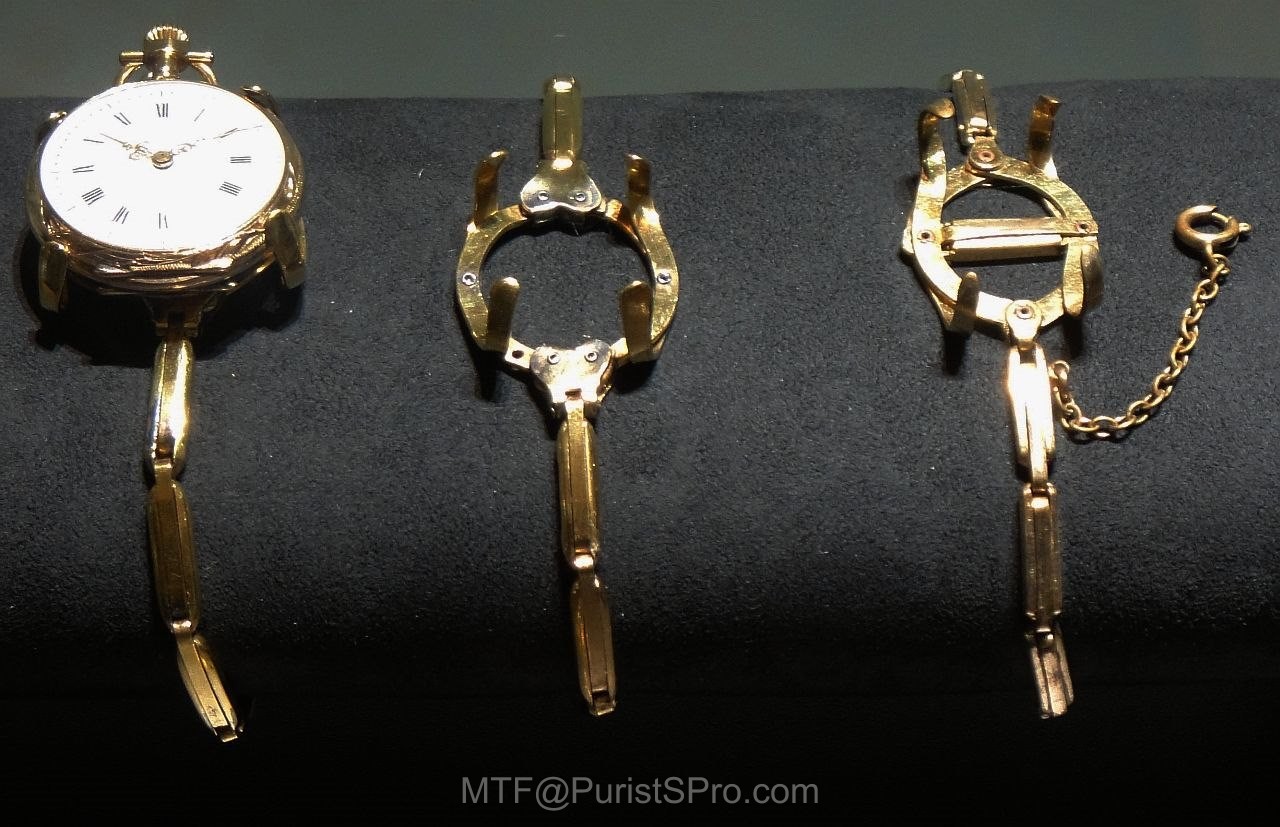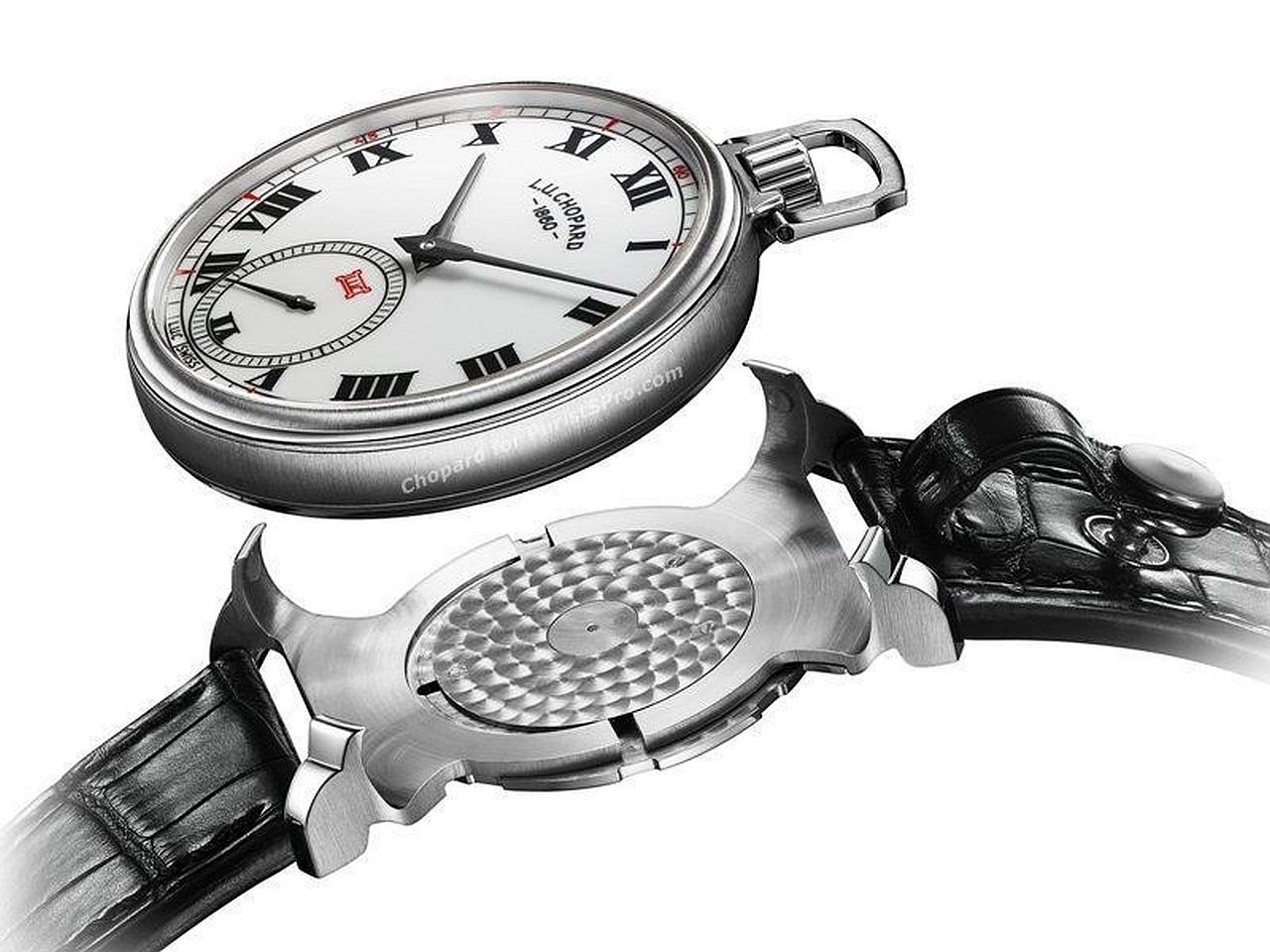 Karl Scheufele I was also blessed with a successful family life.
He married Paula Haecker in 1905 and little Hans was born, sadly a victim of infant death 3 weeks later.
Nelly was born in 1906 followed in 1907 by son and heir, Karl II and little Ruth in 1909.
Little did they know that their world was to be plunged into turmoil by another war…
TIMELINE

1836: May 4, Birth of Louis-Ulysse Chopard in Sonvilier, in the Swiss Jura.

1859: Birth of Paul-Louis, son of Louis-Ulysse Chopard

1860: 24 year-old Louis-Ulysse Chopard founds a high-precision watch manufacture specialising in pocket-watches and chronometers, in Sonvilier, Switzerland,

1877: August 6, Birth of Karl Gotthilf Scheufele (Karl I) in Pforzheim, Germany.
1898: Birth of Paul-André, son of Paul-Louis Chopard.
1904: Founding of the "Karl Scheufele" brand specialising in jewellery watches distributed under the name ESZEHA.
1907: Birth of Karl Scheufele II.
1912: Louis-Ulysse Chopard travels to Russia through Poland, Hungary and the Baltic States.
Tsar Nicolas II becomes a Chopard client.
Karl Scheufele I invents the watch clip.

1913: First ever advertising campaign for Chopard, referred to as "Fabrique de montres L.U.C L.-U- Chopard, maison fondée en 1860".
1915: January 30, Death of Louis-Ulysse Chopard
Acknowledgements for Facts and Images:
Chopard Manufacture Archivist A.W.
L.U.CEUM, Fleurier
Scheufele Family
Dr M. Teillol-Foo, 2015
A Brief History of CHOPARD Time and Jewels part 2: Second Generation CLICK following URL to read:
www.watchprosite.com
A Brief History of CHOPARD Time and Jewels part 3: Third Generation CLICK following URL to read:
www.watchprosite.com
A Brief History of CHOPARD Time and Jewels part 4: New Beginnings CLICK following URL link to read:
www.watchprosite.com
A Brief History of CHOPARD Time and Jewels part 5: Happy Diamonds CLICK following URL link to read:
www.watchprosite.com =
A Brief History of CHOPARD Time and Jewels part 6: Production Sites CLICK following URL link to read:
www.watchprosite.com

A Brief History of CHOPARD Time and Jewels part 7: Chopard Manufacture - First 20 Years CLICK following URL link to read:
www.watchprosite.com
A Brief History of CHOPARD Time and Jewels part 8: Karl-Friedrich Scheufele - Early Years. CLICK following URL link to read:
www.watchprosite.com
A Brief History of CHOPARD Time and Jewels part 9: Caroline Scheufele - Early Years. CLICK following URL link to read:
www.watchprosite.com=

A Brief History of CHOPARD Time and Jewels part 10: Noblesse Oblige
www.watchprosite.com=


This message has been edited by MTF on 2016-08-24 19:33:05
More posts: