sebks
146

<!tag blob="forumpost.visitstar">
1 week on the wrist: Octo Finissimo Chrono
Dear All,
Here are some better pictures and more thoughts on my Octo Finissimo Chrono Revolution LE.
First I have to confess that i really love 70' inspired sport watches with a "Genta feel". I have a VC Overseas gen 2 "Deep Stream" with the titanium bezel, a Royal Oak offshore "Ghost" with titanium case and ceramic bezel, i'm on the list for a blue 15500 and would not say no to a Nautilus (assuming Patek would accept to sell me one

.
But as much as I love the "iconic" references of the holy trinity we have to acknowledge that prices increased much faster than their horological content... We end up paying huge premiums for these "iconic" designs but these watches remain iterations of past models... Innovations are incremental at most and even quality might not be what it used to (my first Overseas stopped working 2 hours after i left the retailer - and was replaced by another watch, my AP was running 20s / day too fast and chrono was not running smoothly - AP changed the movement under warranty 1 month after purchase, etc...).
Again i still love them in spite of their flaws but 30K$ for a defective "generic" movement is a bit bitter...
And here comes Bulgari - certainly not the most regarded watch brand, no "iconic design" supported by decades of marketing campaigns, so what do they do to get serious watch enthusiasts interest?
They make a product which objectively surpasses everything offered by the competition in terms of horological content!
AP uses a modular Dubois-Depraz? The caliber BUL318 is the thinnest chronograph movement in the world, has a column wheel, 55h power reserve and a GMT function as bonus. My watch has gained 5 seconds in 6 days... so the caliber is not only thin, it runs good as well
VC gives you a solid gold rotor in the new Overseas? Bulgari comes with a platinum peripheric rotor !
AP gives you a nice titanium tang buckle? Bulgari comes with a super smart titanium folding clasp sitting flat within the bracelet thanks to recessed links for ultimate comfort.
The design of the Octo might not be for everyone... but at least it does not copy the RO with screws and brushed finishes (hello Alpine Eagle

. It is actually a Genta "shape" which Bulgari moved to the 21st century with the Finissimo version. What's even better: while the RO is a round into an hexagon, the Octo is an hexagon into a round ! I really like the "inverted reference", maybe Genta wanted to make the Octo his "Anti RO"

The case finish is perfect with an impressive attention to details: the chrono pushers are perfectly integrated (they look like crown guards) and the GMT pusher gives a nice symmetry with the crown.
The wearing feel is actually quite surprising: while extremely light and thin the Octo also feels very "solid" and sturdy. It's like a high performance / modernized version of a familiar object, all my other watches feel somewhat "dated" in terms of wearing experience... Either solid / thick or thin / fragile...
I actually did not really like the first Octo Chrono version: too mono-chromatic, too cold... it was 90% there but something was missing.
The Revolution LE (25 ex) just gives it the extra spice / sportiness needed: super nice mat white dial with bigger fonts and full luminescence trick: in daylight it's a normal dial, at night it's a light beam

It's quite amazing to see how much design effort went into a 25 units LE... The tachymeter scale on the bezel also brings a more dynamic feel...
Overall the watch is not perfect. The 30m depth rating is a bit low and the finish of the movement - while very nice - is a bit too traditional for such a futuristic watch.
But the biggest weakness of the Octo, THE elephant in the room: it's actually available

I'm pretty sure that if Bulgari started to take waiting lists (just a few months

) the demand would go through the roof.
My final word: while not cheap the Octo gives you really a lot for your money: unique movement with real "value added" features (not just bullXhit "manufacture" claims with no tangible benefits), ultimate comfort, attention to details, it for me shows that Bulgari respects the collectors and really tried to offer the best possible product - not just grabbing money with a nice story telling and dial color change...
Now i have a problem: how to feel I'm getting the same level of "respect" with my next "non Octo" watch purchase?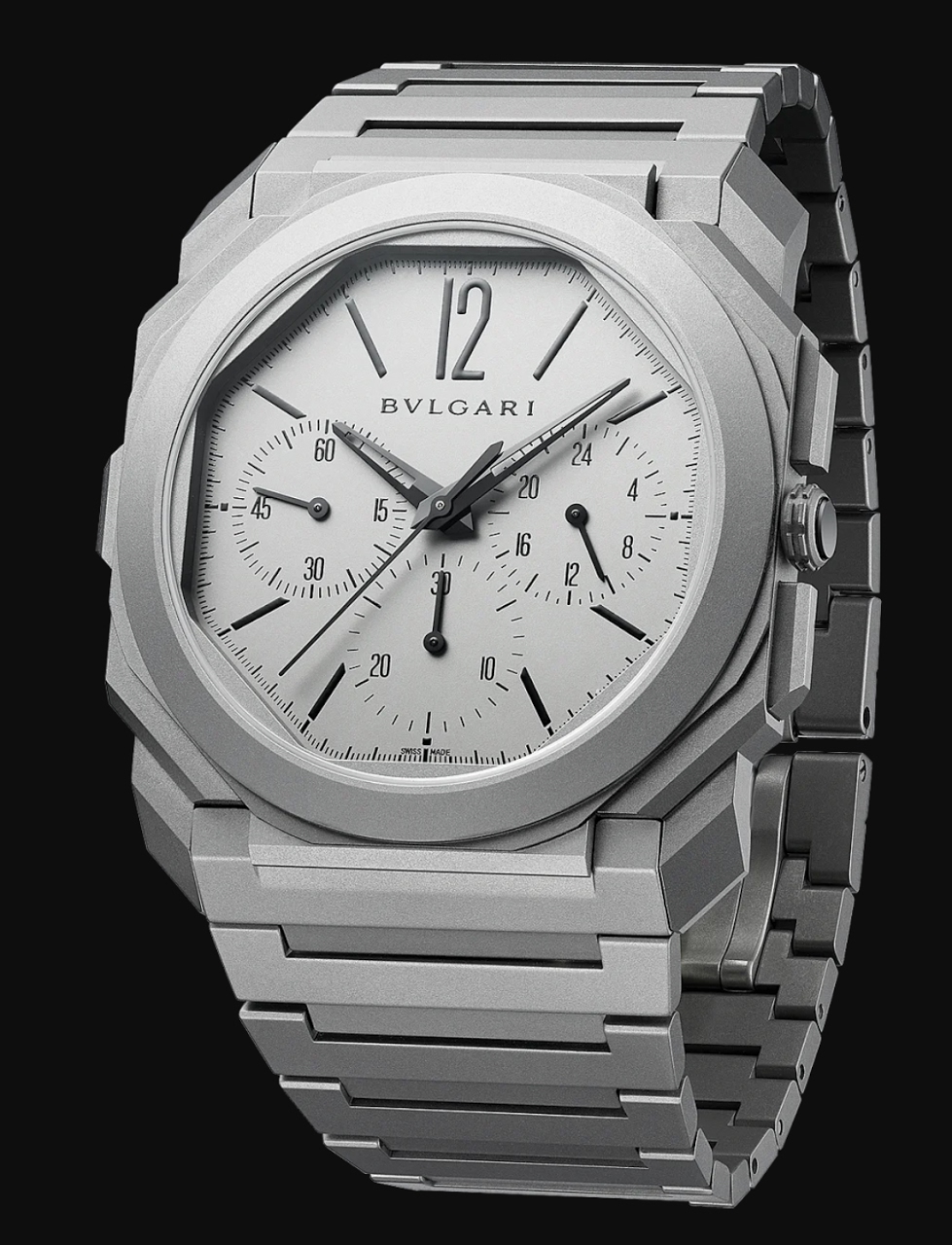 credit Bulgari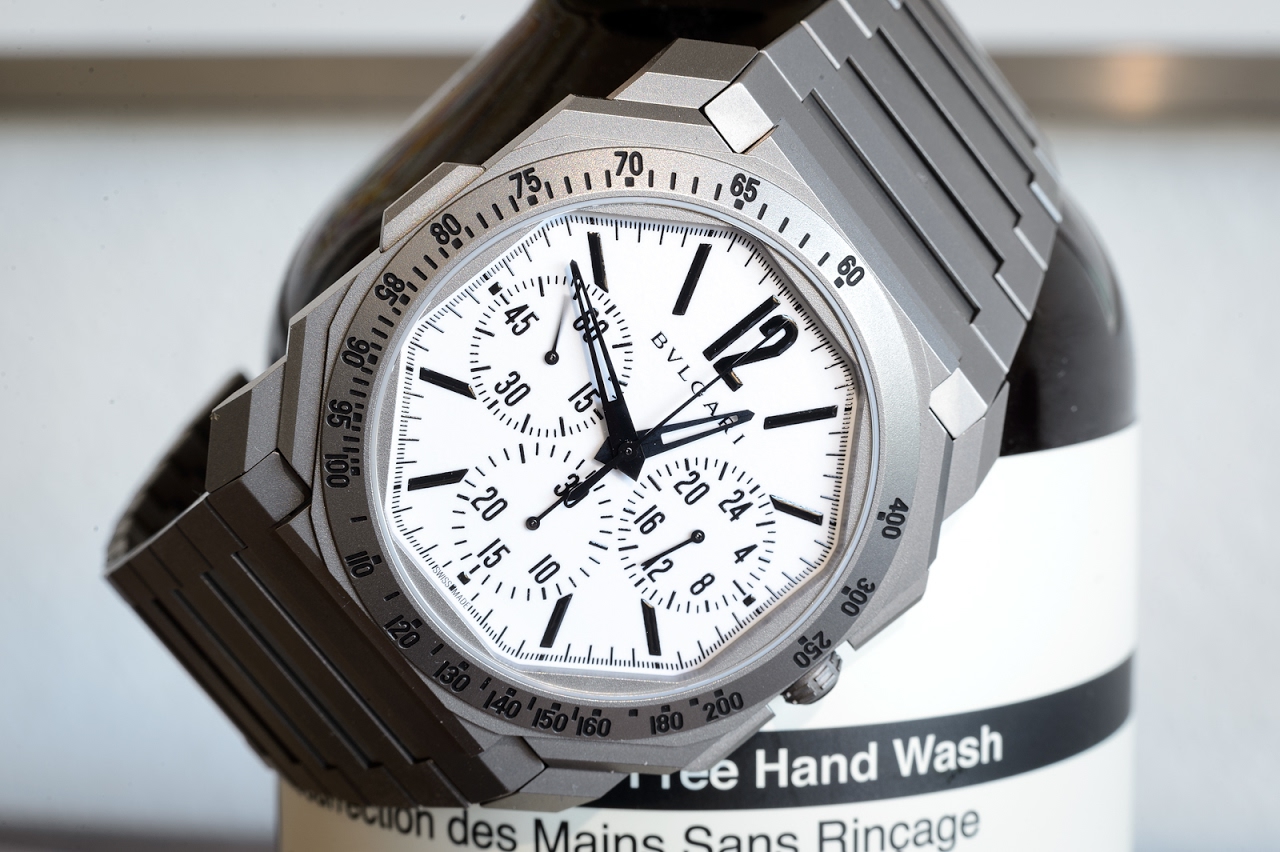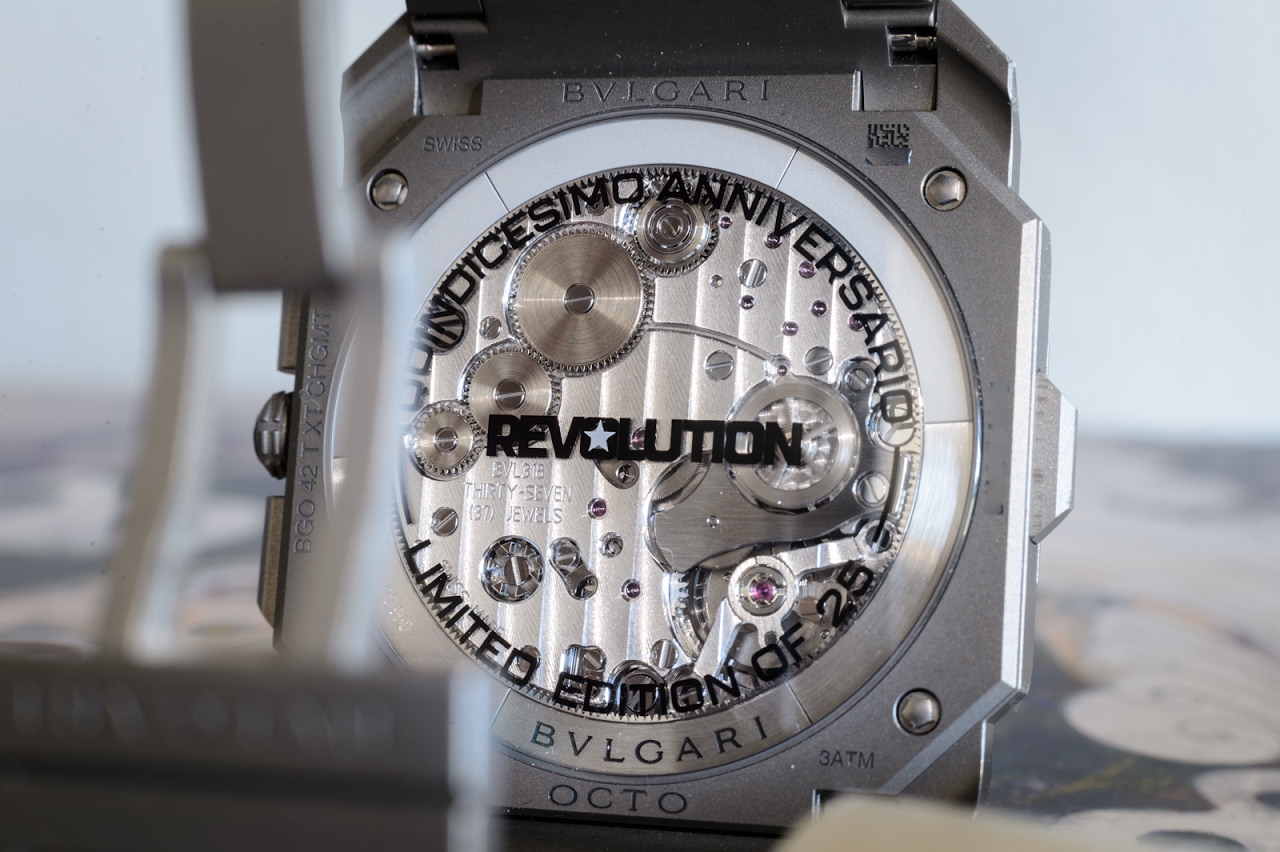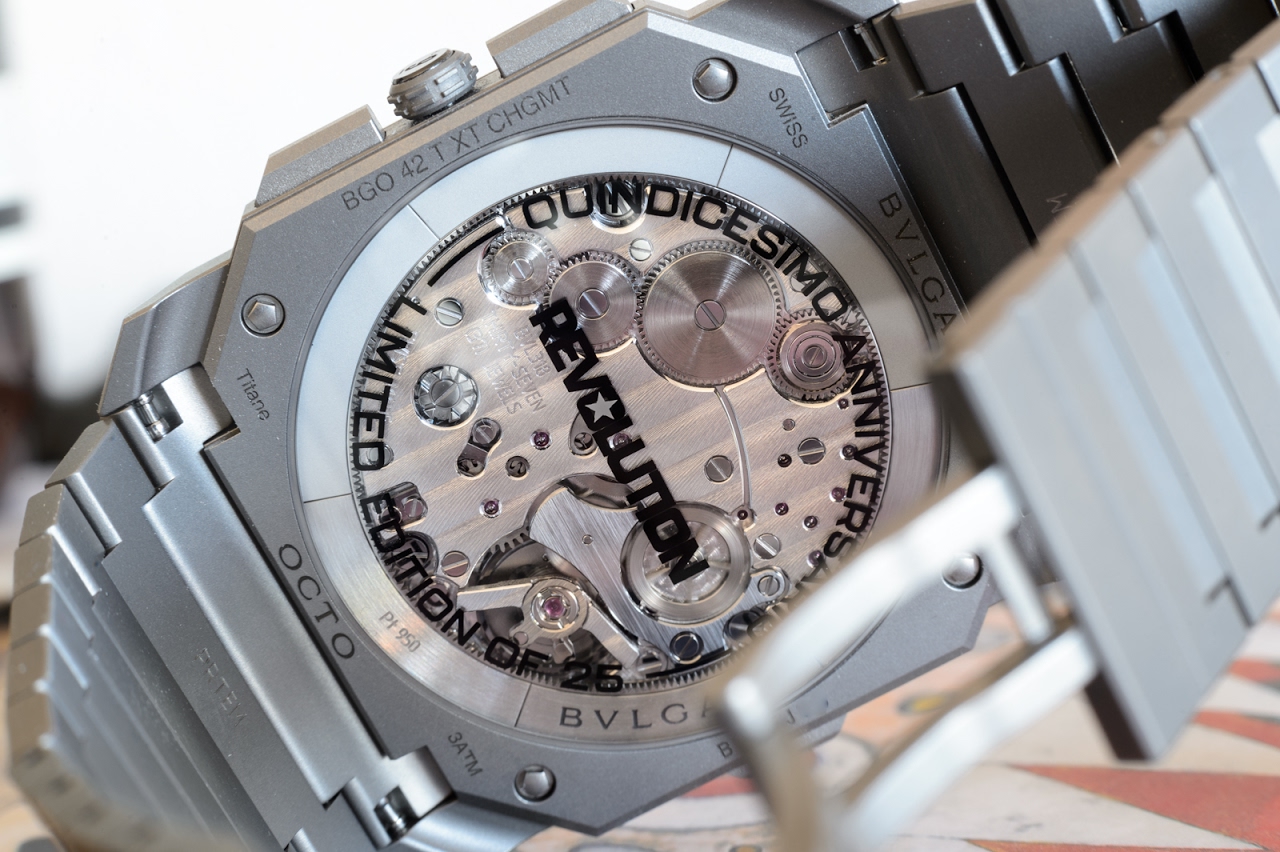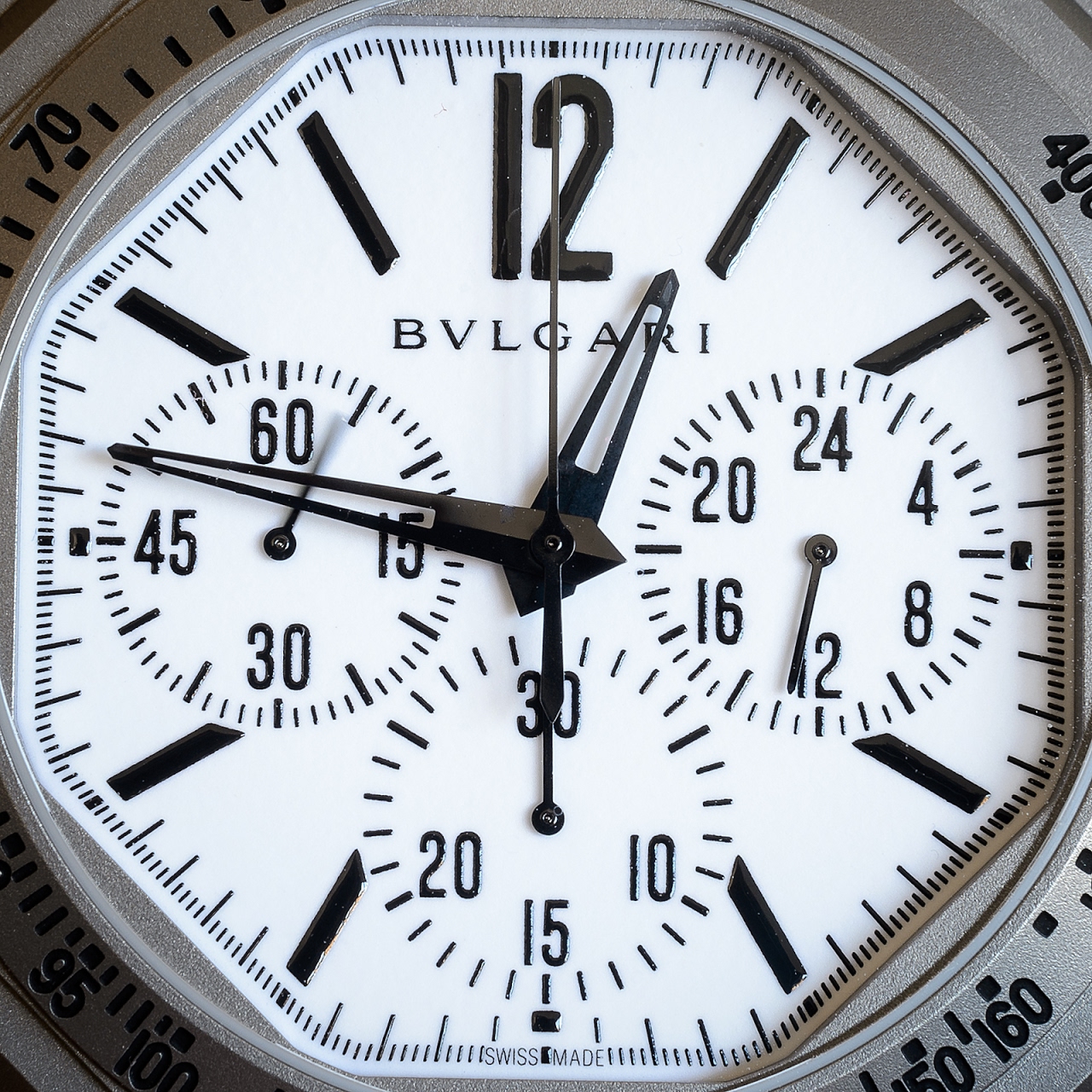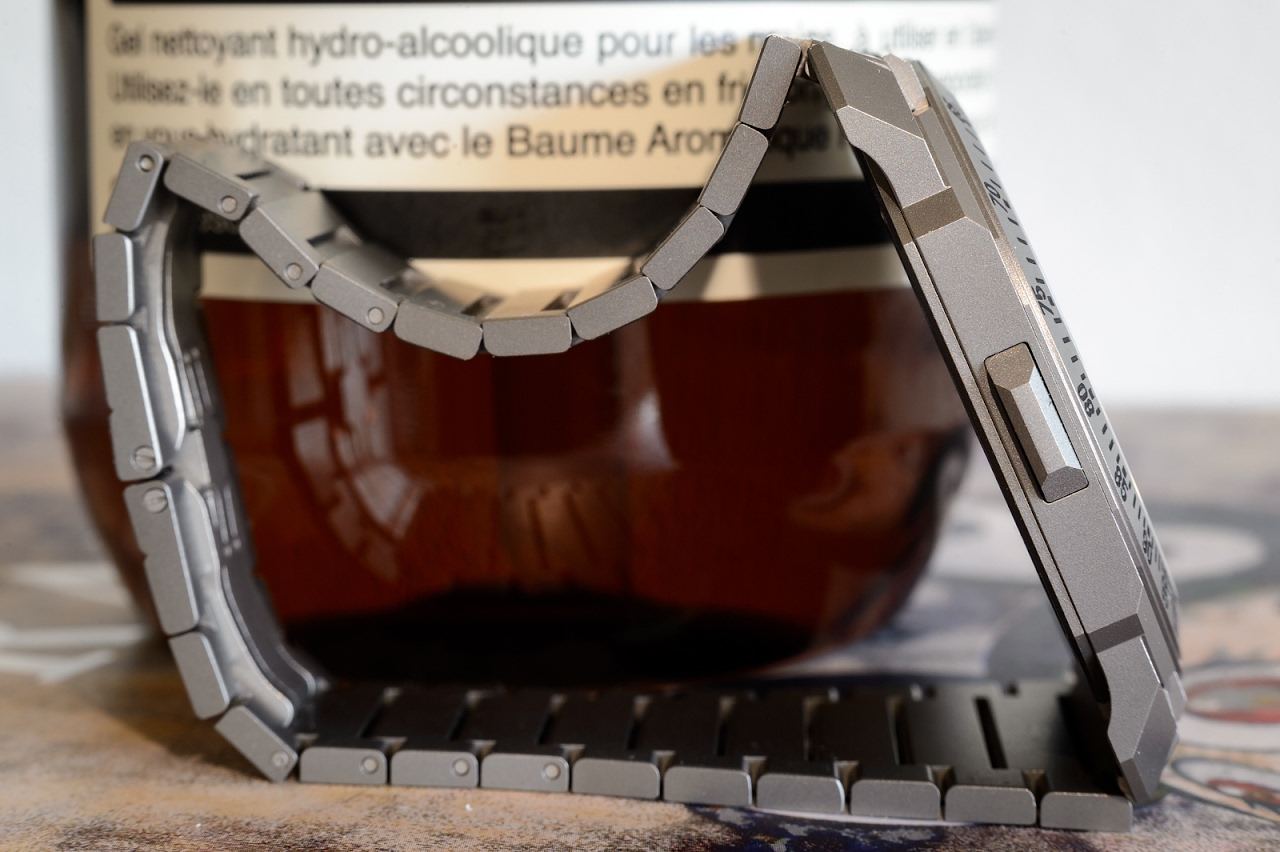 More posts: