Ratskunk
289

<!tag blob="forumpost.visitstar">
Giving & Receiving: Essays & Fantasies: Breguet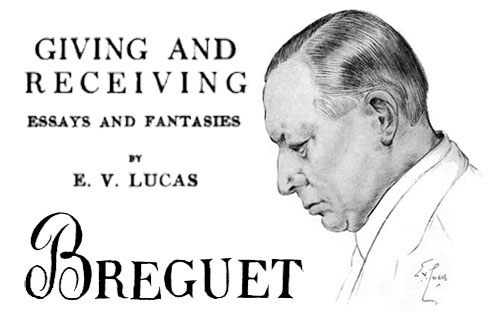 In books, articles etc. regarding Breguet it seems de rigueur if not cliché to mention the sundry appearances of Breguet in literature (Stendhal, Pushkin, Thackeray etc.) but only once in a blue-moon is the lesser-known E. V. Lucas (1868-1938) mentioned. In Lucas' 1922 book "Giving & Receiving: Essays & Fantasies" there is a charming essay entitled "Breguet". My favorite sentence is found on page 66…
"By this time I was an enthusiast, while a deep distaste for my own watch gradually possessed me. And then I heard of a Breguet for sale…"
I can only speak for myself but I don't think modern Breguets engender such emotion whereas an A.-L. Breguet has a je ne sais quoi, modern Breguet's have a je ne sais blah.
For readers not acquainted with the essay I hope the story though not Victor Hugo or Balzac is a pleasant respite.
Note: the book is in the public domain.



<!tag blob="addthis.follow.small"> Comments:
view entire thread
Giving & Receiving: Essays & Fantasies: Breguet
In books, articles etc. regarding Breguet it seems de rigueur if not cliché to mention the sundry appearances of Breguet in literature (Stendhal, Pushkin, Thackeray etc.) but only once in a blue-moon is the lesser-known E. V. Lucas (1868-1938) mentioned. ...
Ain't it the truth +++
"To carry a fine Breguet watch is to feel that you have the brains of a genius in your pocket."