<! iframe style="align:center; height: 250px; max-width: 100%; width: 100vw; overflow:hidden;" src="https://storage.googleapis.com/pubzapuscentral/watchprosite/ad/adsGO15/index.html" frameborder="0">

SJX
[Purist]
8540

<!tag blob="forumpost.visitstar">
Made in Ireland - An interview with the McGonigle Brothers
In conversation with
The McGonigle Brothers
By Su JiaXian
© December 2007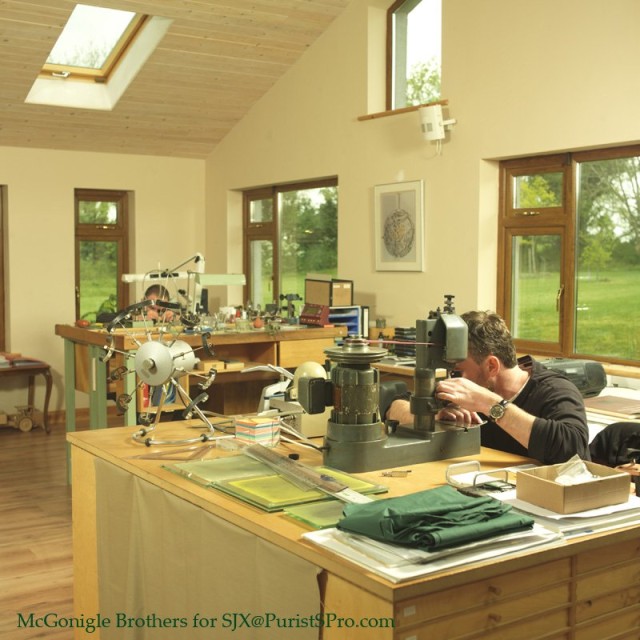 The McGonigle brothers in their atelier in Ireland
Both John and Stephen McGonigle began their careers working with many of the big names in haute horlogerie, including Franck Muller and Christophe Claret, where they worked on prototyping as well as production of high complications. Three years ago, the brothers began to create their own wristwatch. That sounds like the typical life story of an independent watchmaker, except that John and Stephen hail from Ireland.
Ireland has given the world James Joyce, Guinness and much else, but before the McGonigle brothers, there were no timepieces 'Made in Ireland'. Here we speak with John and Stephen McGonigle and find out what makes an Irish tourbillon.
Many thanks to Harry Tan for the photos of the McGonigle tourbillon.
Su JiaXian (SJX) : Tell us a bit about yourselves.
McGonigle Brothers (MB ): In brief; we are from Athlone, a town in the centre of Ireland.
Both of us attended the Irish/Swiss Institute of Horology in Dublin. This was a watchmaking school founded by the Swiss in the 1960's. It has unfortunately since closed, unfortunate because it was an excellent school.
After working for a time on after-sales service and the restoration of vintage watches, we both ended up working in Switzerland. There we gained invaluable experience working on complicated watches such as perpetual calendars, minute repeaters and tourbillons. This eventually led to the development of prototypes.
In 2004 we started working on producing a watch under our own name. Our tourbillon is our first watch.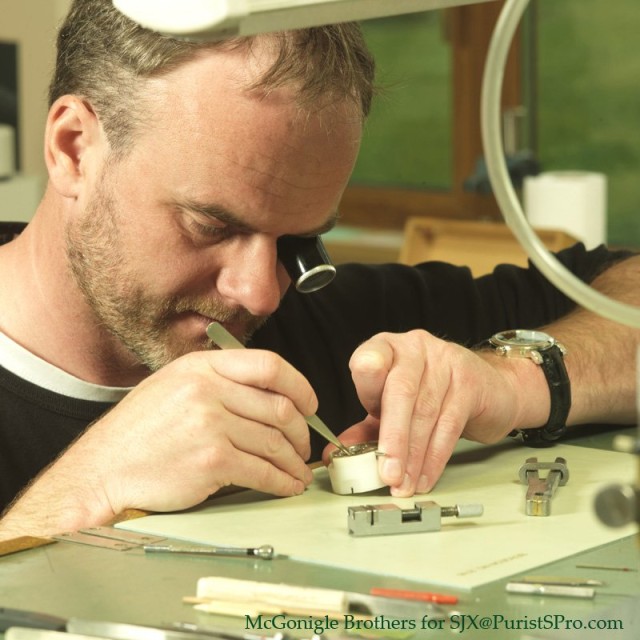 John McGonigle
John McGonigle (JM) : In 1999 I returned to Ireland to set up my own workshop. I continued working on complicated watches for Swiss clients. This work enabled me to develop a workshop equipped to the highest standards.
Stephen McGonigle (SM) : In 2003 after working for several Swiss companies I decided to go it alone and open my own work shop in Neuchatel.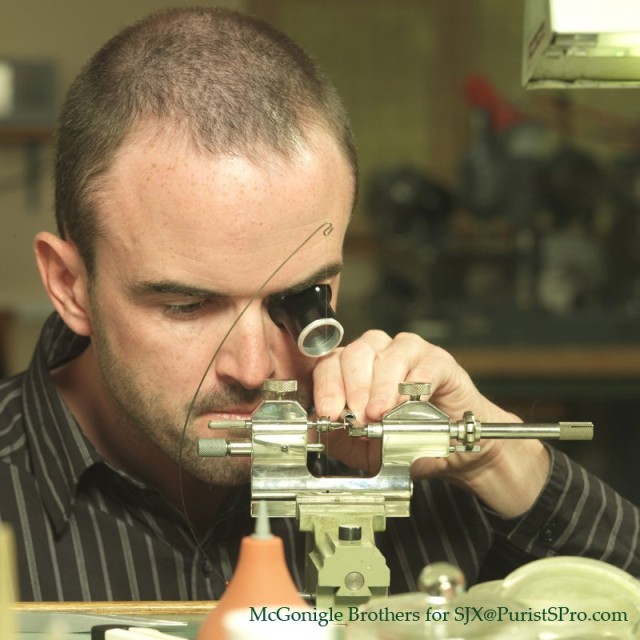 Stephen McGonigle
"We aimed to draw people into watch to get a watchmaker's view of the mechanism."
SJX : I understand your father was involved in horology, while your sister is artist. How has your family background led to your current vocation as independent watchmakers?
MB : Our father repaired clocks, not professionally but more as a hobby. Having said that, anyone would have been forgiven for thinking that clockmaking was his sole profession if they saw the number of clocks repairs scattered around the house. We didn't have pictures on our walls - we had clocks. Virtually every flat surface was occupied by a clock either on test or awaiting attention. It's hardly surprising that a watchmaker emerged from such a household. As it turned out three became watchmakers. Our brother Anthony is also a watchmaker.
We come from a large family of eight children. We were instilled with a strong sense of individuality by our parents and a belief that we could do anything we set our minds to.
These two factors undoubtedly had an influence on us becoming independent watchmakers.
SJX : Both of you have worked for other firms, including Christophe Claret; in fact both of you still work for Claret on occasion. How have your past experiences with companies shaped your watches?
MB : Classic Swiss complications are infused with beautiful shapes and finishes of components, not to mention elegant engineering solutions throughout. Having had the good fortune to work on these watches we had to learn the craft and techniques to make them. This really helped us to achieve a high level of quality and finish on our own watches.
As prototypists we worked primarily on the mechanisms of watches. As a result, when we wanted to show what excites us about watchmaking we aimed to draw people into watch to get a watchmaker's view of the mechanism.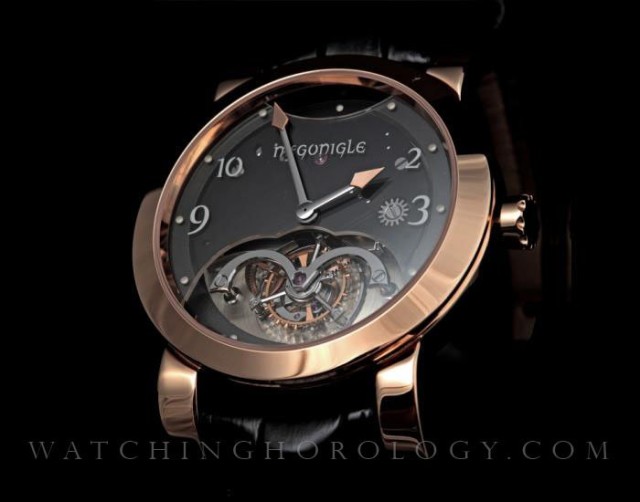 McGonigle Tourbillon in rose gold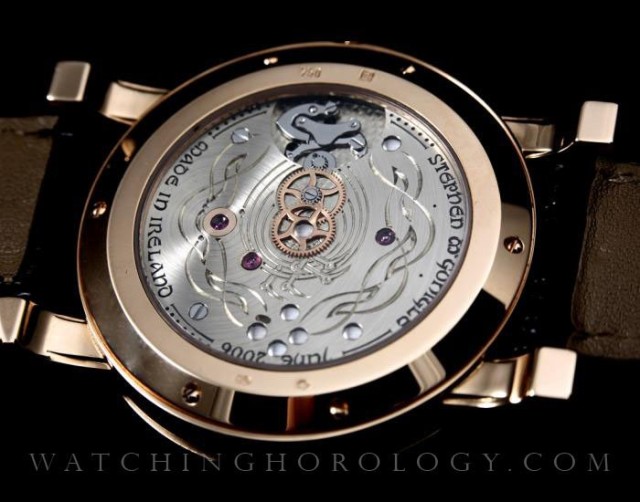 Back of the McGonigle Tourbillon decorated wih Celtic-inspired engraving
SJX : Your tourbillon is constructed with some components from Claret. What makes a Claret ebauche attractive, and what changes do you make to make the movement your own?
MB : We chose a Claret ebauche because we had both worked on it in the past, when it was a prototype, and knew what changes we'd like to make to it. We liked the fact that there is a nice symmetry to the movement; the tourbillion and mainspring barrel are in line. There is a nice uncluttered architecture to the ebauche and the power reserve of 110 hours is another feature we liked.
Few wristwatch tourbillons have managed to achieve the lightness and elegance of pocket watch tourbillon cages. Our aim was to produce a pure, highly finished tourbillon cage and then to open up the watch to create a 'watchmakers view' of it. Most of our attention has been concentrated on the cage.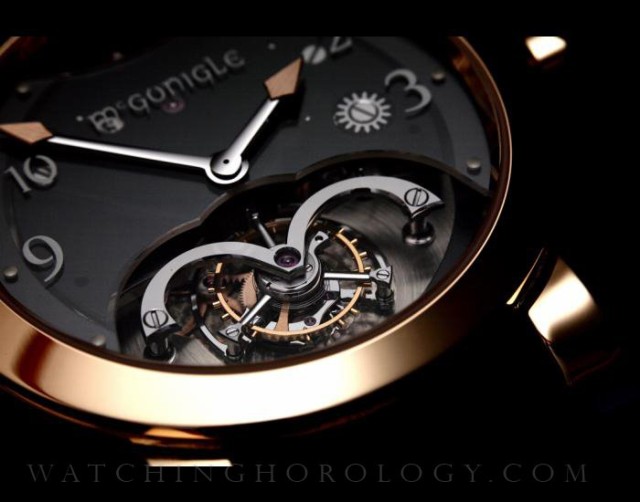 SJX : Can you share with us the significant technical features of your tourbillon? Also, what design features are influenced by your Irish roots?
MB : The principle technical feature is the tourbillon cage with the free-sprung balance. It's difficult to reduce a tourbillon to fit into a wristwatch and retain the elegance and balanced proportions of a pocket watch tourbillon. We worked a lot on the cage to achieve that delicacy. By free-springing the balance and eliminating the regulator we were able to make a clean symmetrical cage.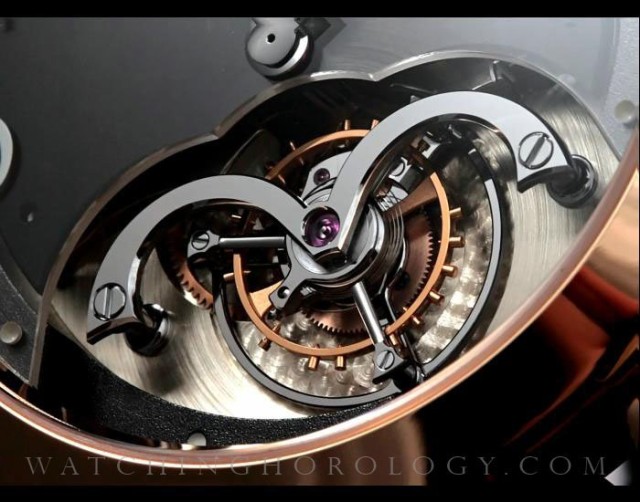 The cage is very light; we've poised the cage by removing weight rather than adding it. This is important seeing as the cage stops, recoils and accelerates 6 times a second, so a cage which has less inertia clearly will perform better. A cage constructed from titanium would be lighter but it wouldn't be as beautiful. We finished the cage to an extremely high degree.
"A tourbillon is not a very complicated device. What is more difficult is to make a very light tourbillon finished to a high standard."
- John McGonigle in The Times
As regards the Irish influence on the design; obviously the engraving is unmistakably Irish. We wanted primarily to make a beautiful tourbillon and didn't want to overload the watch with too many Irish elements, so the elements we have used are quite subtle. The hands are spear shaped, a nod to the Celts and the font for the graphics are intended to look Irish. Otherwise the shapes and forms we've come up with are just our taste. Does that make them Irish?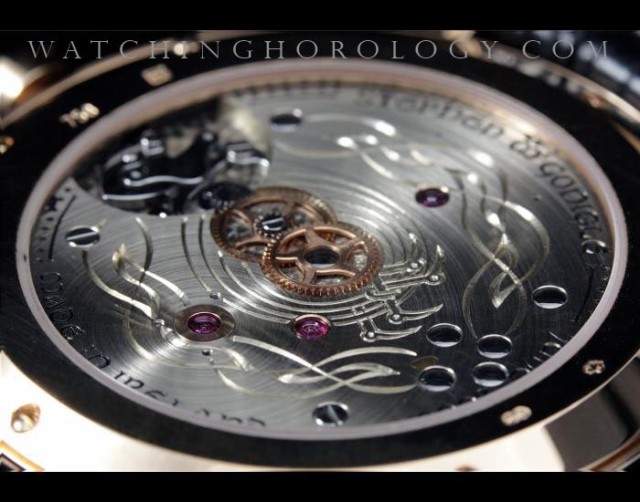 SJX : You mentioned that your tourbillon case is not a perfect circle; it is wider than it is long. Can you tell us more about that?
MB : Our tourbillon case is 40mm from 12 o'clock to 6 o'clock and 41mm from 9 to 3 o'clock. We wanted to introduce details that, without being obvious, would make you look twice and draw the viewer into the watch. The subtle oval of the case, as well as the way the lugs and crown flare as they extend from the case, make the watch more interesting without being obvious as to why. I could imagine if someone had to make a sketch of the watch from memory they'd probably draw a circle for the case and straight lugs. It would be wrong. It wouldn't look anything like our watch.
SJX : How do the tourbillons produce by each of you differ, if at all?
MB : Of the pieces we've made so far we were very careful to insure that the levels of quality and finish were identical. For that reason we work on our pieces simultaneously in the same workshop. It would have been impossible to insure consistency otherwise.
We very deliberately did this to demonstrate that whether a McGonigle is signed either Stephen or John, it has the same intrinsic value. Naturally if a client specifies a different finish or feature when ordering a watch and because we work on our own watches from A to Z you are likely to see differences in the future, but we'll have made our point.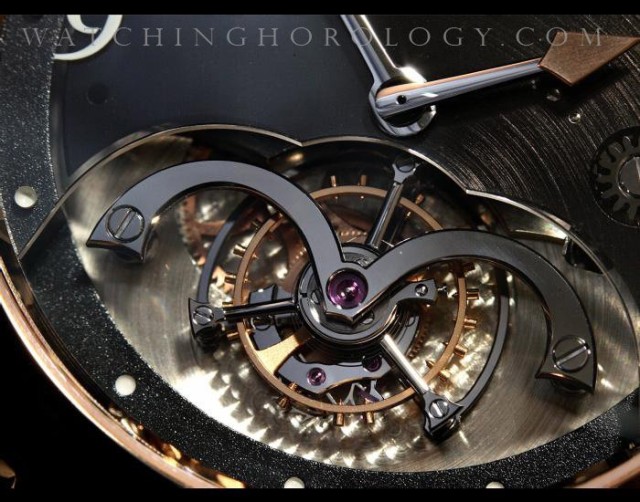 SJX : John lives and works in the Irish Midlands, while Stephen is based in Neuchâtel, yet both of you make one tourbillon model. Readers definitely know about Neuchâtel, many major watch brands are located there. John, can you tell us more about Athlone in Ireland? Do your environments affect your creations?
JM : We both have workshops that function independently of each other but when we are working on our tourbillon we work together in the same workshop, in Ireland. So in a sense we are both affected by the same environment.
My workshop, which is beside my home, is situated about 10 miles from Athlone. We are surrounded by farmland, and lakes, so the setting can well be described as tranquil. This environment is very conducive to work that requires a lot of concentration, as there are few distractions. It's nice to be able to take a break and clear your head with a run or a cycle.
I don't think it's a coincidence that so many high-end watches are made in similar surroundings.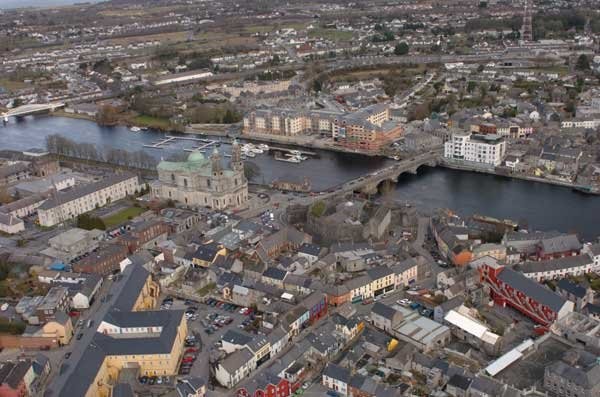 Athlone city centre
(photo from Athlone Chamber of Commerce)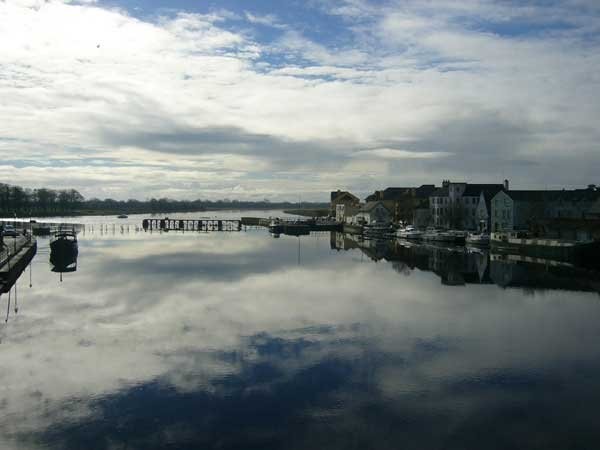 The River Shannon
SM : I have a workshop I share with two other independent watchmakers above the town of Neuchâtel. When I'm not working with John in Ireland on our own watches, I'm building complications for some of the big watch houses.
SJX : You are Irish; many other independent watchmakers are not Swiss or even French. The English and Germans are well represented, and there is a Spaniard as well as a Finn in the AHCI. Do you see this trend of diversity in independent watchmaking continuing? Or perhaps even increasing?
MB : It's safe to assume that new work from new watchmakers is quietly progressing behind closed doors. Making 'your own watch' is the dream of most watchmakers after all. In the present environment, there has never been as great an incentive to make your own watch.
However, it seems unlikely though that there'll be a flood of new watchmakers. The effort and commitment to make a watch is considerable. We were surprised ourselves [at what was needed].
The majority of the independents, regardless of their nationality have worked at some point in Switzerland. To say that Switzerland is the home of watchmaking cannot be over stated. Most of us have served our time there to soak up the culture of watchmaking and to gain valuable experience, particularly with complicated watches and the various techniques of finishing. There are of course a few notable exceptions that have made their own watches without having worked in Switzerland. These guys really deserve a lot of respect.
"I don't think it's a coincidence that so many high-end watches are made in similar surroundings."
SJX: Which brand or watchmaker do you admire the most?
MB : As you'd expect our tastes in watches differ a bit, however we are both great admirers of Lange & Söhne. They have a beautiful balanced style and their quality is excellent.
There are many individual watchmakers we could mention that we admire. Philippe Dufour has broken the trail for this generation of independent watchmakers. He continues to open doors for new watchmakers and he leads by example. His watches remain the absolute reference of quality.
Kari Voutilainen's watches are so beautiful.
But one watchmaker who has been a huge inspiration for us is Derek Pratt. His watches are absolutely magnificent.
SJX : Can you share with us what your next watch will be? Perhaps just a hint?
MB : All that we can say is that our next watch will be of our own design and construction with the same level of workmanship and finish as our tourbillon. We never wanted our tourbillon to be a 'flagship model' giving a halo effect to a cheaper range of watches with bought in movements.
SJX : When you are not working on watches, what are your hobbies?
MB : At risk of sounding like clones, we share a lot of the same extra-curricular interests. We grew up with the river Shannon flowing past our front door so it's hardly surprising that we're into water sports. We're both keen sailors and spend a lot of time on our respective lakes, Lough Ree in Ireland and Lake Neuchatel in Switzerland. Both of us are mad about cars, particularly the light, fast variety.
We love engaging in the Irish national pastime of going to the pub. Our entire family are great lovers of fine food. Family gatherings are always based around extended bouts of cooking and eating. Stephen has very fine culinary skills while John excels at eating the results.
SJX: Thank you for your time!
References:
Doulton, Maria (June 1, 2007). Made in Ireland. Times Online. Retrieved December 12, 2007 from http://www.timesonline.co.uk/tol/life_and_style/men/article1864677.ece
Copyright December 2007 - Su JiaXian and ThePuristS.com - all rights reserved
PuristSPro Homepage | ThePuristS Homepage
Comments, suggestions, and corrections to this article are welcome.
This message has been edited by SJX on 2007-12-23 05:50:54
More posts: