Ornatus-Mundi
[Zenith]
7136

<!tag blob="forumpost.visitstar">
Zenith Coffeehouse Tales XVI: El Primero Tourbillon Austria Edition hands-on review
At a time when elsewhere in Switzerland half of the industry presents its newest fascinating timepieces, I thought I had to give a proper answer to this:
Meet the Zenith El Primero Tourbillon Austria Edition . A very classical but excellently designed pièce de résistance. I even chose a location to match for our rendezvous...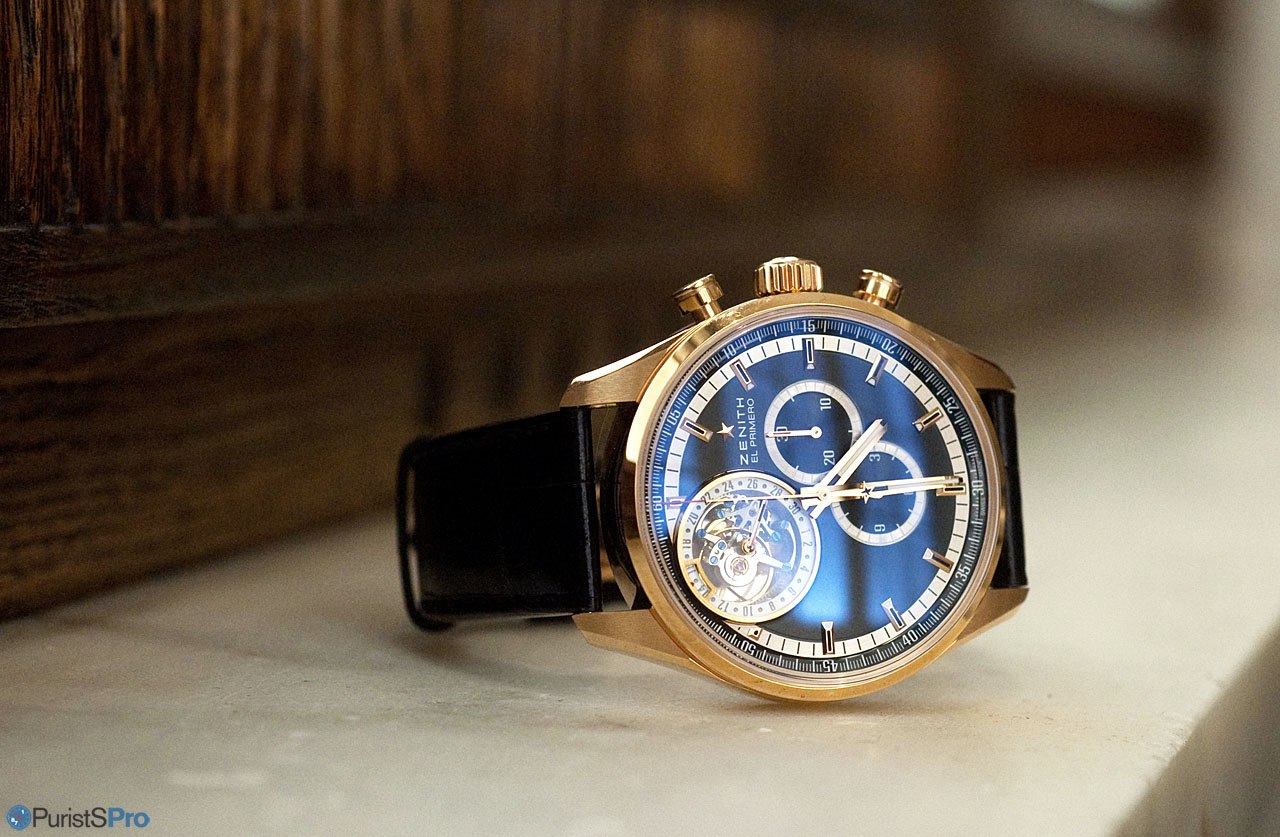 The technical side of the story is quickly told: 44mm case, 15.60mm thick. Red gold case with a black dial and silver chapter rings. Red gold hands as well. Automatic chronograph (with classical) escapement.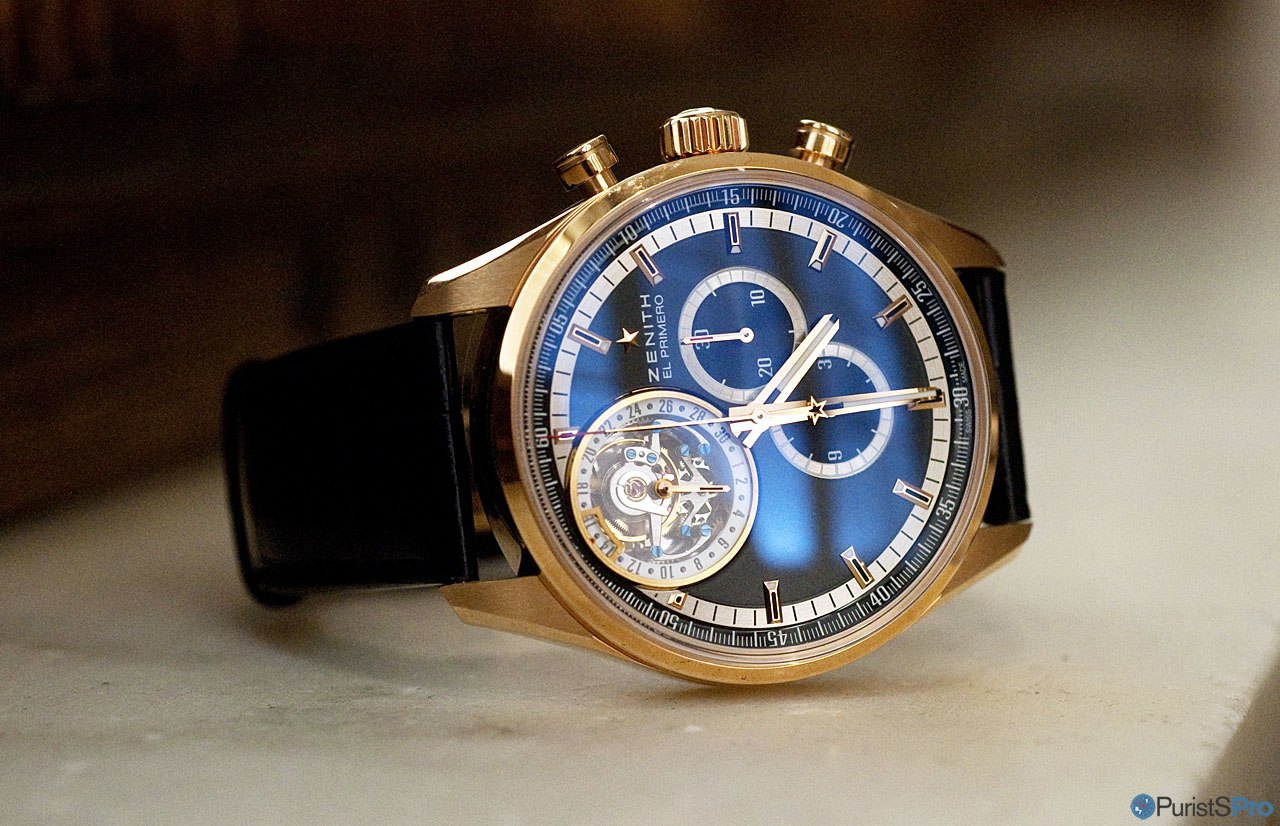 So far, so conventional?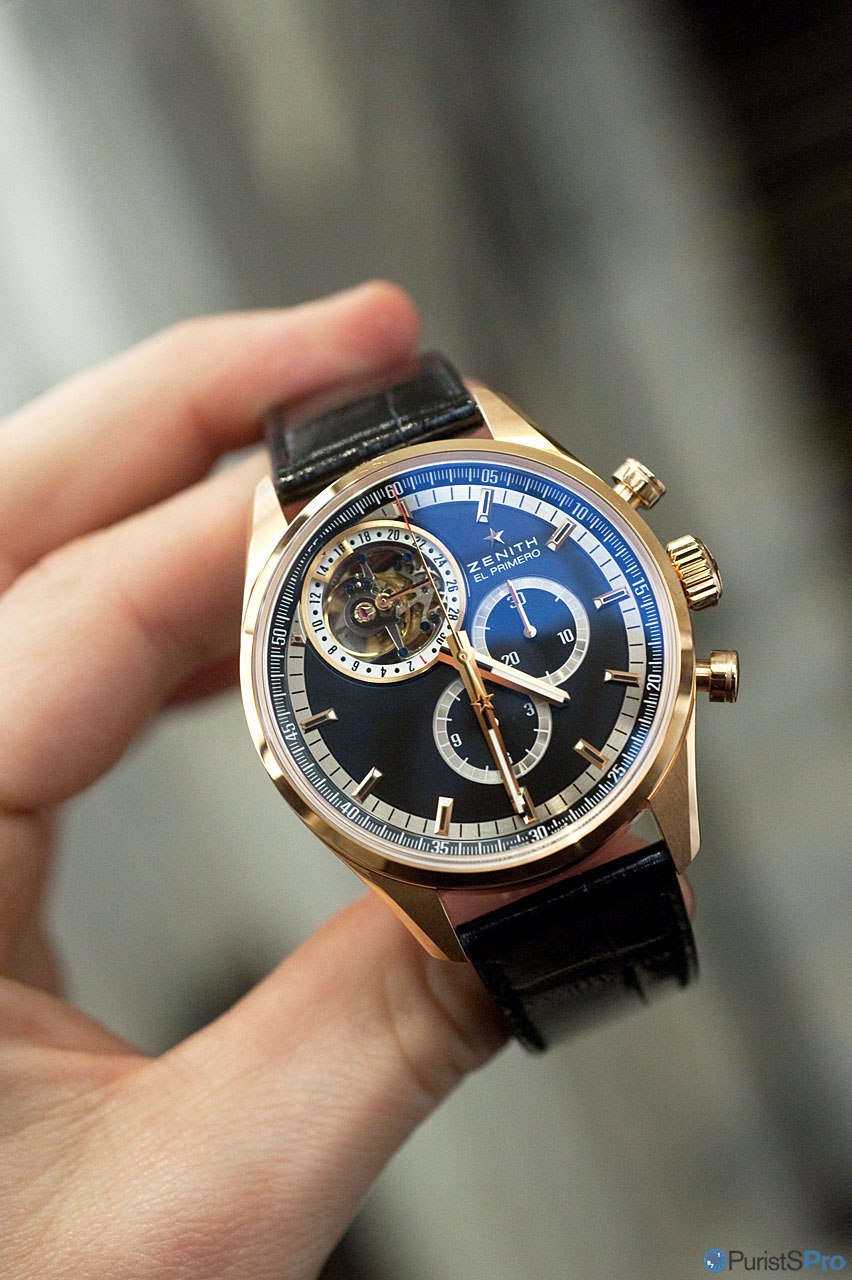 Ok then, let's get closer!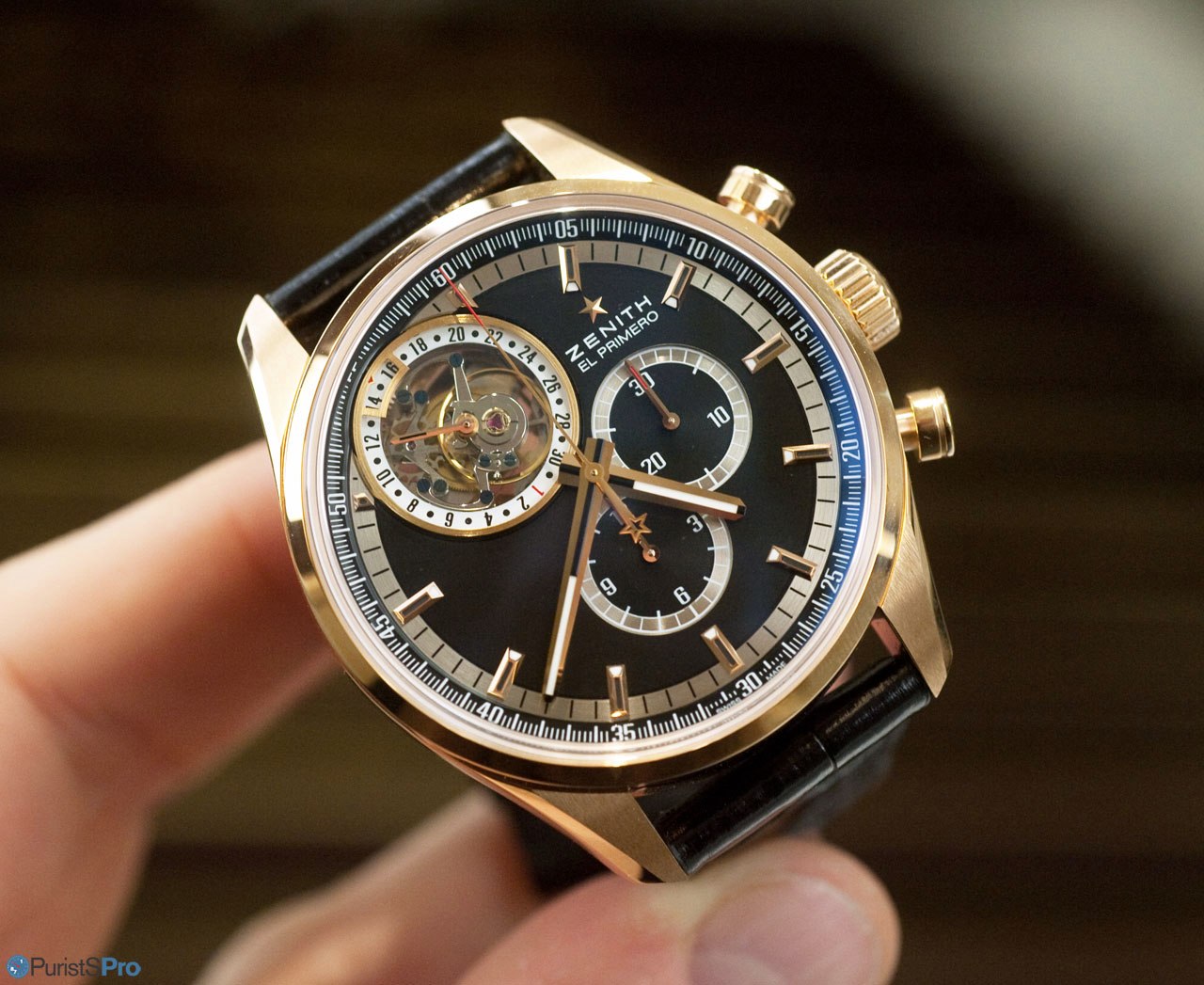 One of the most fascinating features here is the implementation of the tourbillon window, whose borders double as the date indication. This is a pretty unique and quite elaborately implemented solution.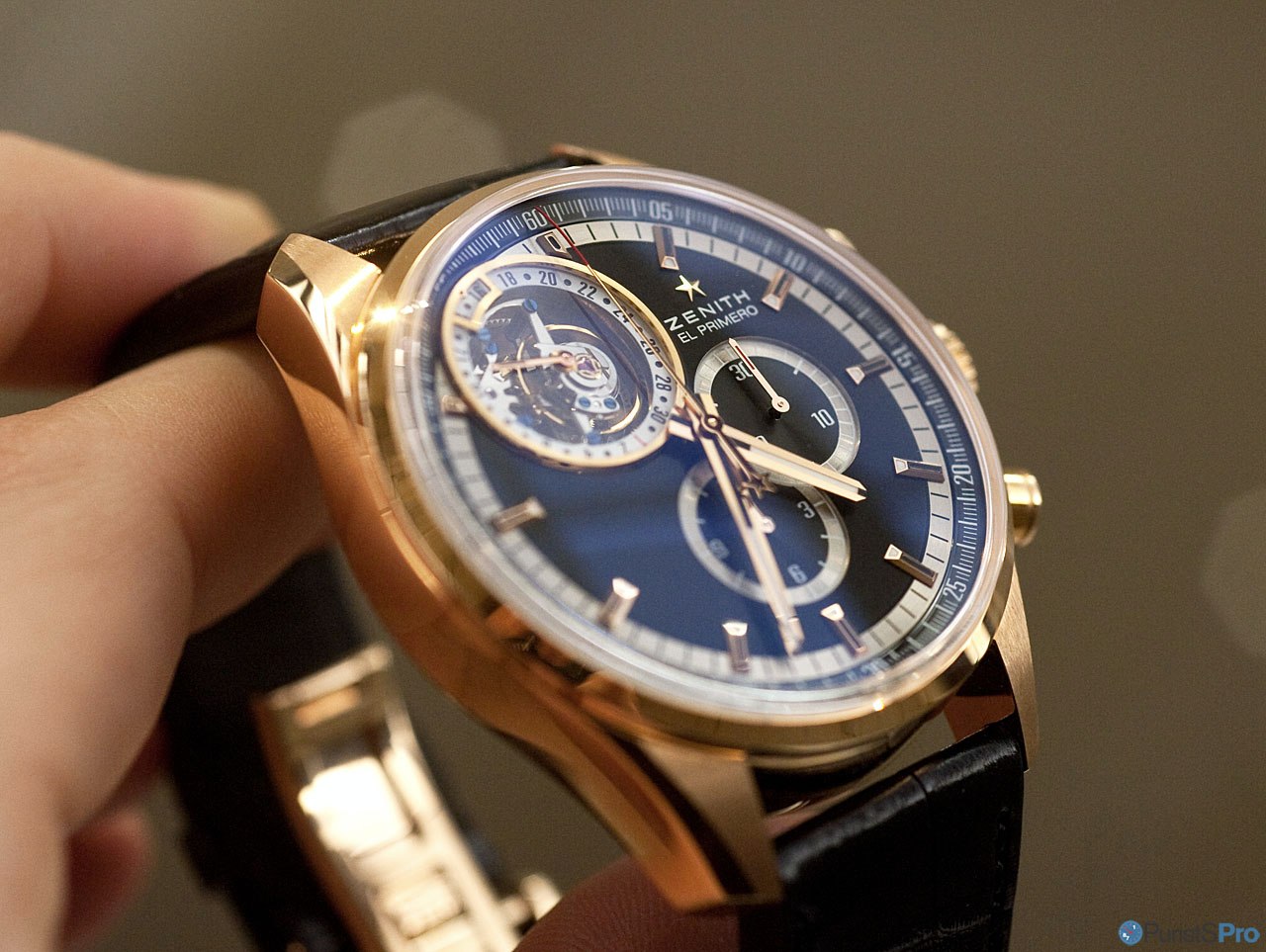 It offers both a clean view on the tourbillon as well as a date function without distracting too much from the otherwise very clean and classical look: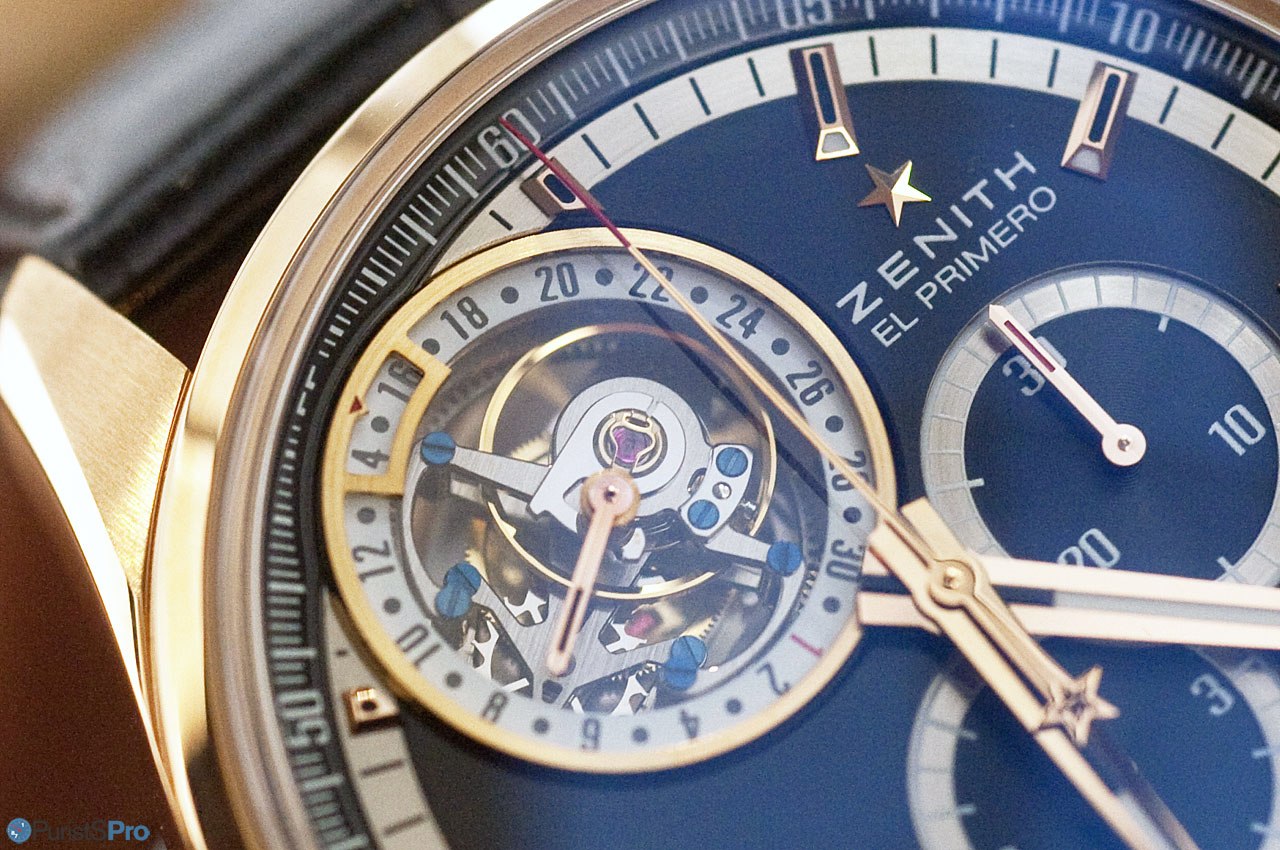 You can easily imerse yourself deeply into the tourbillon assembly....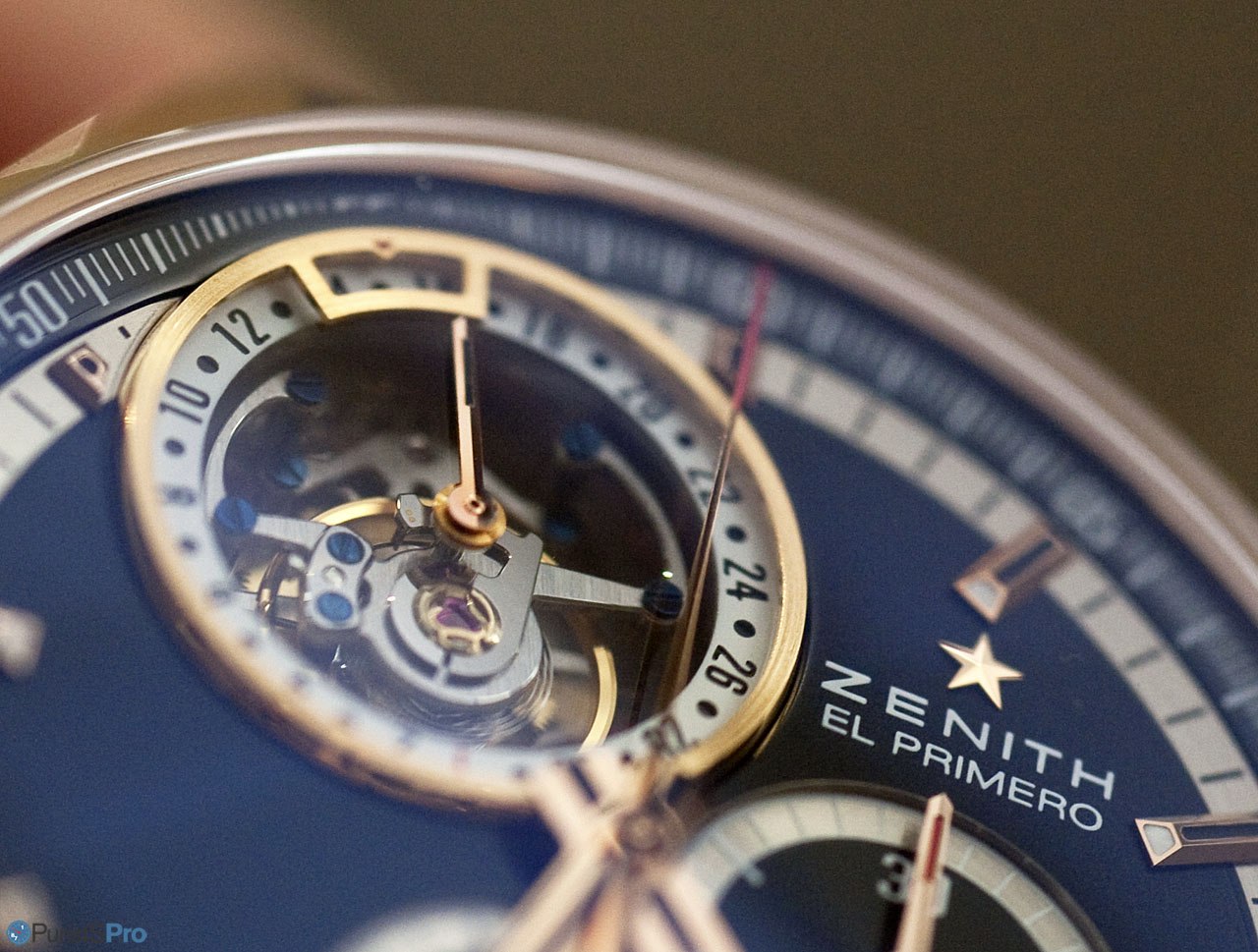 ... to appreciate the fine (hand-) finishing on its components: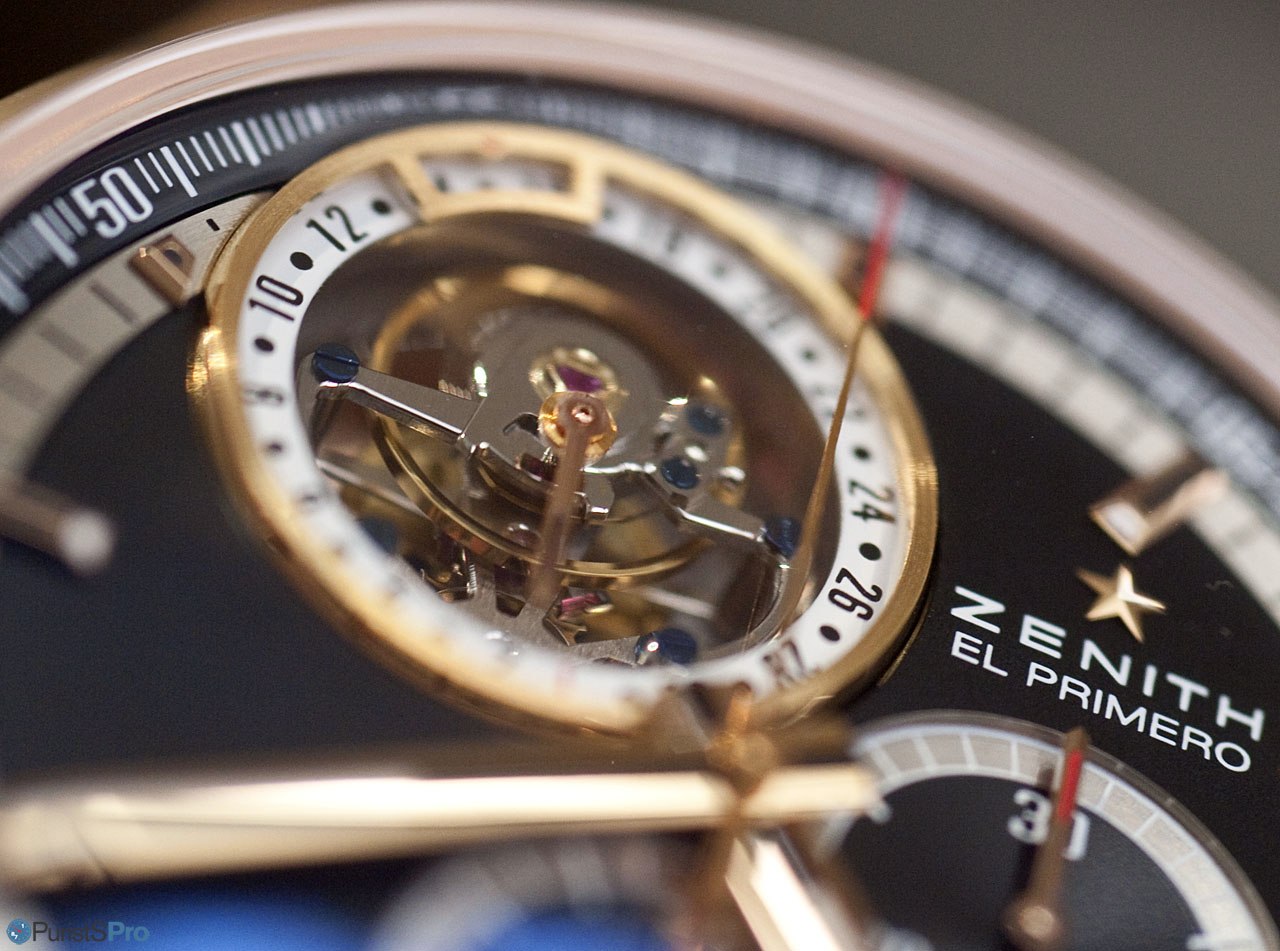 A window with a view (red tip) indicates the date, displayed on a rotating white disk beneath the the red gold frame. The numerals are by necessity relatively small, thus the legibility is a bit compromised.
Zenith acknowledged that fact and presented last year a modifed version which does away with the frame.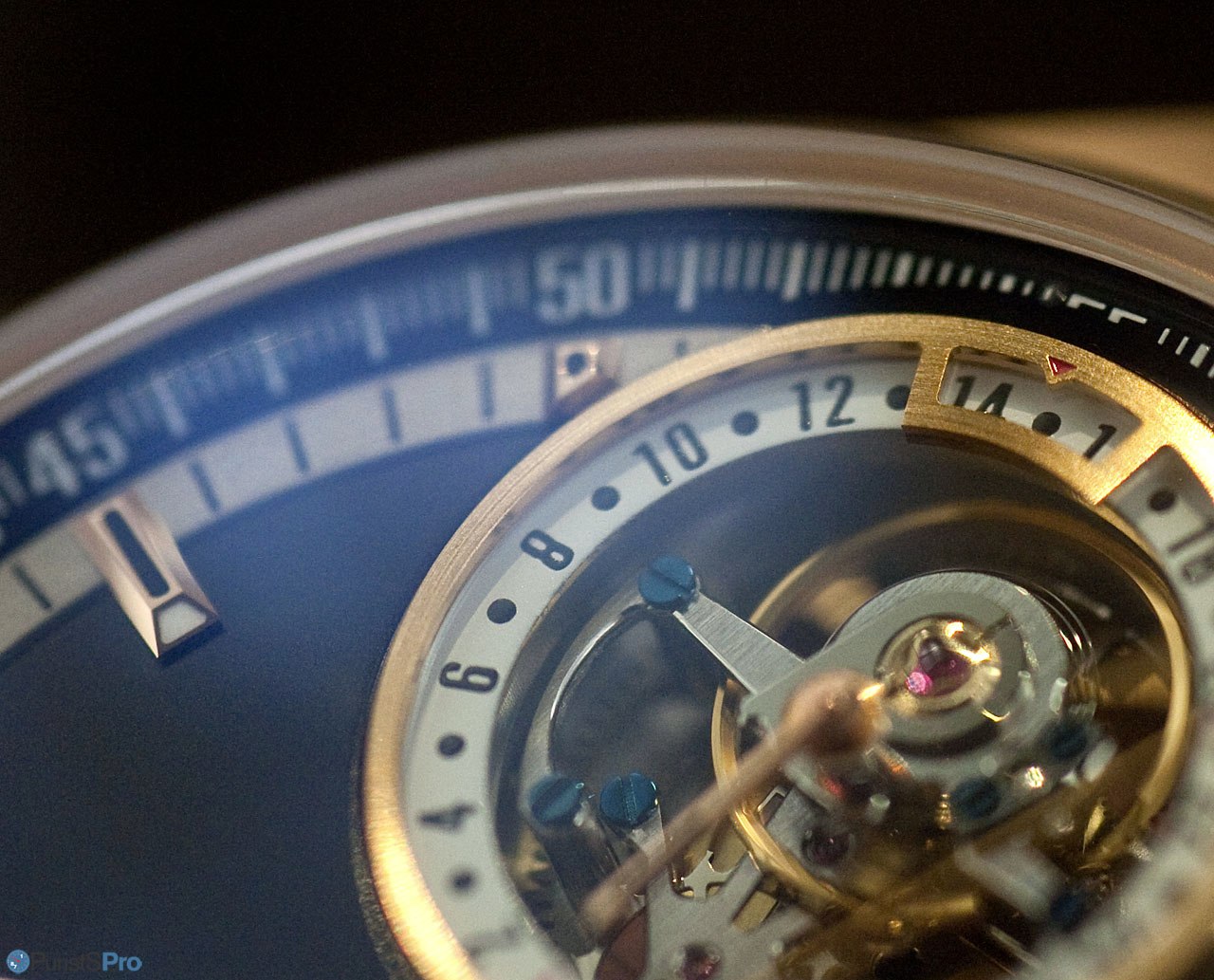 Playing a bit with the light demonstrates how much care Zenith employed to get all the little details such as frame finishing, height, diameter etc. in balance; in order to yield a deeply interesting and concerted dial ensemble.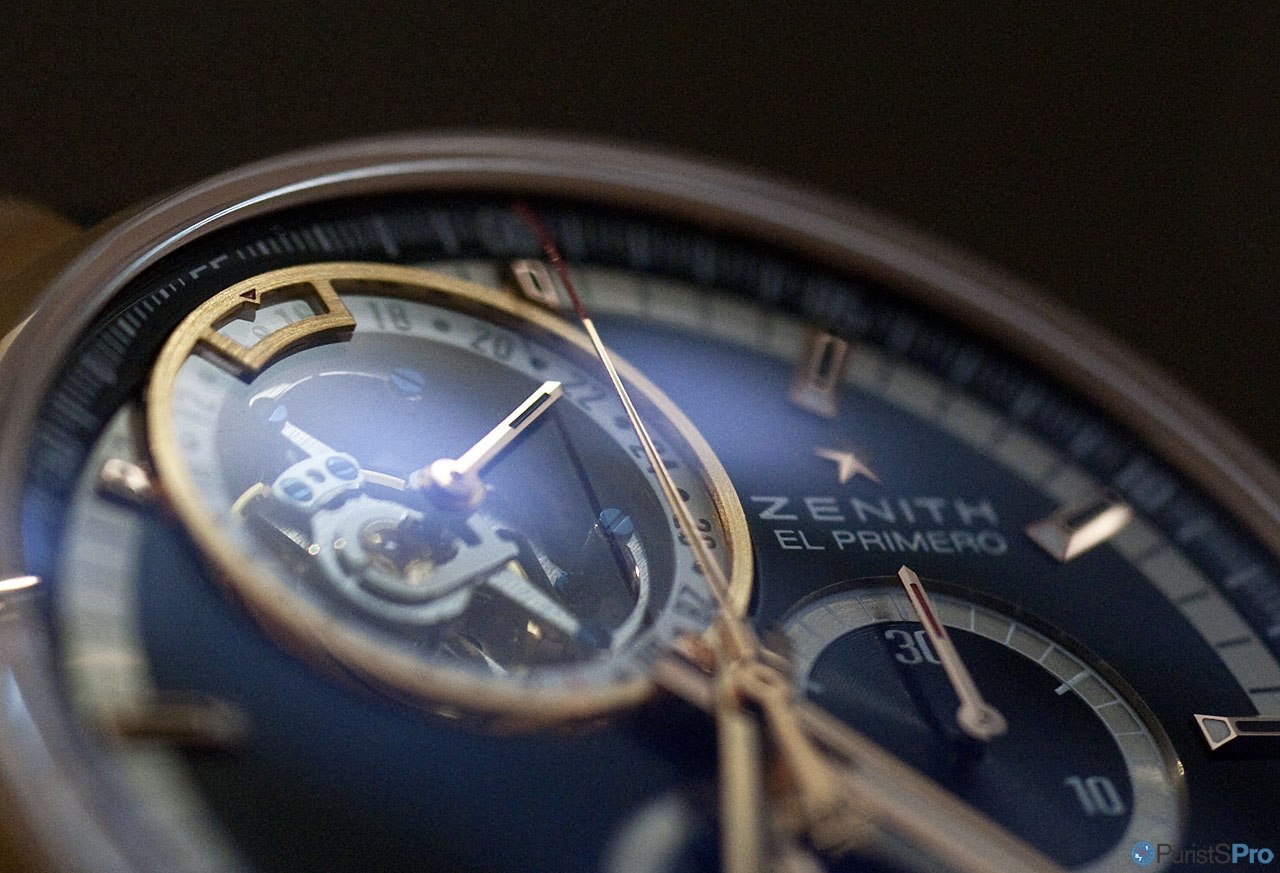 The subdials, for example, are deeply ground into the dial plate, then radially brushed and finally silvered. Thus, with very few elements the designers managed to create a profoundly thrilling and eye-catching layout: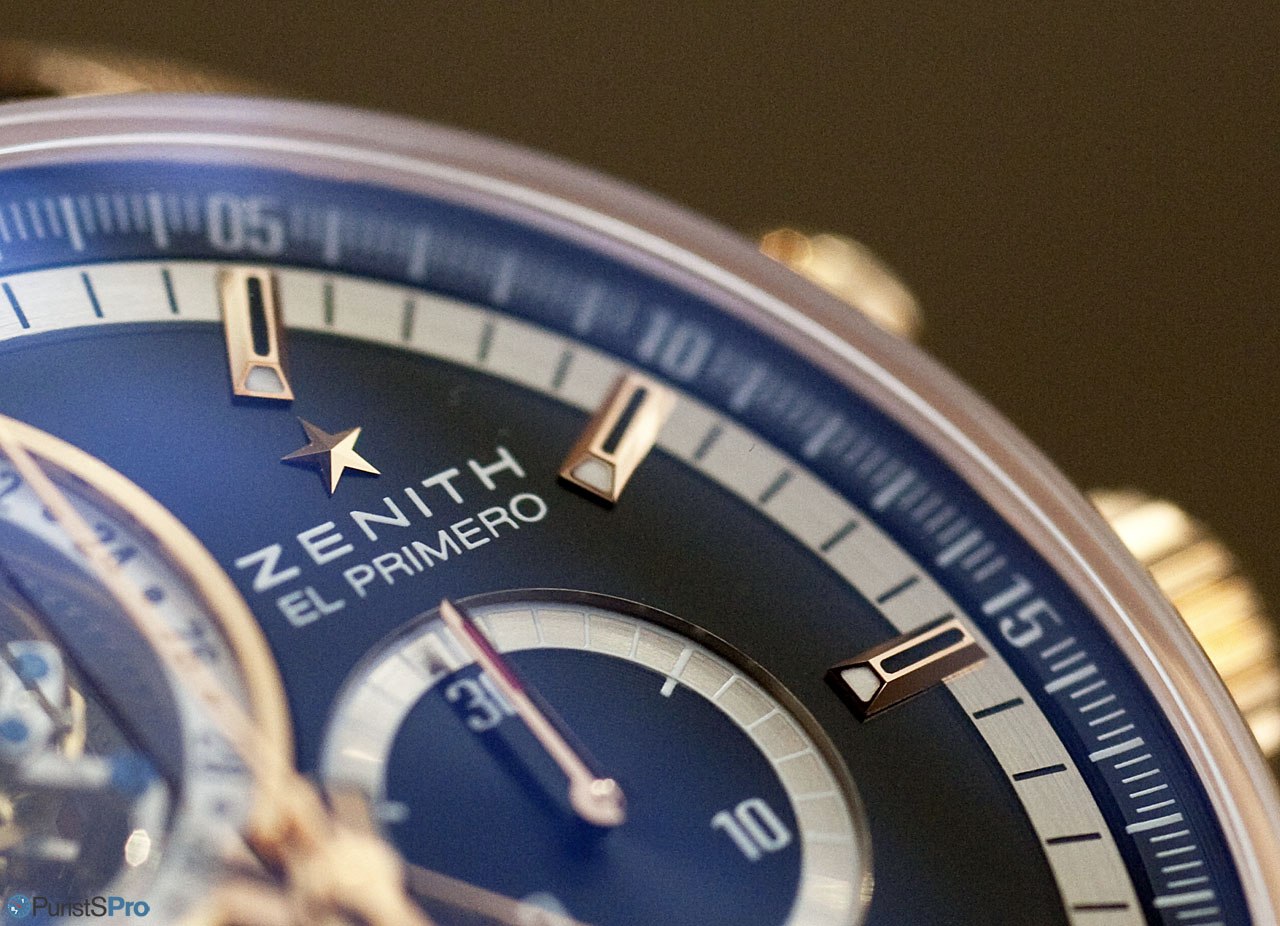 The hands are the typical Zenith hands, red gold with luminous/black inserts. The tip by the way is bent in-house, by hand (I have seen it, a carefully but quickly performed step):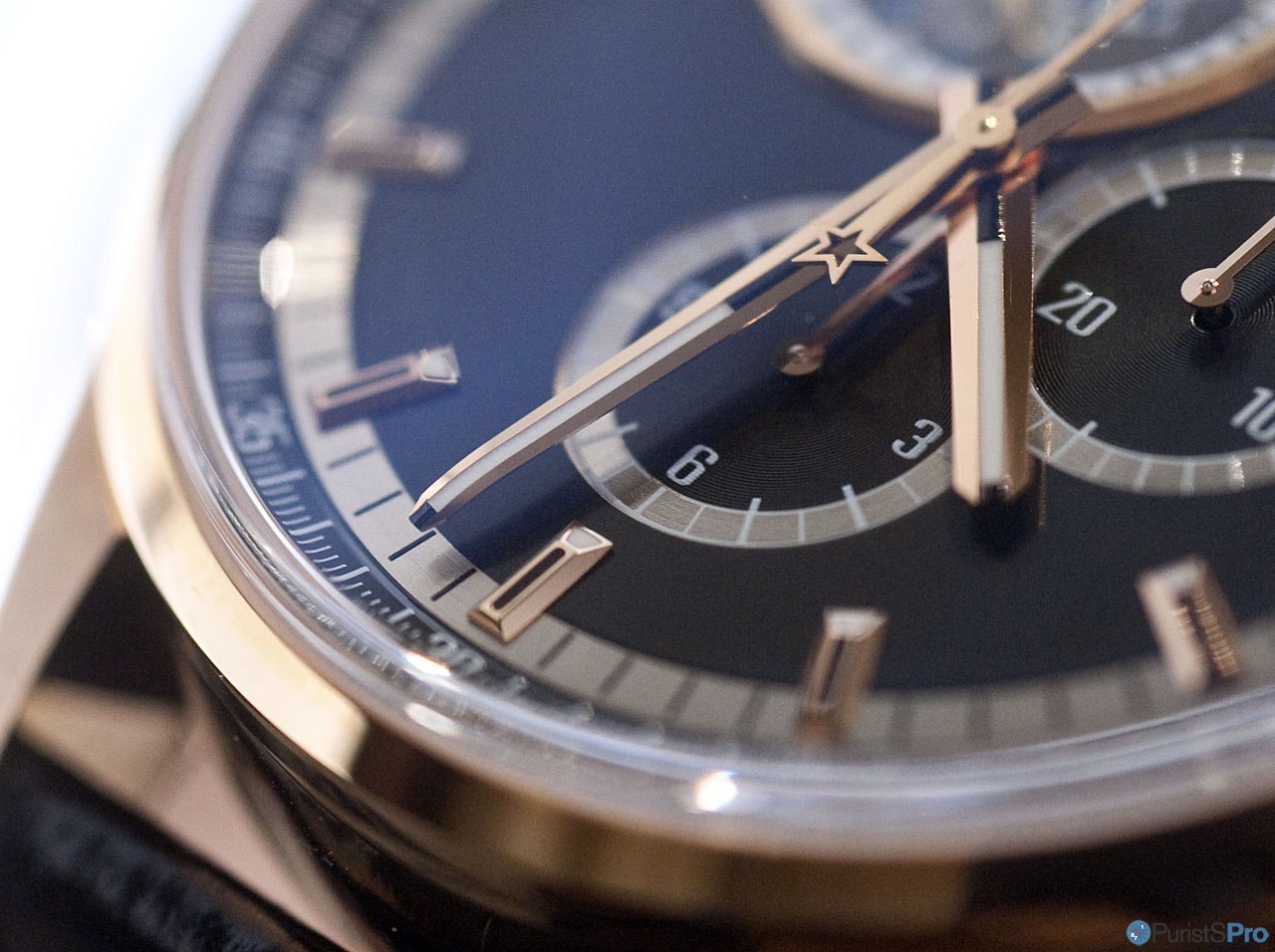 Again, let the light perform its show!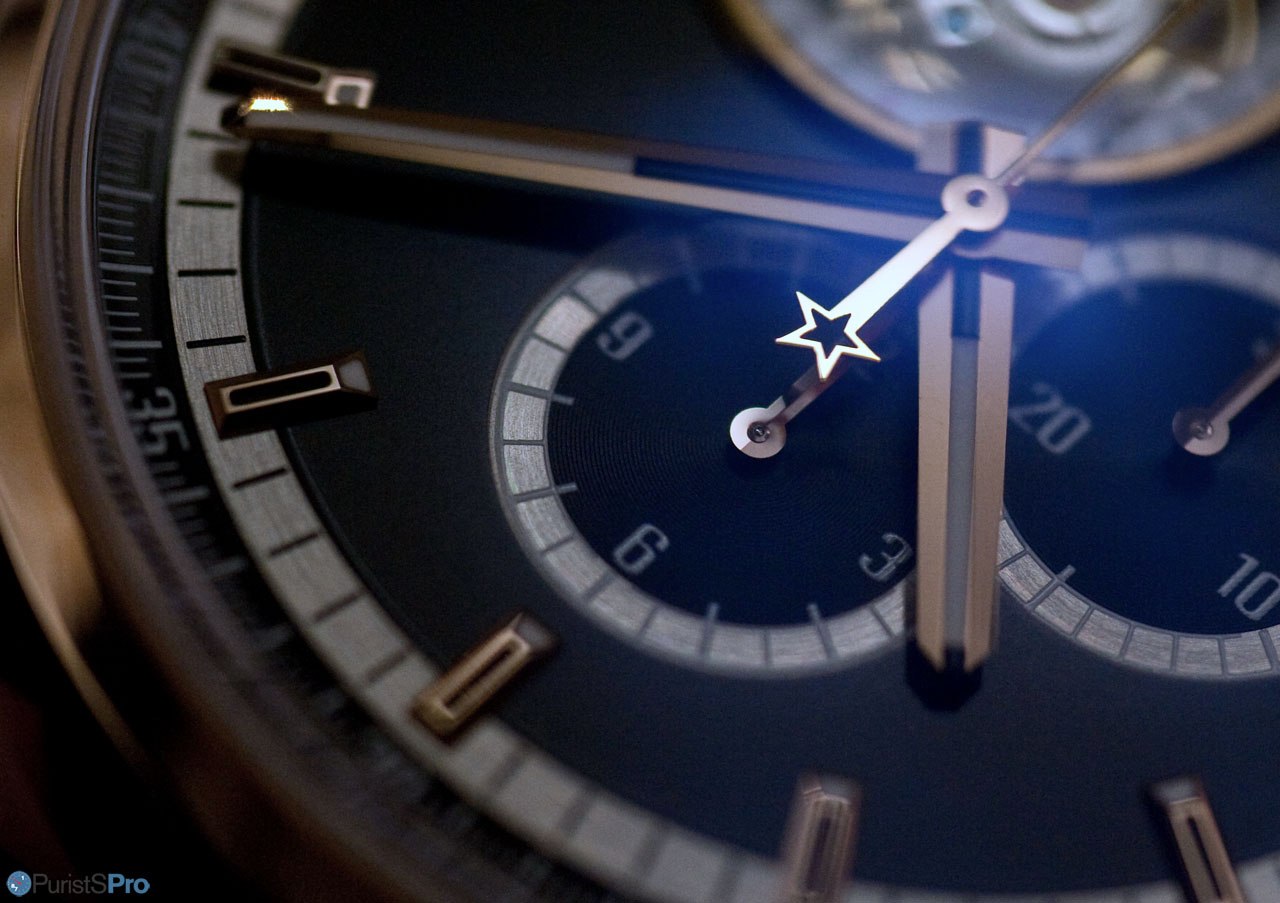 The case is made of solid red gold, mainly polished with a sharply applied brushing finish ontop the lugs.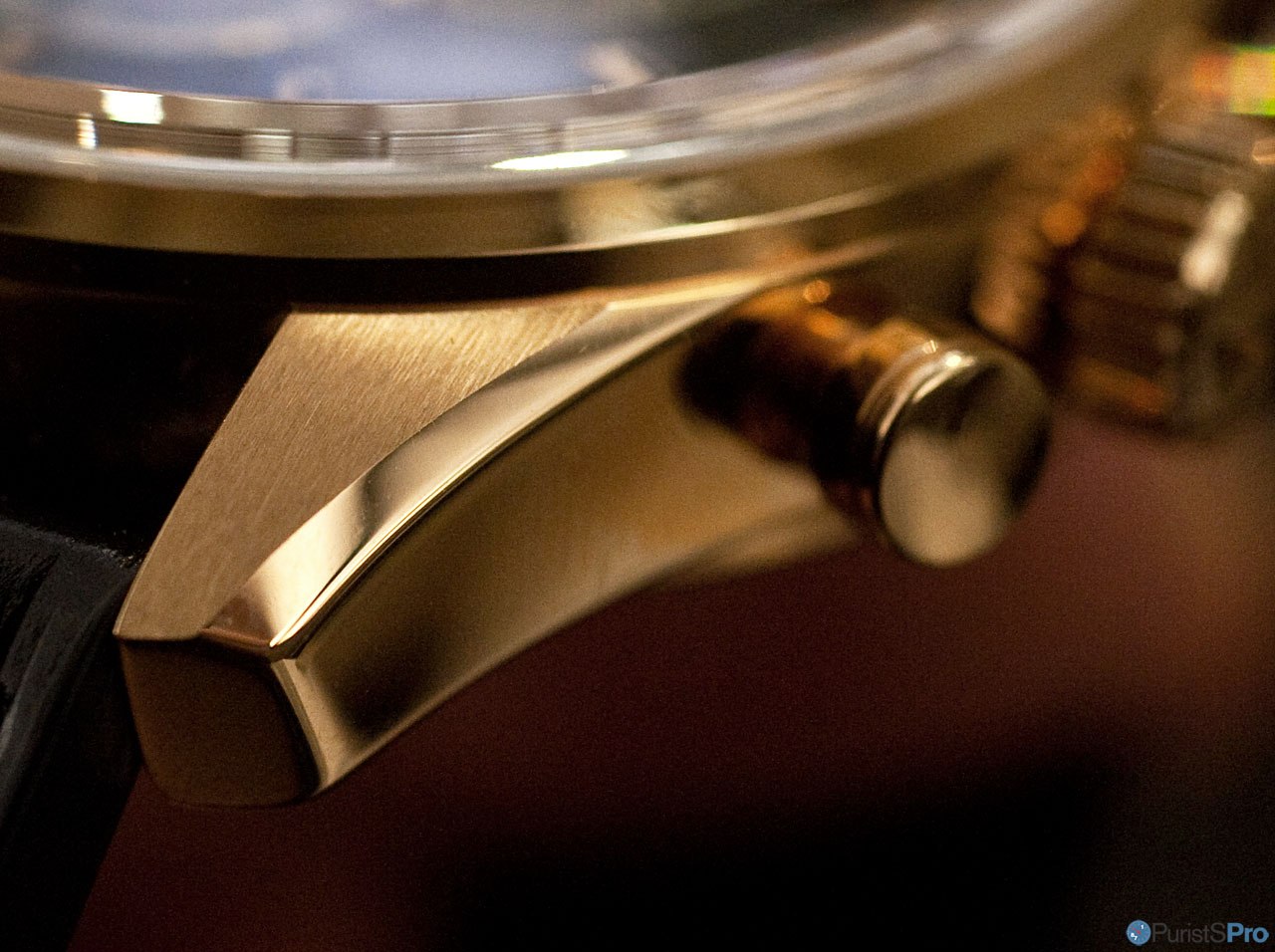 On the back? Of course, the automatic calibre El Primero 4035 D composed of 381 hand-finished parts.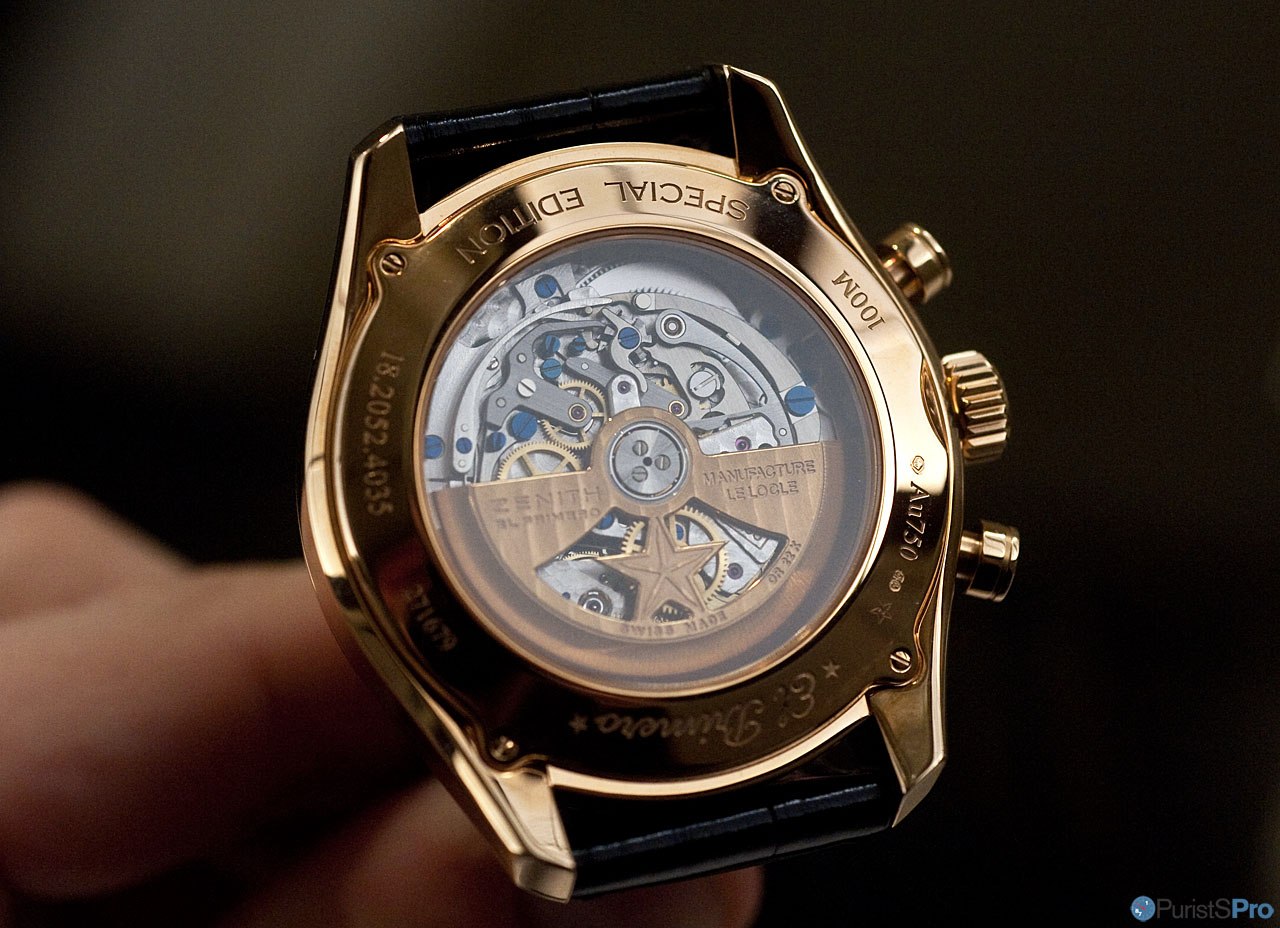 There is a small plate on the back where you would normally find the El Primero's escapement. Here, it clearly states what is so special about it: Tourbillon 36000 A/h: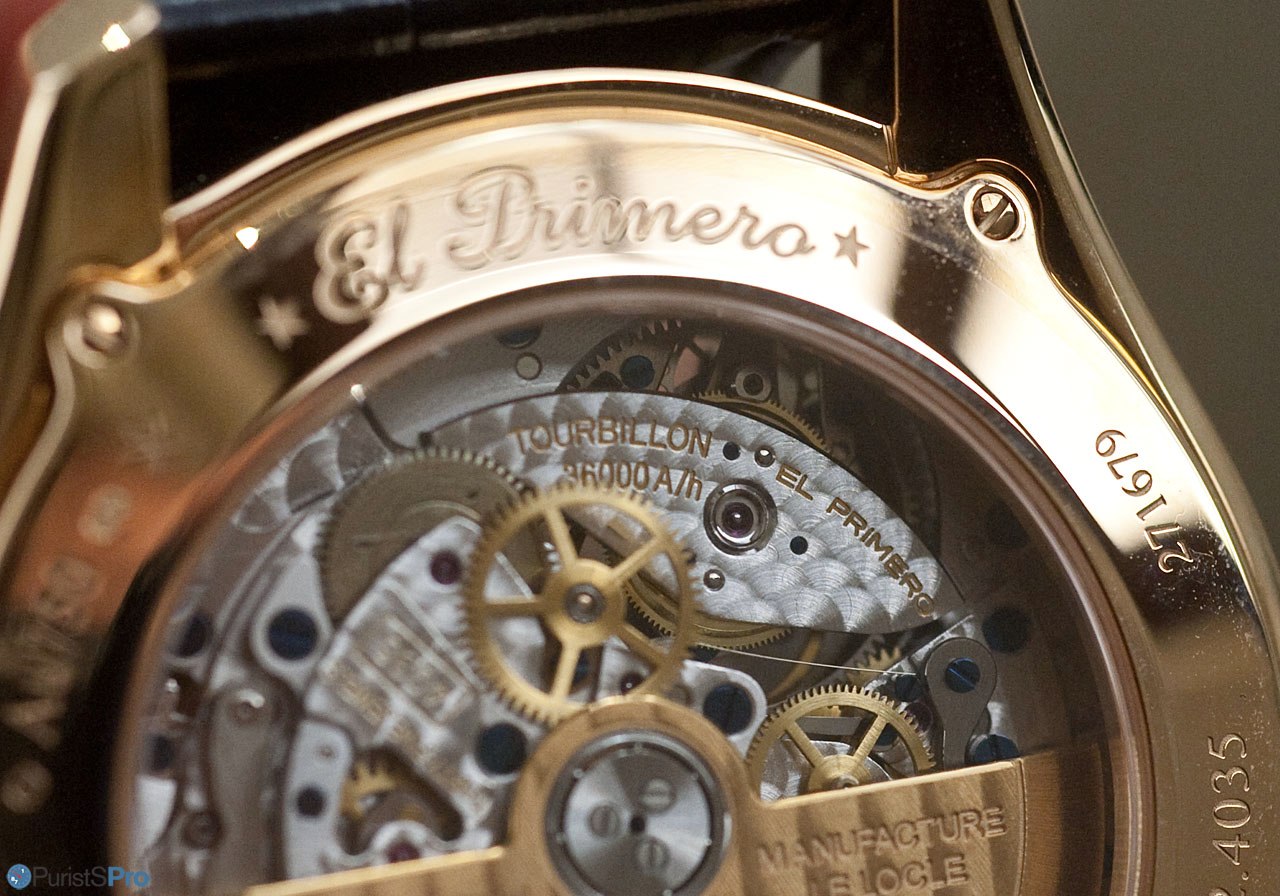 'Special' somtimes is not special enough: An edition exclusively made for the Austrian/CEE market. Call us blessed here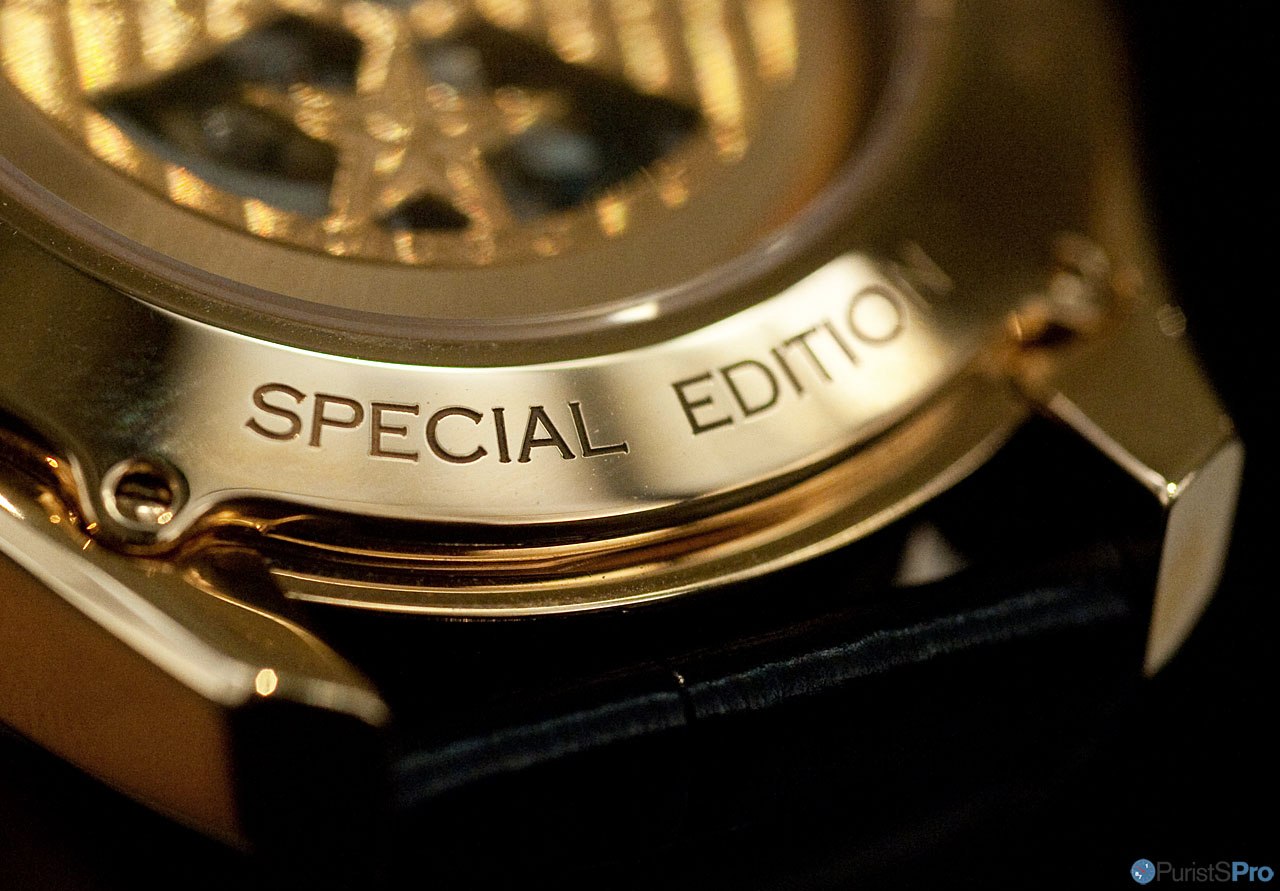 Alright then, let's put it up to good use

...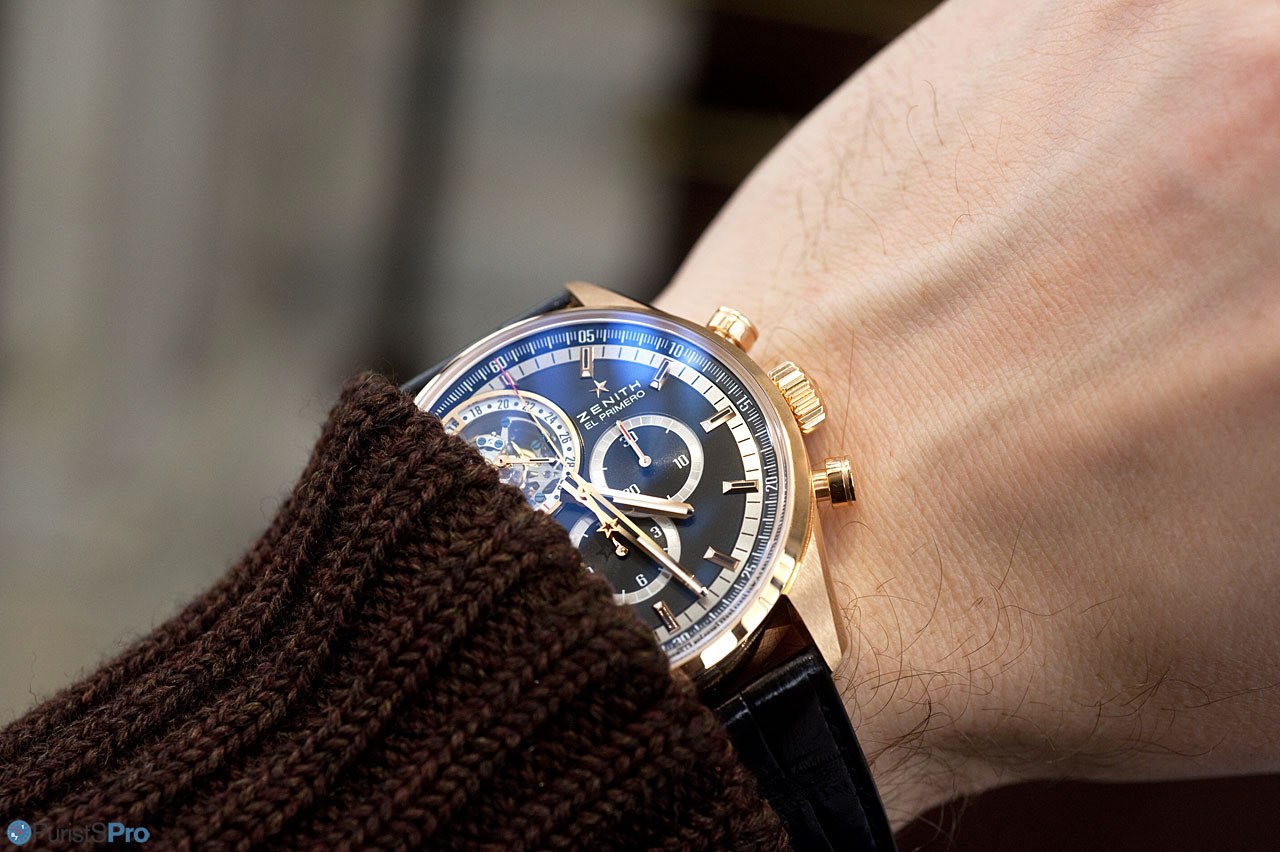 What a magnificent appearance on the wrist - I am almost speechless. A combination of colours to die for, dark black accentuated with vivid, juicy red gold. And then the silvery mascara...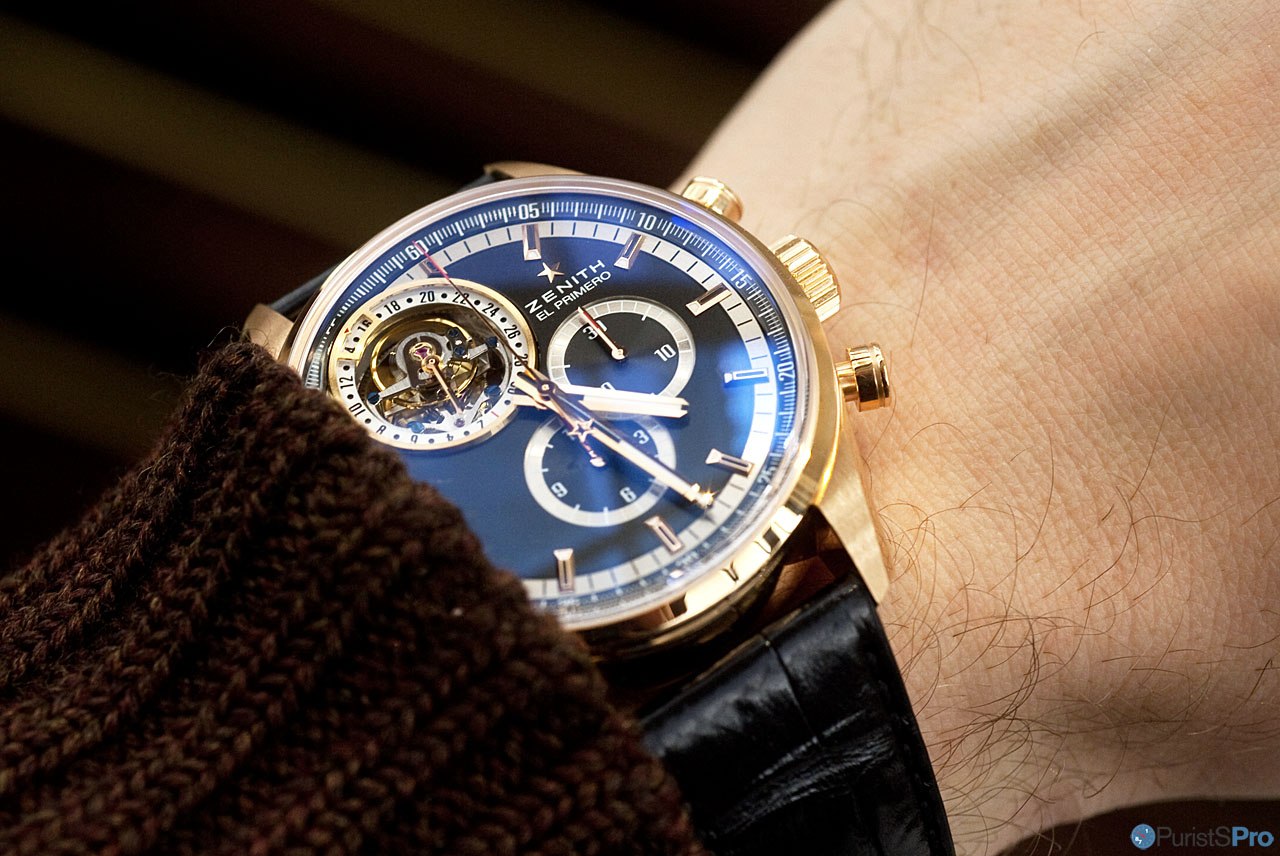 Proportions as well as the vertical landscaping efforts are put to very good effect on the wrist.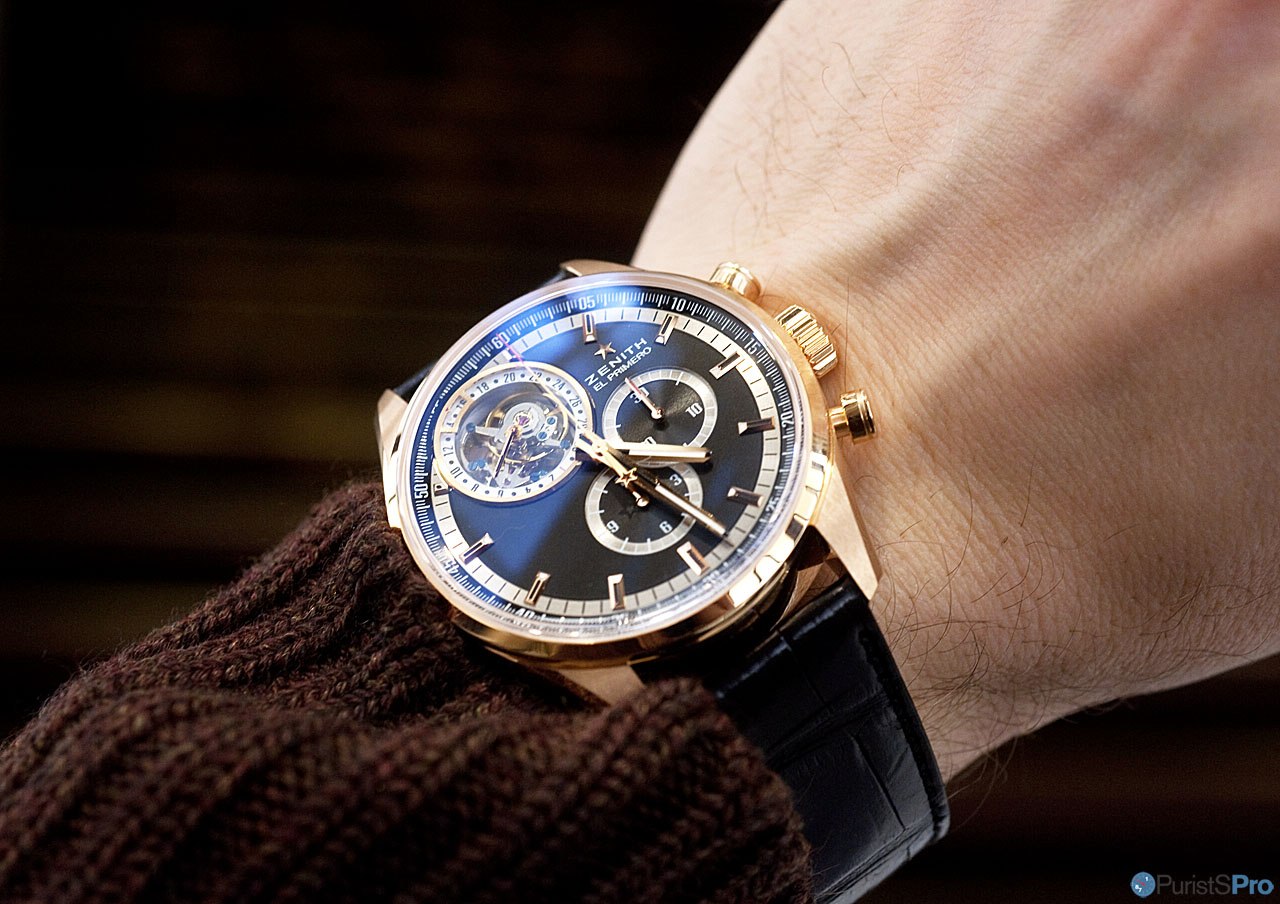 As I said before, this is in a way a most 'business-ready' tourbillon (at those which have it visile on the dial) on the market. The complication is there to be admired, but it does not thrust itself upon its enironment.
One has to actively pursue it...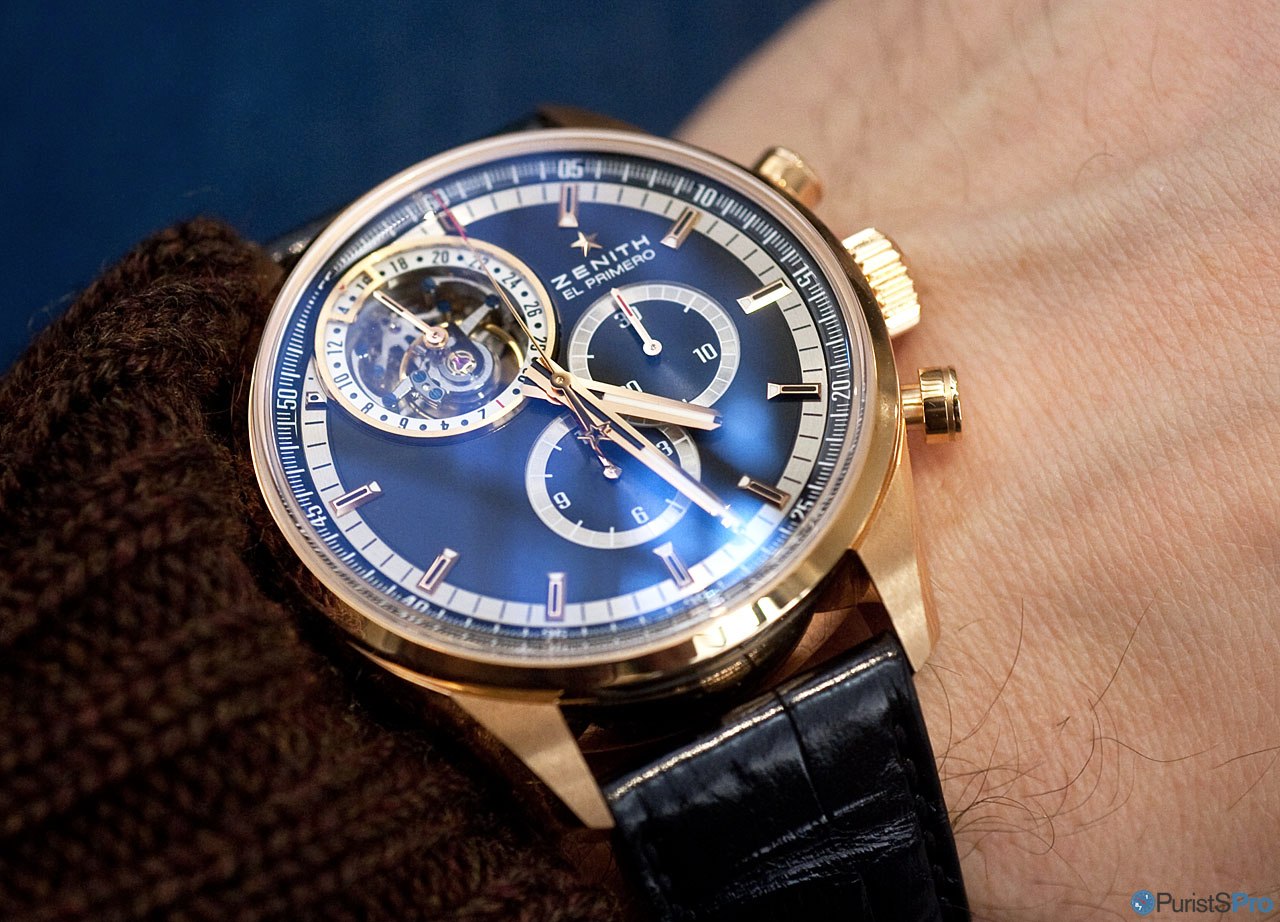 So once more the watchmakers in Le Locle (with some help from Austria) have created a masterpiece which offers finest watchmaking ans a lovely complication in combination with a movement of historical importance. The overall package is chosen such that it just fits into a great number of use cases, never too flashy, never to understated. Just right! Your pals will appreciate it, but nobody in the meeting room will ever notice it as something special.

And this, I think, is the ultimate, private luxury of owning such a watch!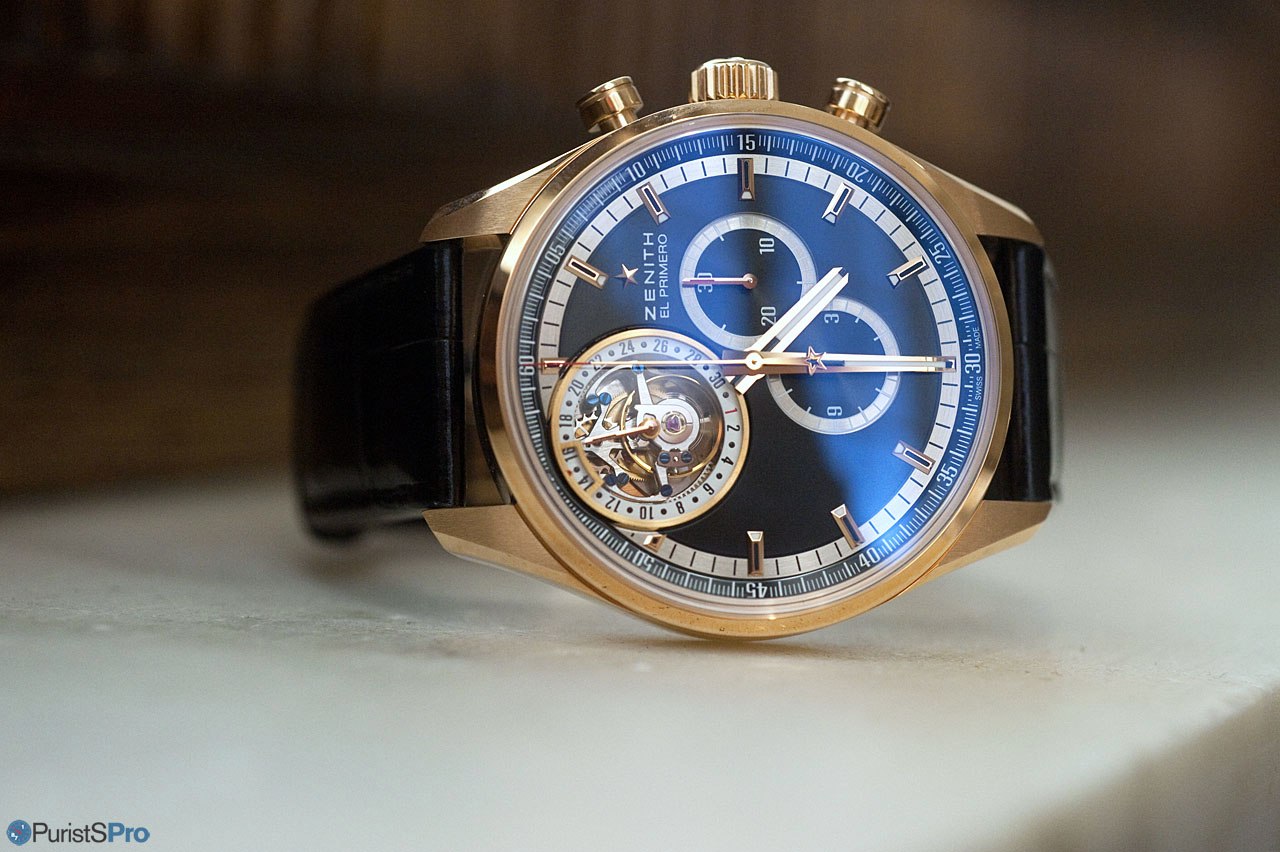 Thanks for reading,
Magnus


Our Location: Miss R and myself decided to give the El Primero Tourbillon a proper surrounding, and thus we met at the Park Hyatt Vienna . Situated in Vienna's new Goldenes Quartier, overlooking Am Hof square, this beautiful Park Hyatt property occupies a 100-year-old listed building that formerly served as the headquarters of a bank. The hotel in Vienna is located within the First District of the city, which is listed as a UNESCO World Heritage Site. It also sits within the heart of the most exclusive shopping district in Vienna, just steps away from the celebrated fashion houses of Prada, Louis Vuitton and Emporio Armani and many more, as well as the boutiques of Kohlmarkt.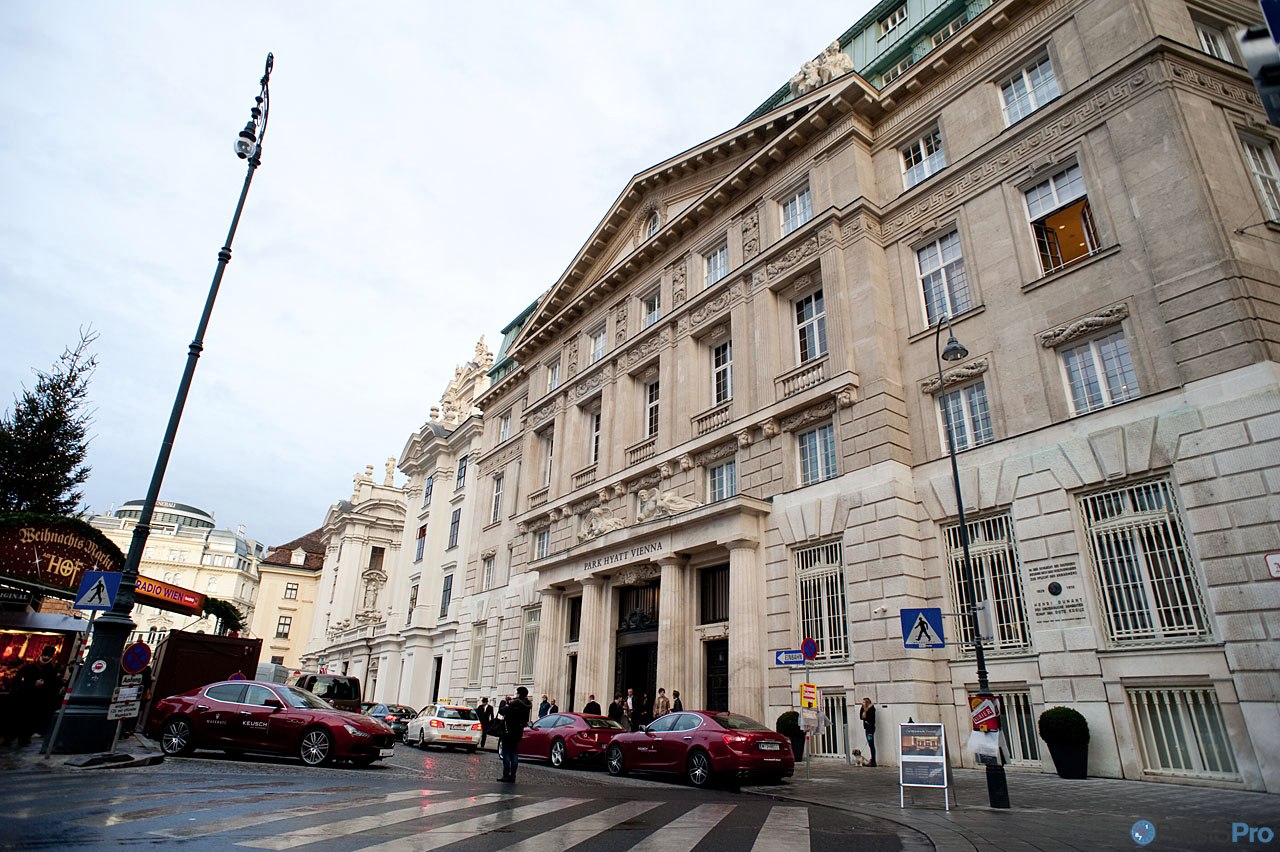 Well, we were not alone, in fact we were surrounded by watch lovers, as we met during the ViennaTime 2015: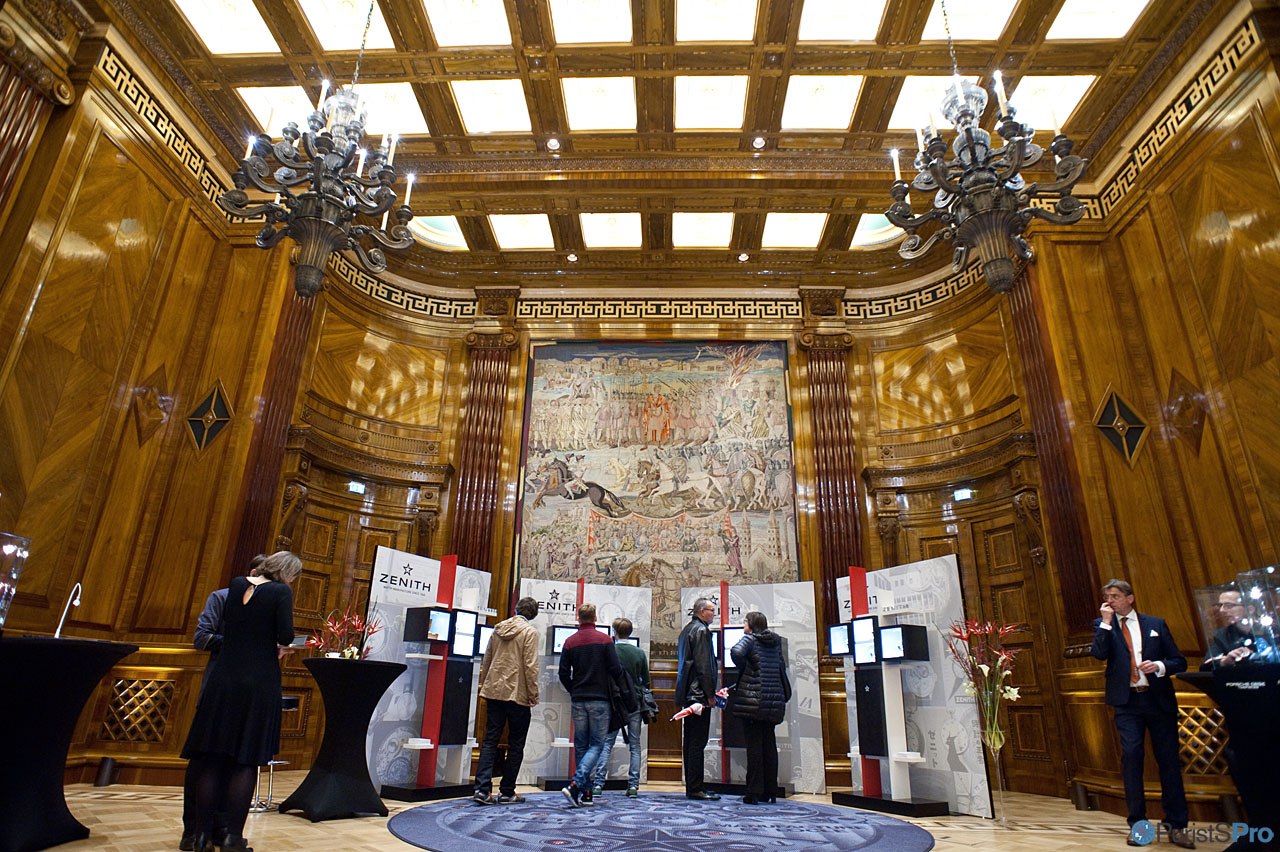 Sitll, I found a quiet place in the reception to take all these image in the best quality possible!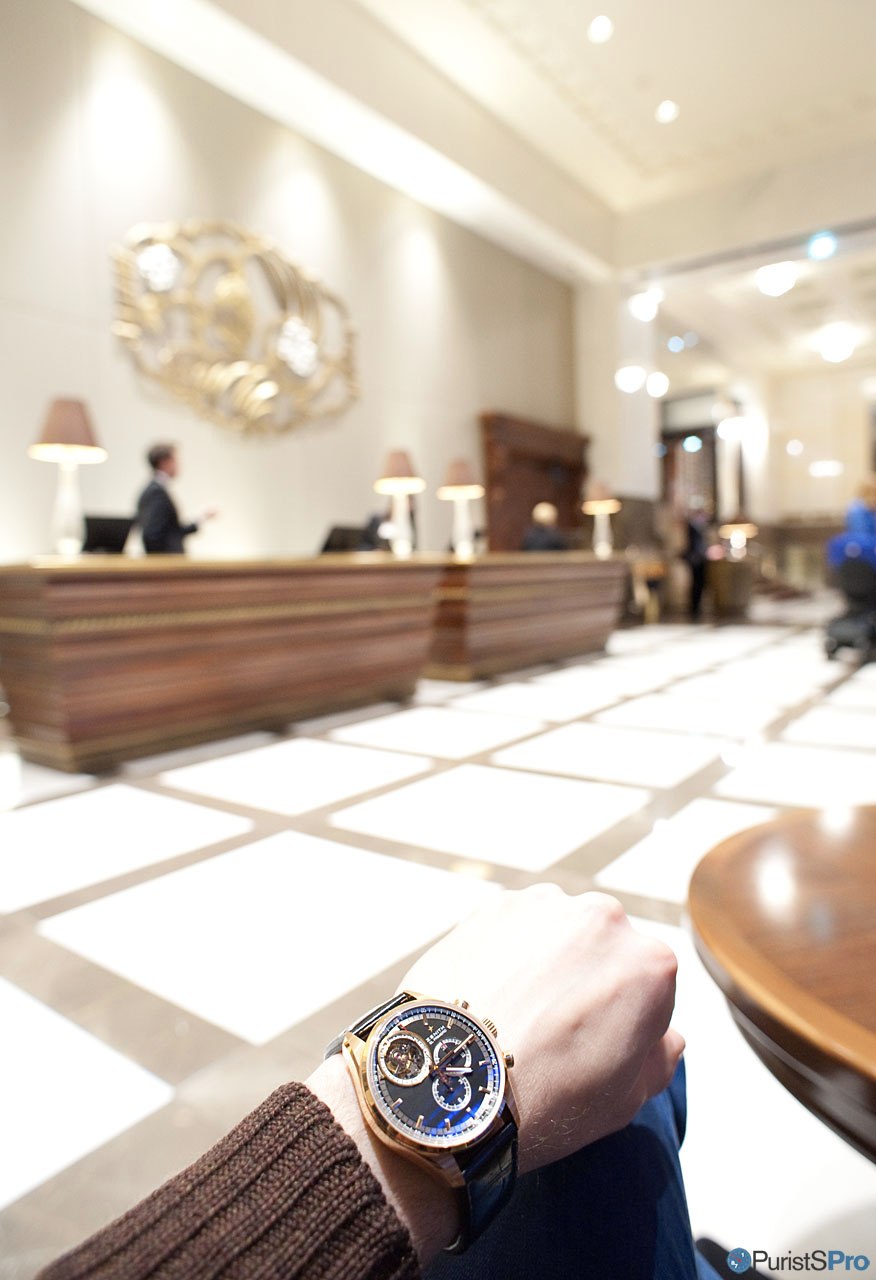 This message has been edited by Ornatus-Mundi on 2016-01-21 05:58:45
More posts: