August 23, 2012 (New York City, NY) – Vacheron Constantin , the world's oldest watch manufacturer with more than 250 years of continuous history, hosted a private event on Saturday, August 18th with Rolls-Royce Motor Cars , on the evening prior to the Pebble Beach Concours d'Elegance, the world-renowned annual classic cars show.
Vacheron Constantin Hosts Special Event with Rolls-Royce Motor Cars


Featuring One-of-a-Kind Dinner Crafted by Chef Thomas Keller
Hugues de Pins , president of Vacheron Constantin North America, and David Archibald , president of Rolls-Royce Motor Cars North America, co-hosted the event at a private villa situated in the hills of Carmel, California. The event featured a unique and customized dinner crafted by Chef Thomas Keller and prepared by The French Laundry, his famous 3-star Michelin restaurant in Yountville, CA.
Guests of the watch and car manufacturers were greeted with Cuvée French Laundry sparkling wine as they arrived. Music from a jazz trio filled the open air as guests enjoyed a live watchmaking demonstration by a Vacheron Constantin watchmaker and viewed new and exceptional timepieces. Among the exceptional timepieces on display was the new Métiers d'Art Les Univers Infinis collection, the Patrimony Traditionelle 2253 Equation of Time in platinum, and the Métiers d'Art Kalla – Haute Couture timepieces. During the cocktail, guests were invited into the kitchen to interact with The French Laundry team and witness the preparations for the meal. A staff of 19 from The French Laundry and Per Se, Chef Keller's New York City restaurant, prepared and served the meal for 60 guests.
Chef Keller took inspiration from the watch and car manufacture's history and tradition in crafting a unique menu for the intimate group of guests. The special menu included six courses named in tribute to the values and traditions of both brands, such as "Silver and Platinum," "Anglage," "Patrimony," "Best Made Better," "Métiers d'Art," and "Bespoke." As the sun set, guests enjoyed each course along with sweeping panoramic views of the surrounding hills while seated on the villa's stepped, outdoor terrace.
In his welcome speech, Mr. de Pins spoke about the common values shared by Vacheron Constantin, Chef Keller and Rolls Royce Motor Cars, such as the passing-down of traditions, the constant search for excellence, and the nurturing of creativity in each of their respective industries.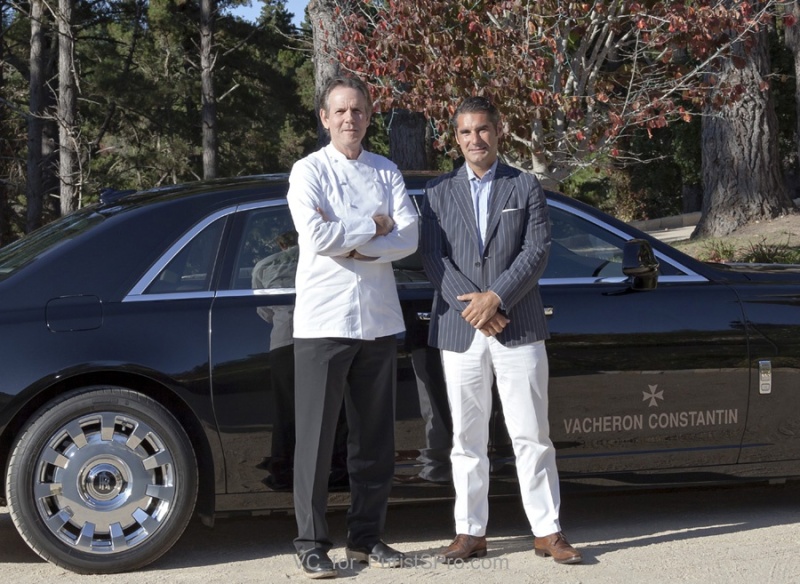 As the evening ended, guests departed with a Treasures of Vacheron Constantin book, an embroidered pashmina from Rolls-Royce Motor Cars, and delicious house-made shortbread cookies from The French Laundry.
The villa was open from August 16-19, 2012, to guests of Rolls-Royce Motor Cars and Vacheron Constantin. Fitting in perfectly with the elegant décor, a full range of Vacheron Constantin timepieces were on display and Rolls-Royce Motor Cars displayed their newest models including the Phantom Series II and Ghost vehicles, and offered test drives.
###
About Vacheron Constantin:
Established in Geneva in 1755, Vacheron Constantin is the world's oldest continuous watch manufacturer and a jewel in Geneva's crown of couture watchmakers, maintaining a seamless tradition of watch-making excellence for 252 years. Held in high regard by watch connoisseurs and enthusiasts alike, Vacheron Constantin 's strengths lie in its superlative technical mastery, aesthetic know-how and extremely high level of finish. For more information, please visit www.vacheron-constantin.com.
About Rolls-Royce Motor Cars:
Since 1904 Rolls-Royce has created instantly recognizable motor cars that have made the marquee an enduring icon all over the world. Rolls-Royce represents the pinnacle in luxury automobiles. Each vehicle is hand-made at the company's plant in Goodwood, England, to the exact specifications of each customer. The radically innovative Phantom, in showrooms this Fall, features several technological upgrades intended to improve the timeless appeal, performance and efficiency of the car. For more information, please visit our PressClub: www.press.rolls-roycemotorcars.com.
About Chef Thomas Keller:
Thomas Keller is renowned for his culinary skills and his exceptionally high personal standards. He has established a collection of restaurants that continue to set the standard within the hospitality industry. Thomas Keller is an award-winning cookbook author whose titles include The French Laundry, Bouchon, Under Pressure and Ad Hoc cookbooks, and will release his fifth book, Bouchon Bakery in October 2012. For more information, please visit www.tkrg.org.
Press Release