JToddH
[Purist]
2494

Carl F. Bucherer ScubaTec: Review by an innocent bystander
So I guess advertising works. After seeing Carl F. Bucherer's ScubaTec on the back cover of Cigar Aficionado Magazine, a good friend turned to me, inquiring about brand. As the proud owner of a Carl F. Bucherer Patravi TravelTec, I am certainly a fan of Bucherer and can attest to the quality of their products. I had nothing but praise. Following several discussions, he decided to purchase the gold and stainless model, exactly as pictured in the ad.
As a fan of dive watches, the ScubaTec happens to be high on my "wish list" of acquisitions. For now, I'll have to live vicariously through my friend with his gold and stainless version on a rubber strap.
When his new watch came in, I was present for the unveiling with camera in hand. I even brought a few tools as he asked if I would size the strap for him.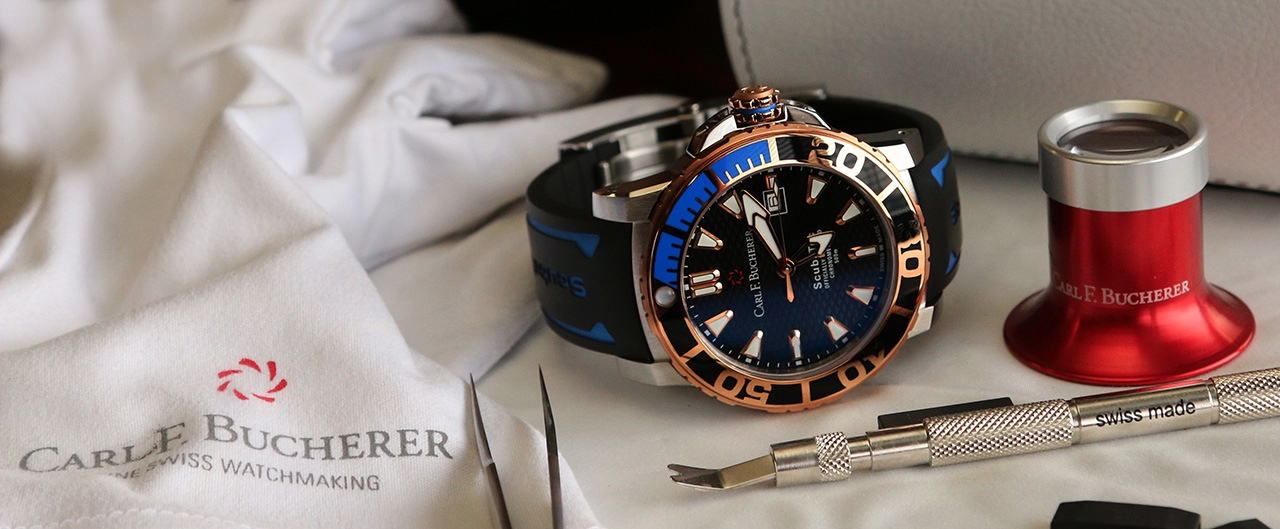 A long time fan of Breitling, Rolex and TAG Heuer, this was my buddy's first foray into the world of Carl F. Bucherer.
As he was opening the shipping box, I felt that little tingle that we all know so well. Inside, was a clean, white outer box with the brand's logo conservatively printed on the top. Nothing too ostentatious, just simple and elegant.

Inside, I was surprised at the box provided for the ScubaTec. Rather than a wooden presentation box, the ScubaTec was placed inside a very well constructed leather travel case. Wow, what a great concept!
The more I thought about it, the more sense it made. I have stacks of boxes and watch packaging that get put away and rarely seen. These boxes are preserved and protected but simply not used as my watches all reside, on display, inside my safe. To ship a watch in such a quality travel case is as practical as it is elegant, much the way I feel about the ScubaTec.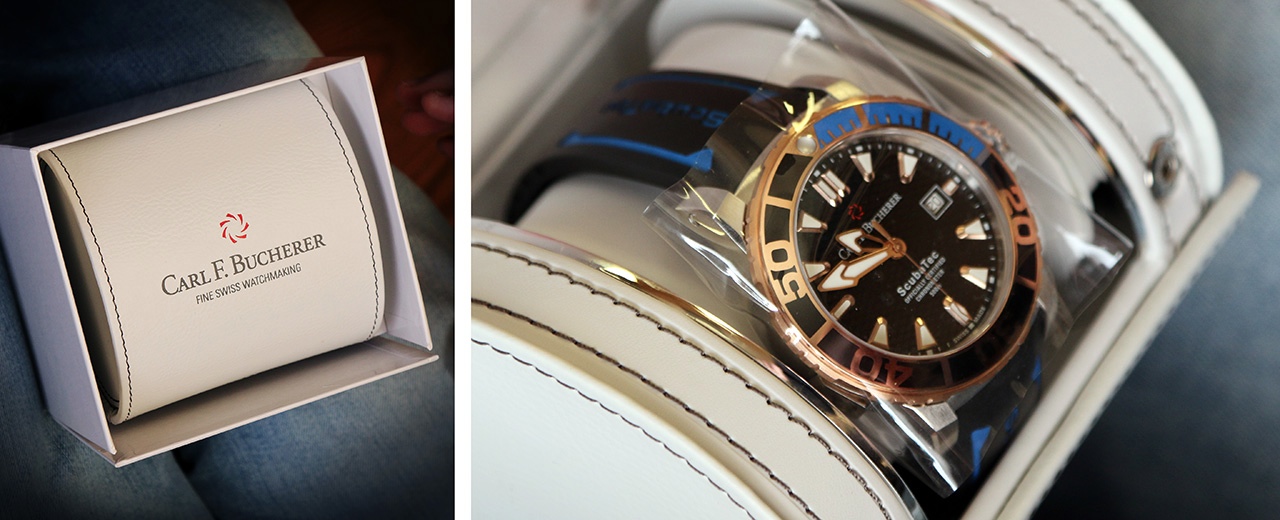 I have to respect Carl F. Bucherer's presentation. The travel case presents the ScubaTec nicely without overpowering this beautiful timepiece.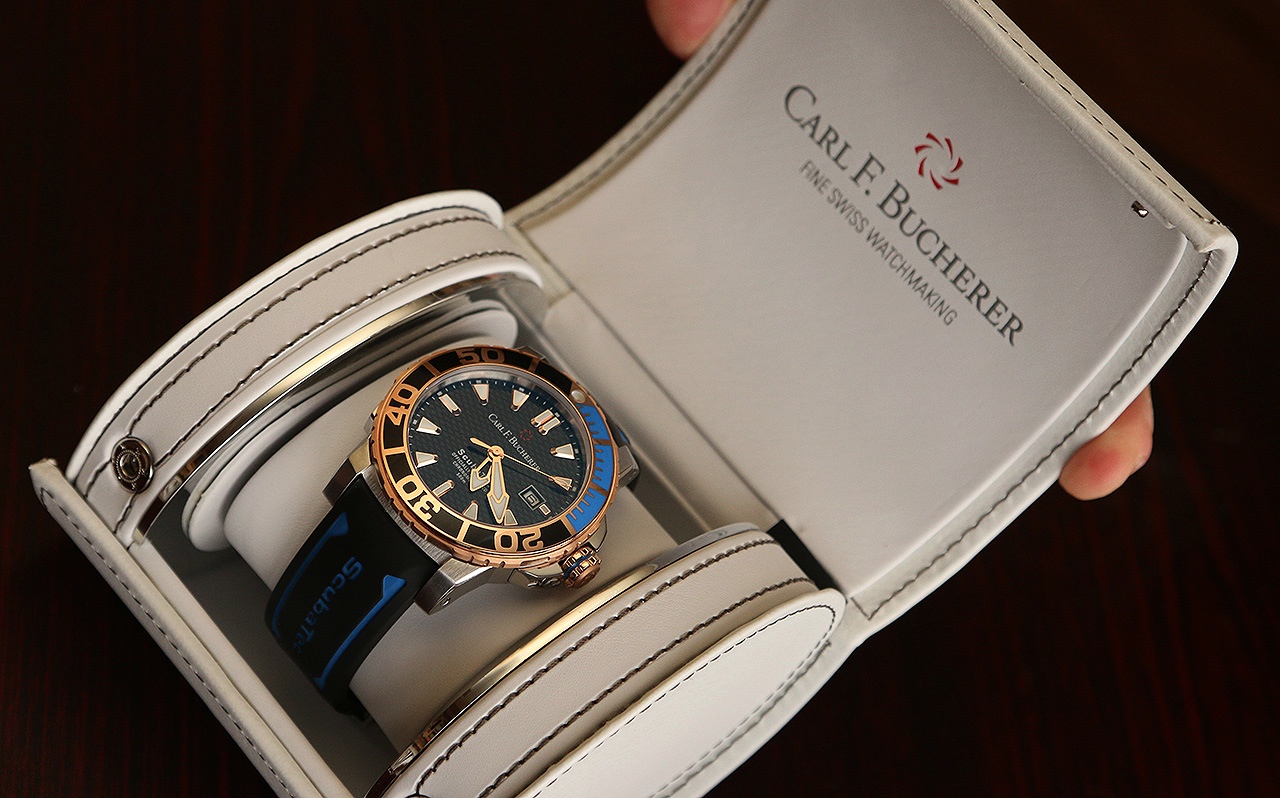 And then there's the watch.
Honestly, I've never been a fan of two-tone watches, and the thought of a gold and stainless dive watch made even less sense to me. In my mind, gold has no place in a dive watch. Dive watches, after all, are tool watches and subject to wear if not abuse. Dive watches are for diving, plain and simple and so-called "desk divers" leave me baffled.
Carl F. Bucherer has redefined my whole paradigm for mixed metals in dive watches. Having experienced the stainless ScubaTec on several occasions, I am confident in the quality of these pieces. When you consider the price, the ScubaTec strikes a comfortable balance between value, practicality and luxury. The ScubaTec "is" practical luxury.
So how does gold enter into my mantra of "practical?" It doesn't. The two-tone ScubaTec is all about emotion. Sure, it is practical as a dive watch but the gold is pure indulgence. This watch is absolutely stunning. The gold bezel and details compliment the rugged stainless case with its combination of brushed and polished surfaces.
Then enter the rubber strap with bold and beautifully sculpted details to match the blue accents of the dial and crown.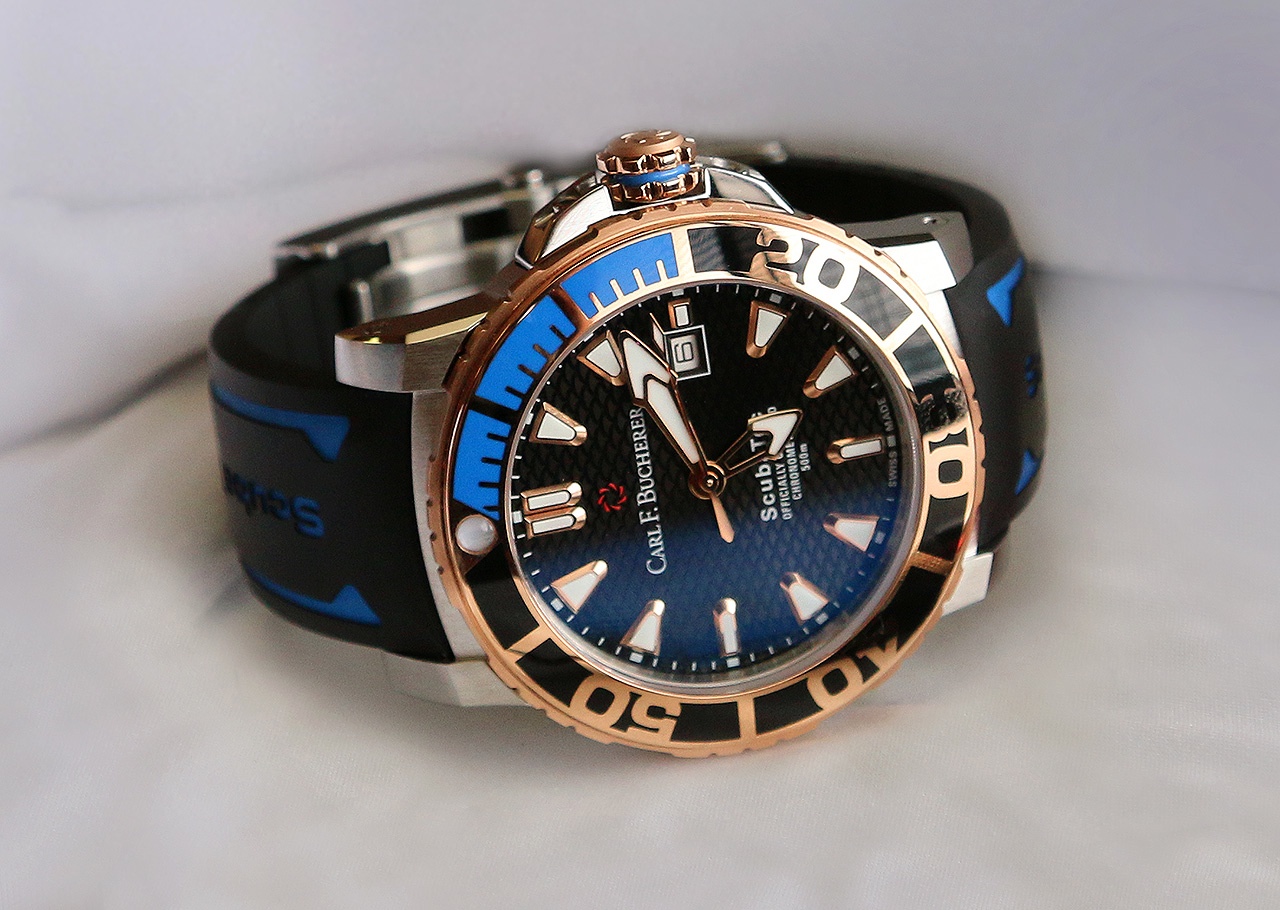 Upon closer inspection, details reveal the genius of the ScubaTec's design. There are no shortcuts taken. In fact, the case is actually more complex than most dive watches of this level. The crown guards and crown are extremely rugged and relatively complex in their construction. The crown, for instance, is actually two-piece with the dual finished logo cap pressure fit into the otherwise polished crown. The fitting for the helium release valve is made from additional components as well.
There is no doubt in my mind that Carl F. Bucherer could have taken shortcuts and used fewer components, but they adhered to this rugged design, even if more complex than necessary.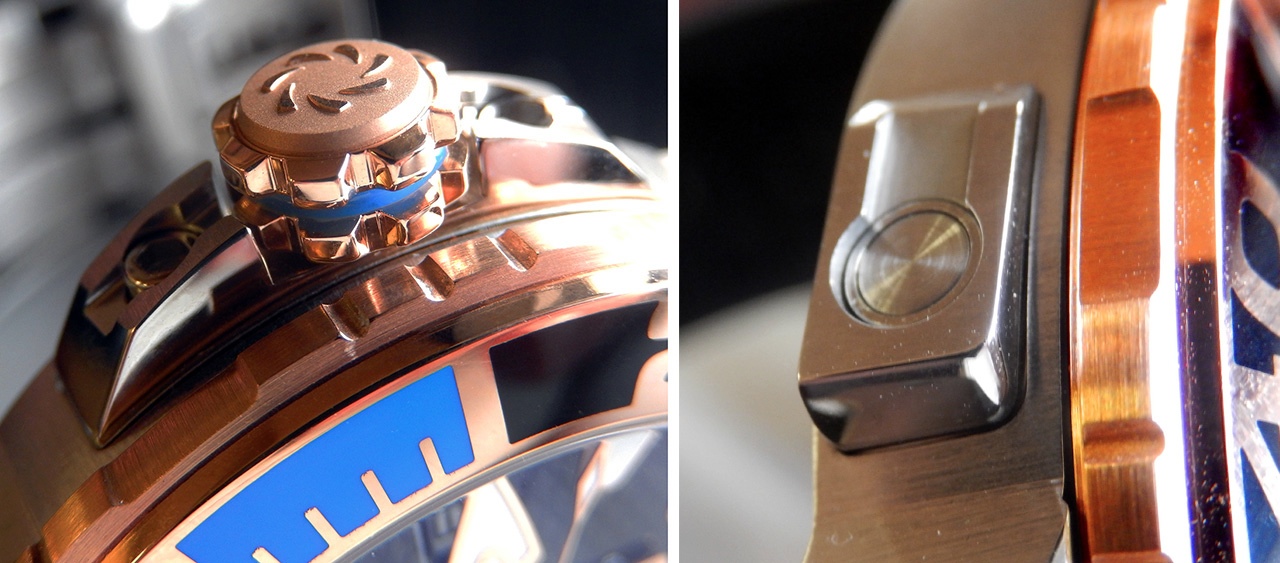 The back of the case is simple yet bold with mixed finishes. As I understand the significance of the sculpted manta rays, they represent two of these majestic creatures whose conservation is sponsored by Carl F. Bucherer.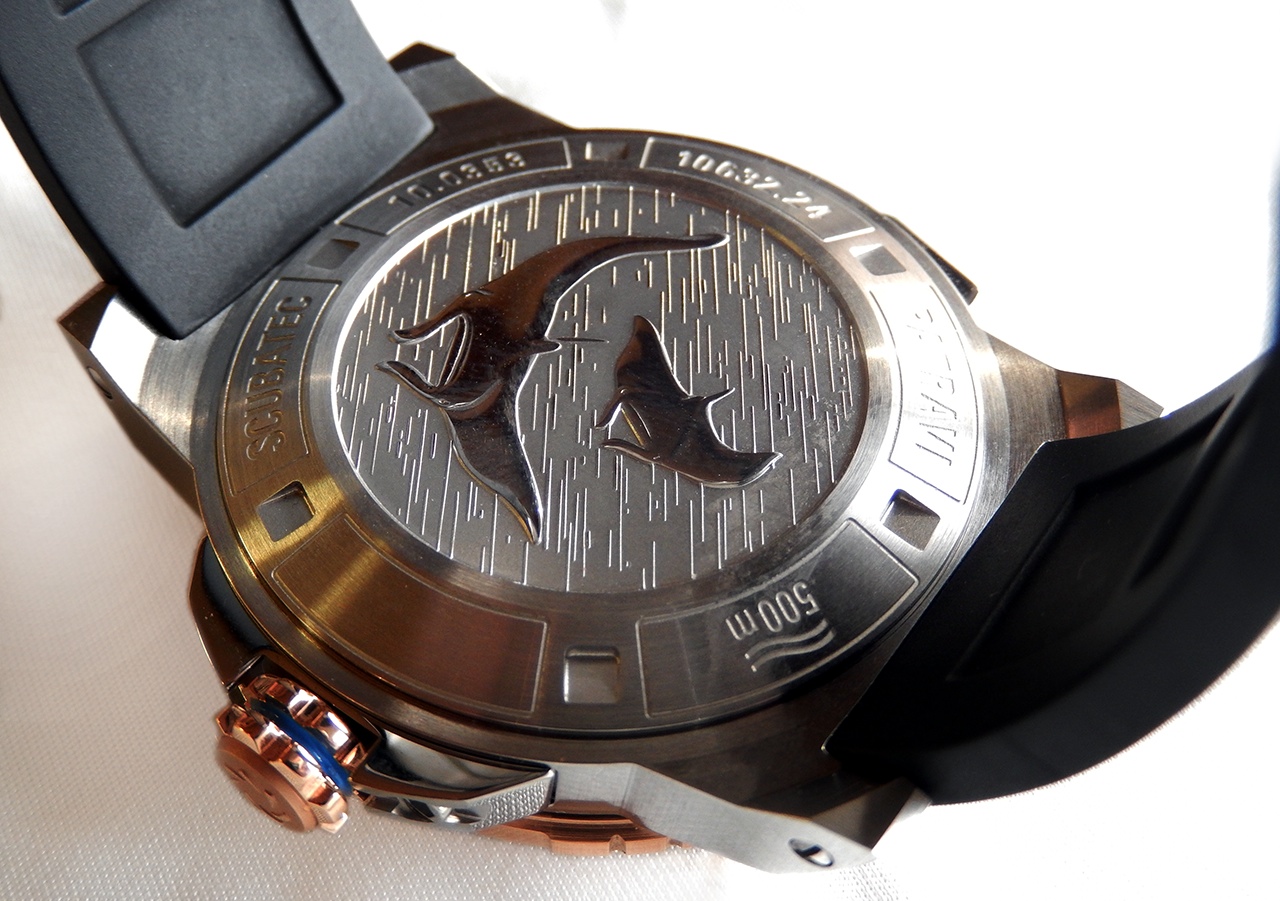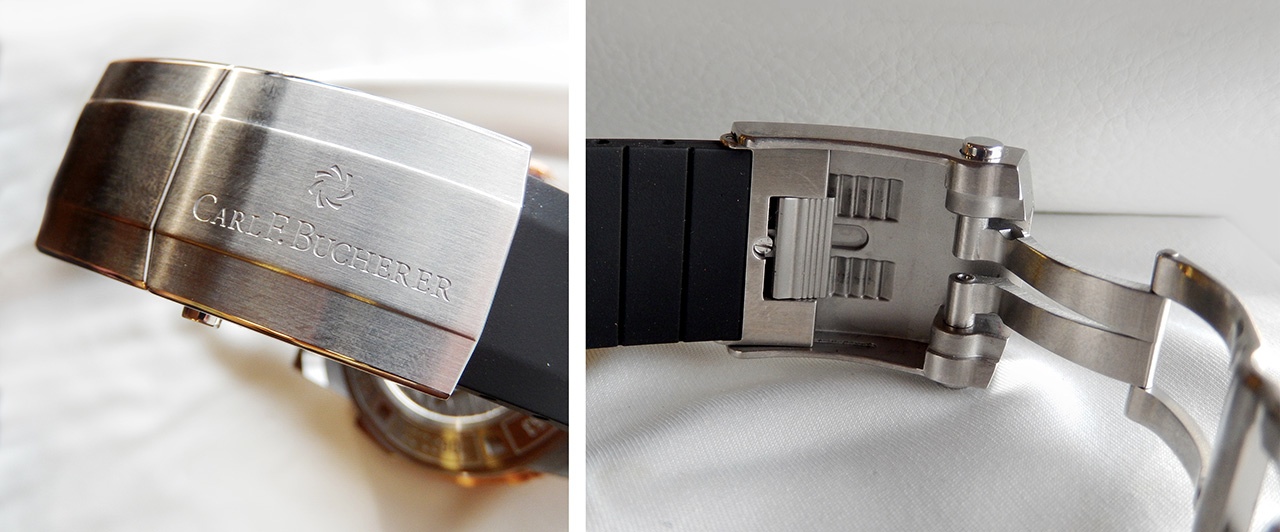 The clasp is extremely robust with a rugged yet precise mechanism for quickly adjusting the strap.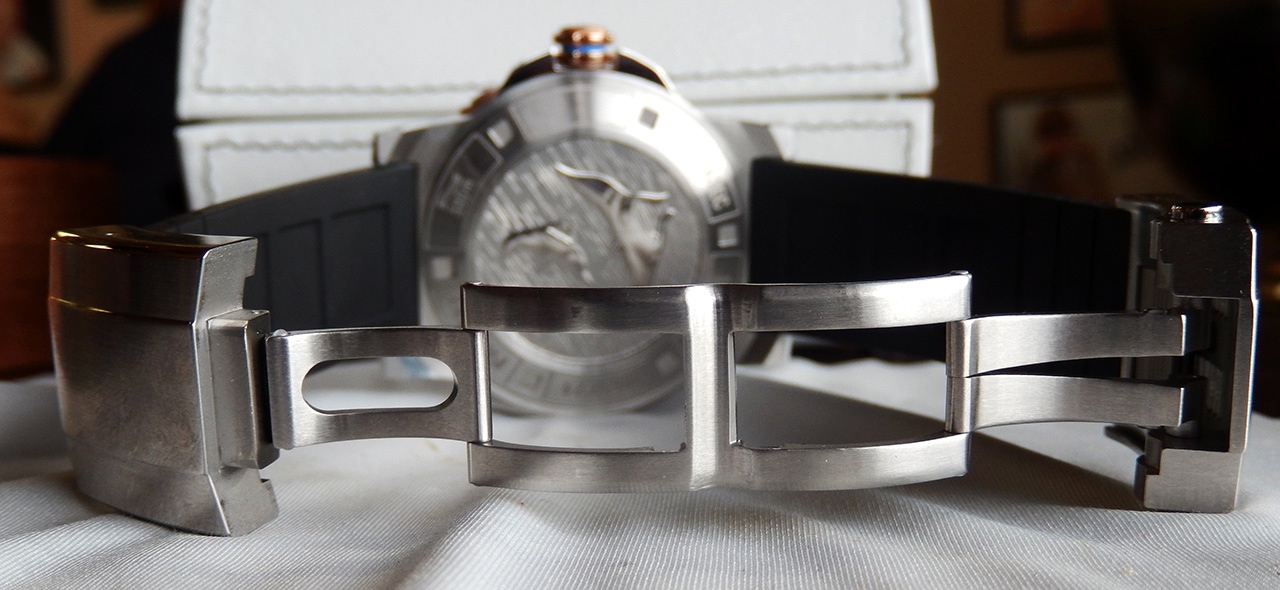 The only aspect that fell out of favor with me was the necessity to cut the strap for initial sizing. With cutting required, I would recommend that the brand include an additional strap so the piece could always be returned to its new state.
Though cutting and adjusting the strap was easy, even for a novice such as myself, I would certainly recommend having your AD or trusted service center do the fitting.
The main advantage of cutting the strap however is that it results in a perfectly streamlined and comfortable fit. This is a heavy-duty strap so trying to tuck away excess would no doubt result in discomfort and unnecessary bulk. All in all, it's a fair trade, and once you try on the fitted strap, concerns of cutting go the way of removing hang-tags.

Fitting my friend's new ScubaTec was a great opportunity for me to get some "hands-on" time with Carl F. Bucherer's flagship dive watch and provided me a closer look and even more appreciation for this piece.
What I didn't expect was how quickly my whole concept of two-tone watches would change. This piece is beautiful, comfortable, rugged, classic….and the accolades go on.
The only challenge I foresee is that after the experience of handling this one in person, I'll have a difficult time choosing between the practicality of stainless versus the alluring gold accents of the two-tone..
There is absolutely no doubt that a ScubaTec is in my future. I'll just have to wait and see which version my budget allows.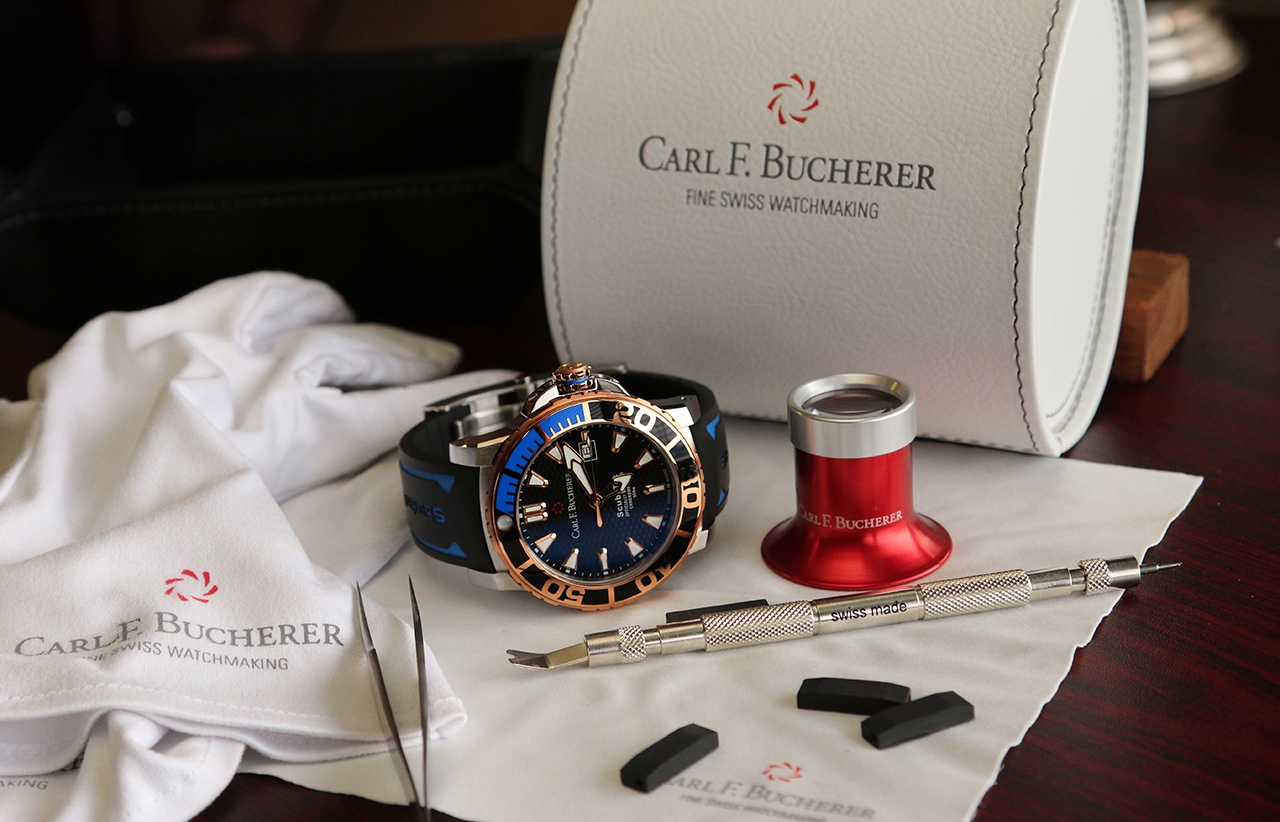 For now, I'm excited that my TravelTec has a new friend in the neighborhood and that my buddy can share in my appreciation of Carl F. Bucherer.