This year Chopard is dedicating a new exclusive series of its L.U.C XP to the Chinese zodiac. The Chinese year beginning on February 8th 2016 is ascribed to the monkey and provides the theme for an exceptional Urushi lacquered dial. Hand-crafted in Japan in small series by a master lacquer artist, it depicts a popular scene believed to bring good luck and drawn from Chinese iconography: a monkey gathering peaches.
Chopard L.U.C XP Urushi
"Year of the monkey"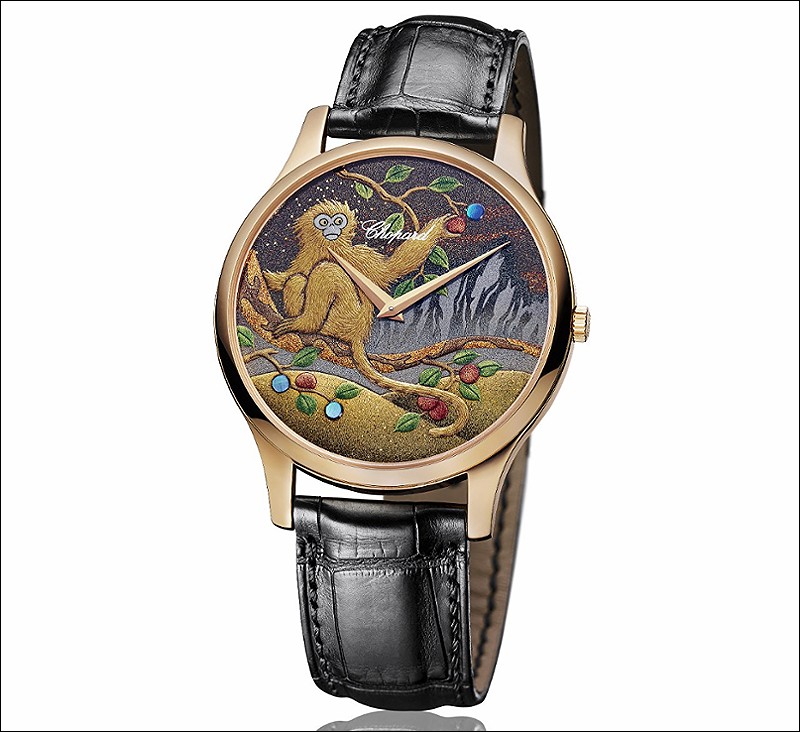 An original allegory sublimated by an ancestral art
The many symbols of a superbly made dial
For more than 1,000 years, the monkey of the Chinese zodiac calendar has conveyed positive symbolism. People born in the Year of the Monkey are considered smart, curious and drawn to knowledge. They are cultivated, inventive as well as creative. It is an 'earth' sign associated with good sense. Stubborn yet charming, the monkey loves to perform for an audience and is endowed with great self-esteem. The monkey gathering eight peaches is a traditional Chinese theme that symbolises longevity and good fortune, since the peach stands for good health and eight is a lucky number.
In the interpretation chosen by Chopard, a red-coated monkey is perched on a branch laden with fruit. It is gathering peaches beneath a golden sky ablaze with the last rays of the sun. Behind it, golden valleys compose a warm scene in soft tones that make a perfect match with the rose gold of the case.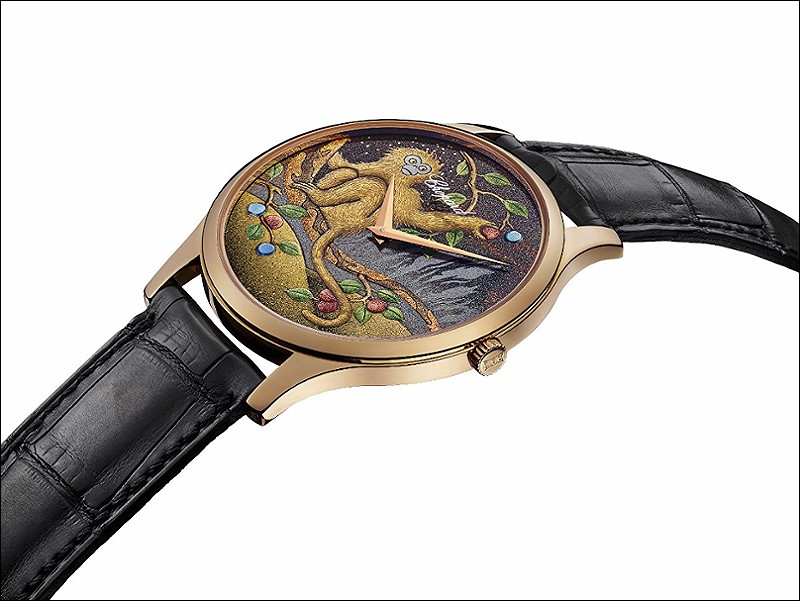 Fitted with a black alligator leather strap, the L.U.C XP Urushi "Year of the monkey" comes in a special presentation box also decorated using Urushi techniques. Black on the outside and gold Maki-e inside, it is shaped like an octagon, an oriental symbol of gaiety.
The excellence of fine workmanship
Urushi lacquer comes from the sap of the "lacquer" or "Japanese varnish" tree. It is skilfully harvested, aged and treated to become a transparent lacquer that is applied in a series of extremely fine layers. The Urushi master uses it to imprison gold dust motifs created using the extraordinarily meticulous Maki-e technique. Each of these delicate gestures, performed exclusively by experienced masters of this exceptional skill who dedicate their lives to improving their art, are driven by a relentless pursuit of excellence.
To create this precious dial, as well as the case for previous L.U.C XP Urushi editions, Chopard has worked with the firm Yamada Heiando, official purveyor to the Japanese imperial family. Raised to the rank of "living human treasure" in Japan and acknowledged as the finest exponent of his art, Master Kilchiro Masumura has designed and supervised the creation of all dials, which were executed by Master Minori Koizumi, an Urushi master chosen by Chopard for his extreme artistic mastery.
The excellence of sophisticated mechanics
This Far Eastern nobility meets Swiss nobility in the form of Chopard Haute Horlogerie, since this exceptional dial is housed in a L.U.C XP case. Its slender shape and dainty bezel magnificently highlight the creations of the Japanese Urushi artists, while inside it beats with an L.U.C Calibre 96.17-L, an ultra-thin movement measuring just 3.30 mm thick.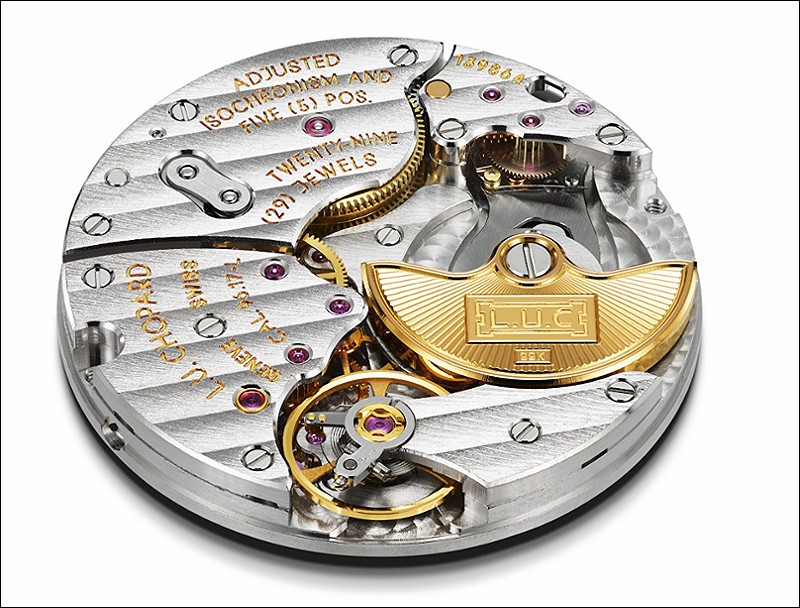 This entirely in-house manufactured self-winding movement is equipped with a 22-carat gold micro-rotor that is incorporated into the overall thickness of the movement so as to combine slenderness with practicality. Equipped with Twin® technology based on two barrels and ensuring an unprecedented 65-hour power reserve, this calibre is finished according to the highest standards of technical and aesthetic quality.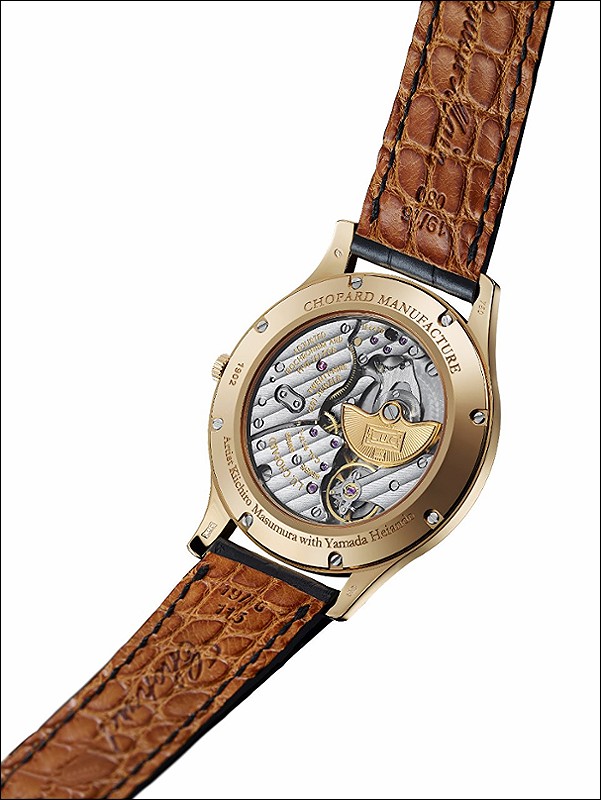 Chopard's in-house approach to watch manufacturing
Chopard is a family business with a strongly ingrained philosophy of independence. Each step involved in making L.U.C watches is performed in-house at the group's Meyrin and Fleurier production sites. Movement development, gold smelting, finished product design, stamping and case machining, movement components and metal bracelets, as well as traditional hand-crafted finishes, surface treatments, polishing, assembly, adjustments and quality controls: such is the comprehensive range of watch production operations fully mastered by Chopard