Ornatus-Mundi
[Zenith Moderator]
6602

NEWS: Habring2's Felix gets a little brother: Erwin, with jumping seconds, and a new face!
Maria Kristina and Richard Habring proundly announce the arrivial of their youngest child: welcome Erwin (right), the brother of Felix (left), their first completely in-house and also Austria's first autochthonous wristwatch, awarded with the 'Petit Aiguille' at the GPHG 2015: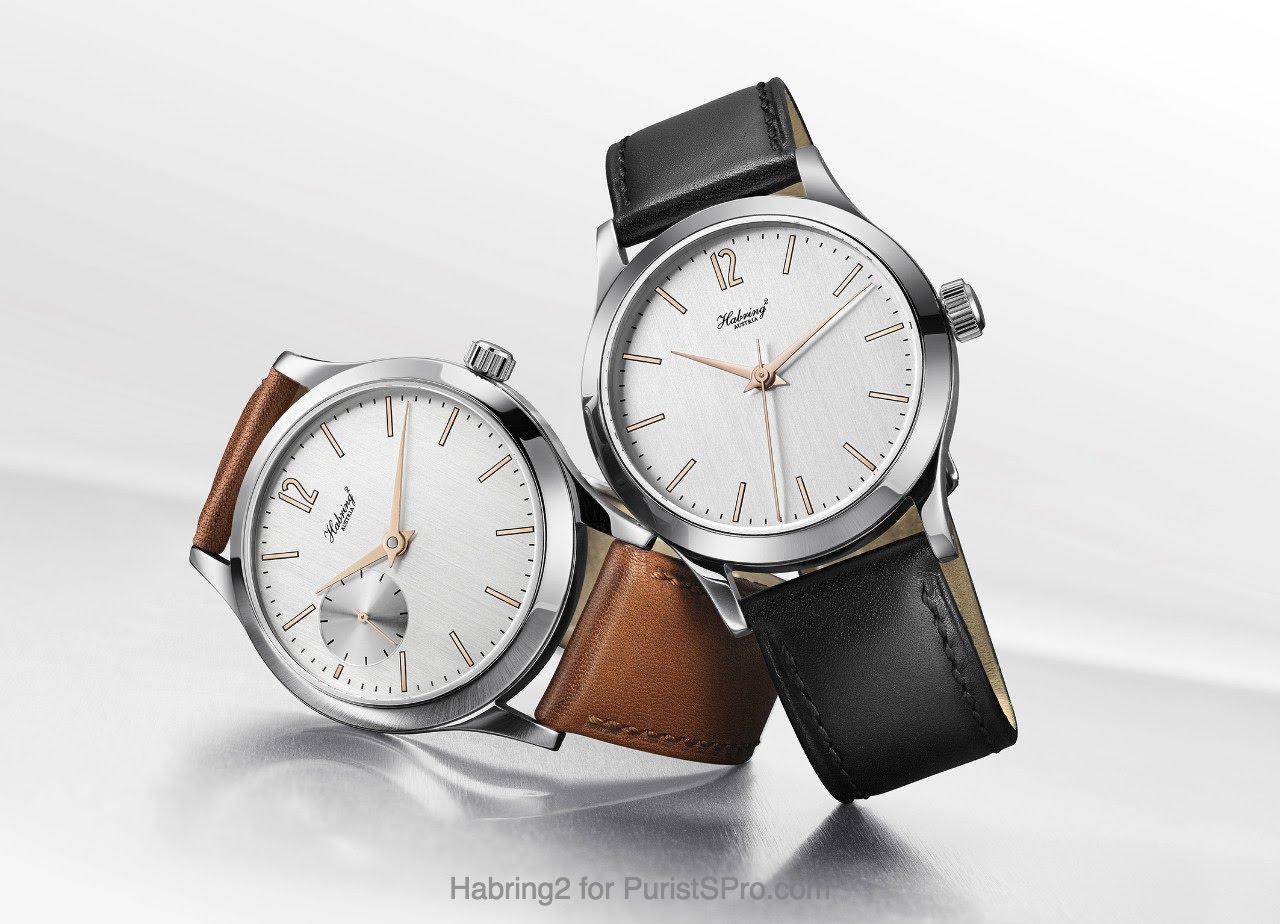 With the Erwin, Habring2 adds a revised and more elaborate advanced verison of their highly appreciated jumping second complication to their base movement Cal. A11B, now called Cal. A11S. The jumping second mechanism has been revised such that it is still modular, but mich flatter - with the consequence that the movement, now 5.7 instead of 4.2mm thick, still fits nicely into the original 38.5mm case of the Felix with just a slight increase in thickness - by 2mm, to 9 altogether.

The new silver dial with a discreet brushed metal finish and completely smooth, red gold plated hour bars and digits is made using the covering technique applied to classic examples from the 1950s. The matching red gold plated hands lend the two twins even more distinguished noblesse – especially in comparison to the more reserved dial/hand variants that remain available.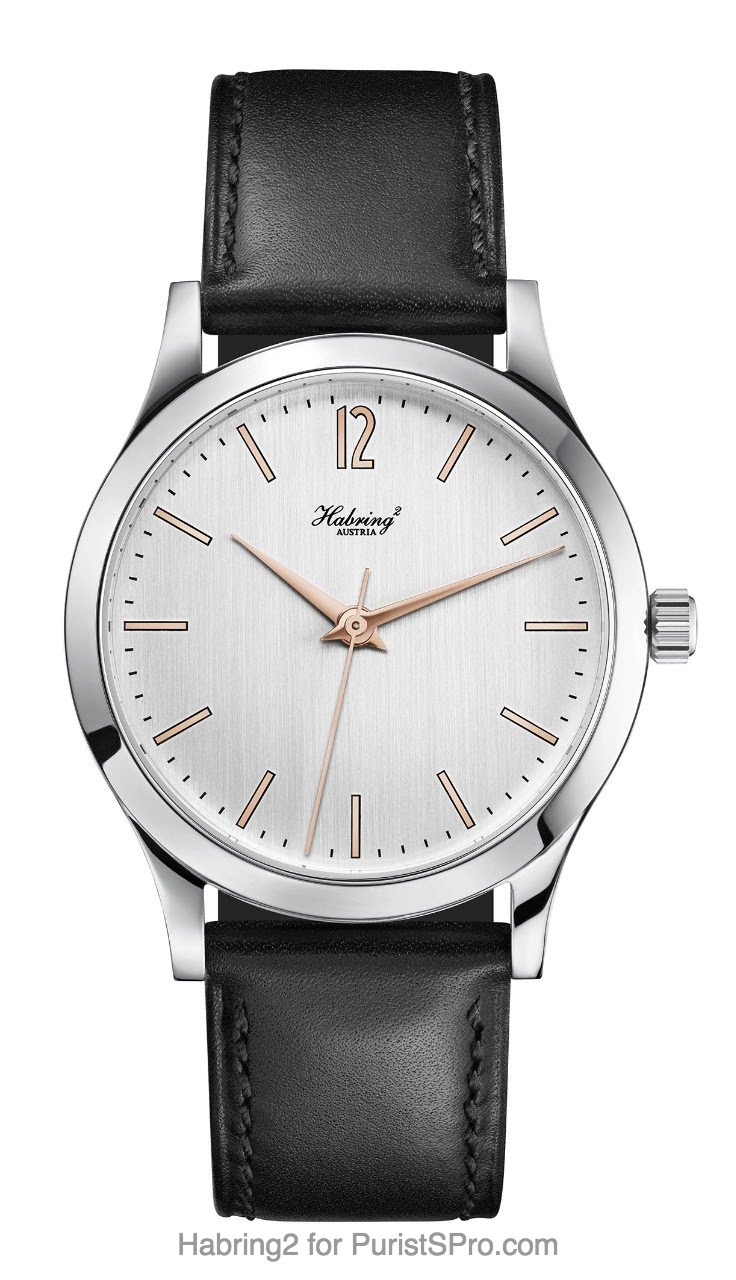 While the known minimalist design of the first dial (straight hands, finely grained face; left) is still available, and since the case is still exactly the same, Habring2 decided to offer the Felix also with the new vintage-inspired dial, offering the customer a wider choice - an excellent decision if I may add: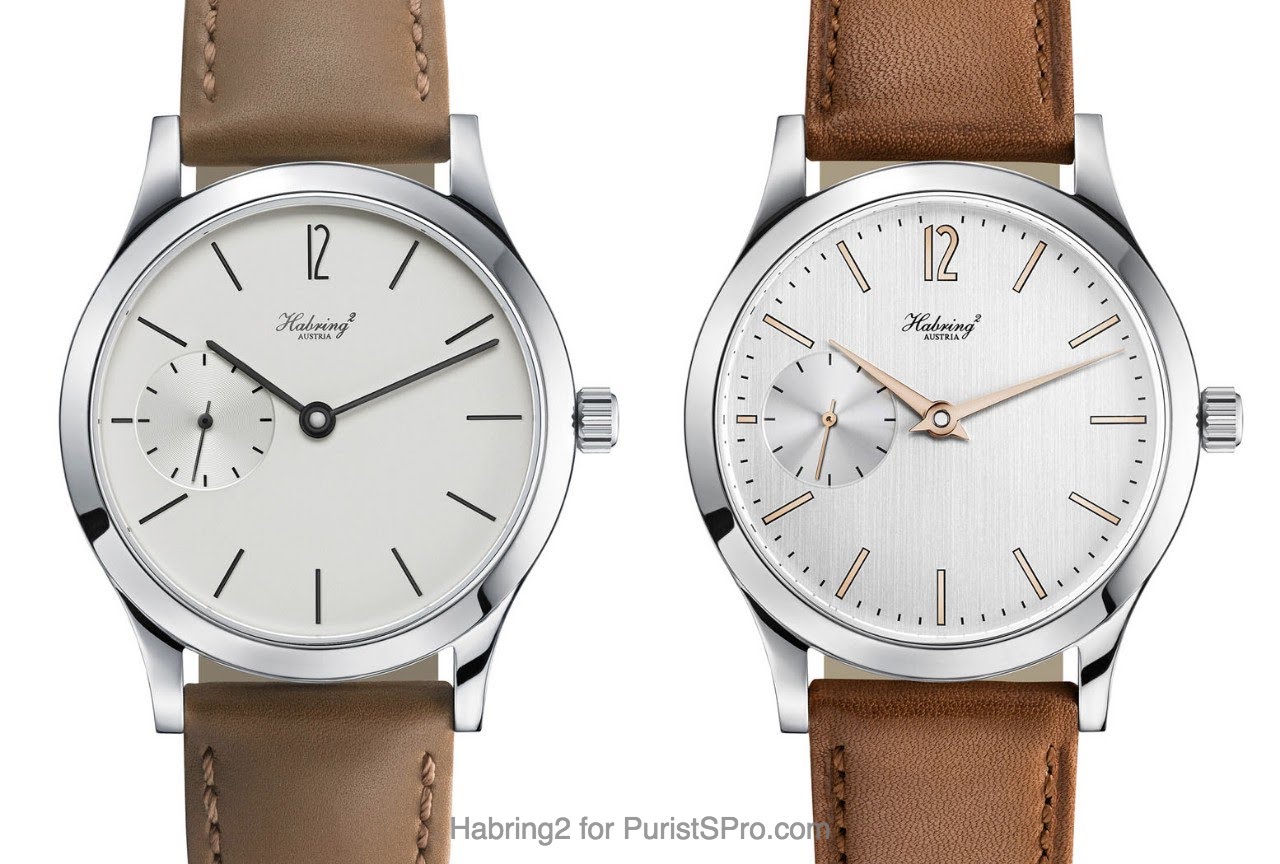 Further, both watches can now be ordered with a stainless steel folding buckle.

I really can't wait to see it in the metal, this is a wonderfully tasteful watch with lots of charme. the new dial is superb, I love particularly the hands (take a close loook at the eye of the hands!). The fact that the additional complicatio nof the jumping seconds could be integrated such that the case could be retained speaks volume on the watchmaking ability of the couple from Carinthia (or, if you prefer, their foresight when determining the specs of the case).

Congratulations Maria Kristina and Richard!

Best,
Magnus

------------------
Technical Details Erwin (Felix):

Habring² A11S movement (A11B): Ÿ

Diameter: 30 m
height: 5.7 mm (4.2 mm)

ŸCentre-mounted hour hand, minute hand and jumping second hand Ÿ(small second hand at 9 o'clock)

28,800 half oscillations per hour (4Hz) Ÿ
Hand-wound movement with 48 hours of power reserve Ÿ
Fine adjustment via tangential screw Ÿ
Amagnetic escapement with a Carl Haas balance spring in chronometer quality
ŸKIF shockproof pursuant to DIN and NIHS Ÿ21 rubies Ÿ
Elaborately refined by hand with polished edges, decorative grinding, perlage, etc.
Ÿ65 (5) service-relevant individual parts (99 parts in total)
Case: Ÿ
Stainless steel, three-part, 38.5 mm in diameter, 9.0 mm (7mm) in height Ÿ
Watertight to the depth equivalent of 30 metres Ÿ
Spherical sapphire lens Ÿ
Double-sealed crown, sapphire base Ÿ
Consecutive serial number engraved between the lugs at 6 o'clock
Dial/hands: Ÿ
Silver-white granular metal dial with black print or silver-white calendered metal dial with red gold plated hour bars/digits and black print
ŸPolished, black oxidised steel hands in thread form or polished red gold plated hands
Price: € 5,450 (€ 4,450)
More posts:
<!tag blob=wf.addthis>
Comments:
view entire thread
Grrr...
The Habrings - just when I think I know what I want from them, they launch something new that I equally want Like it how they made the movement thinner, so that the Erwin still remains at under 10mm, so relatively close to the Felix. And it is a signature...
Habring are hard to beat
I saw an Erwin mock up that was closer to the Felix but with dot minute markers, I'm not sure which one I prefer. Different vibes, I suppose. The 7mm case on the Felix wears like a dream, I imagine the 9mm does too. I wonder what the movement looks like w...