Bruce-YVR
423

Dualmatic
My WIS buddy from HK is in town for a few days... If you remember my post 6 months ago ( How I spend my day in HK )... he brought along his JLC Dualmatic...

I am impressed with this watch... cool looking and very functional...

The Flipper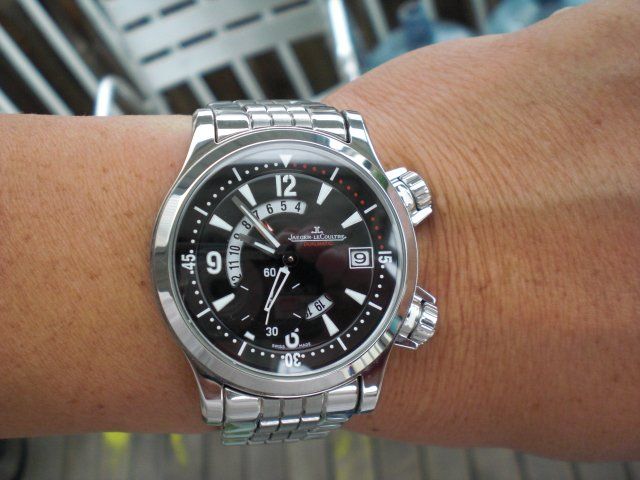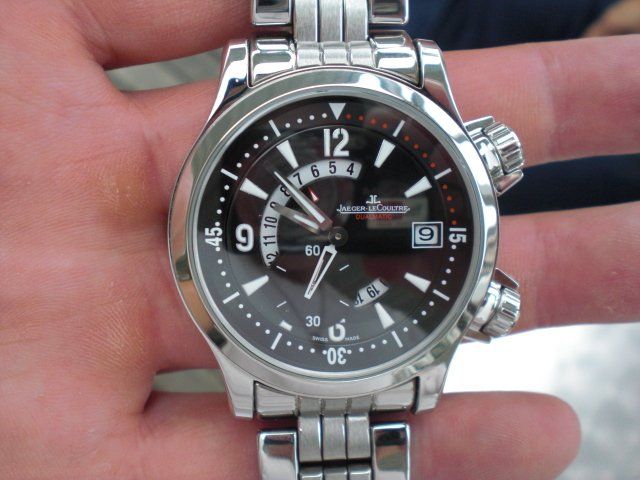 <!tag blob=wf.addthis>
Comments:
view entire thread
Dualmatic
My WIS buddy from HK is in town for a few days... If you remember my post 6 months ago ( How I spend my day in HK )... he brought along his JLC Dualmatic... I am impressed with this watch... cool looking and very functional... The Flipper...
the dial is
a bit confusing, I feel, but the proportions of this sporty looking watch are nice
Well... he did not adjust the watch totally...
He got lazy and just did the hour hands only for local and 2nd timezone.... the bigger circle between 9-12 window is for local time and the smaller window in the 5 position correspond to the 2nd timezone. Nice watch...
I agree with Nicolas...
Althought this watch looks great in your pictures, I much prefer the Master Compressor Memovox and the new GMT models. Cheers David
Jeff... NICE!!!!!!...
The one on the right seems a bit bigger then the left one. What is the model number for the right side Dualmatic? Thanks Bruce-YVR aka The Flipper
Thanks Bruce
actually both of these cases are the same size diameter (41.9mm) . The one one the right is the Geographic version of the Compressor series . The ref. number is 171 81 70 ....
Wow, Jeff
A pleasant Duo! Do you consider a 3rd one? Best, Nicolas
Sure do Nicolas !
I would like to get either the MC EWA or one of the Sqaudra Reversos as my next purchase .
Dynamc Duo
That is a geat pair of Master Compressors -- I love and have considered seriously both of these at one time or another. And both on the bracelet! You read my mind! LOL. I have never been able to quite get the Dualmatic. I do find the dial with the two arc...